New York's Times Square has always been a must-see landmark of the Big Apple, and as such it's always been the perfect place for advertisers to reach millions of people. Also called "the crossroads of the world", it has also been serving as an art gallery of sorts since 1992, when the Times Square Arts program was launched in order to create and support projects in all forms of art, performance, design and emerging new media. Between August 29th, 2017 and February 2018, the visitors will be able to encounter their latest intervention, which features an all-female roster of artists who created a public art commission of political and poetic banners - Word on the Street.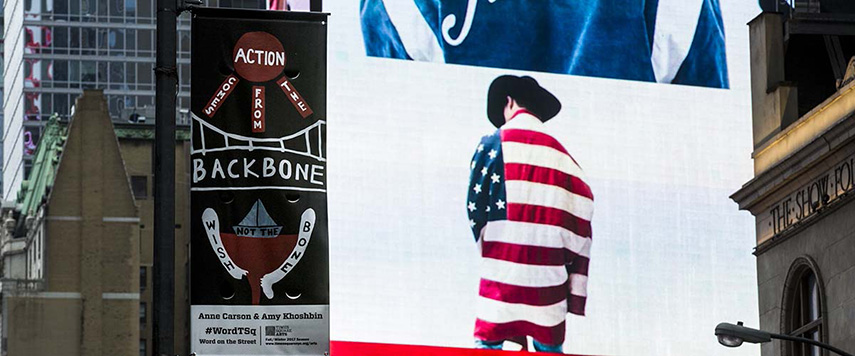 Word on the Street
Appearing on street pole banners and Bigbelly solar-powered trash and recycling receptacles in Times Square, Word on the Street is an ongoing text-based public art initiative produced by artist collective House of Trees. It is designed by renowned female international artists - Carrie Mae Weems, Wangechi Mutu, and Amy Khoshbin, together with writer Anne Carson, who collaborated with female refugee fabricators based in Texas. The works respond to contemporary issues such as women's equality, white supremacy and the refugee crisis, through poignant messages such as "Imagination births courage births change births freedom", "Action comes from the backbone not the wishbone" and "I was born for love, not hatred".
Originally created from felt as wearable protest expressions during the Women's March held in January 2017, the Word on the Street banners speak to the moment, seeking to create a network of visually disseminated texts that help articulate, empower and support positive responses to the ever-changing social and political landscape.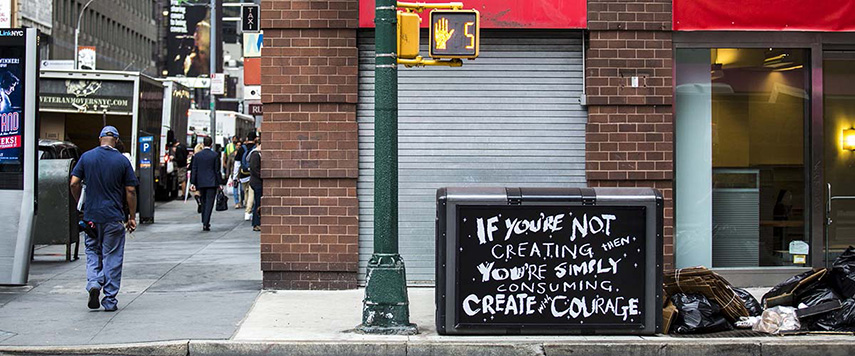 Female Artists for Times Square Arts New York
On September 7th, New Yorkers and the Times Square visitors are invited to participate in two workshops organized by Times Square Arts and artist Amy Khoshbin. From 12pm to 1pm and 6pm to 9pm, you are invited to create your own wearable gear with phrases and iconography made from colorful felt in the form of banners, sashes, signs, capes or badges. The idea is to transform these art objects into protest materials for upcoming demonstration or to simply wear them as a celebration of free speech. "I hope with Word on the Street, we can instigate a cultural dialogue around the resistance movement and we can be empowered to action through creative response, hope, and a focus on intersectionality," says Amy Khoshbin. The workshops take place at the Broadway Plaza between 43rd and 44th Streets.
Word on the Street Artworks Map 2017
Photographs courtesy of Maria Baranova for Times Square Arts.