A British artist, Word to Mother creates uniquely layered paintings drawing from a range of influences. Often using pieces of salvaged wood as a canvas, the artist incorporates hand-drawn personal sentiments, emotions and feelings that he executes in the form of a loose script. The resulting works are melancholic yet fun and playful.
The work of this talented London artist is soon coming to Chicago, in a solo show at Vertical Gallery. Titled Let Love Lead the Way, the exhibition brings together a collection of work created over the past two years. Examining the virtues of a positive mindset, these works celebrate moments of happiness and kindness through the lens of primitive characters inspired by 1930's cartoons.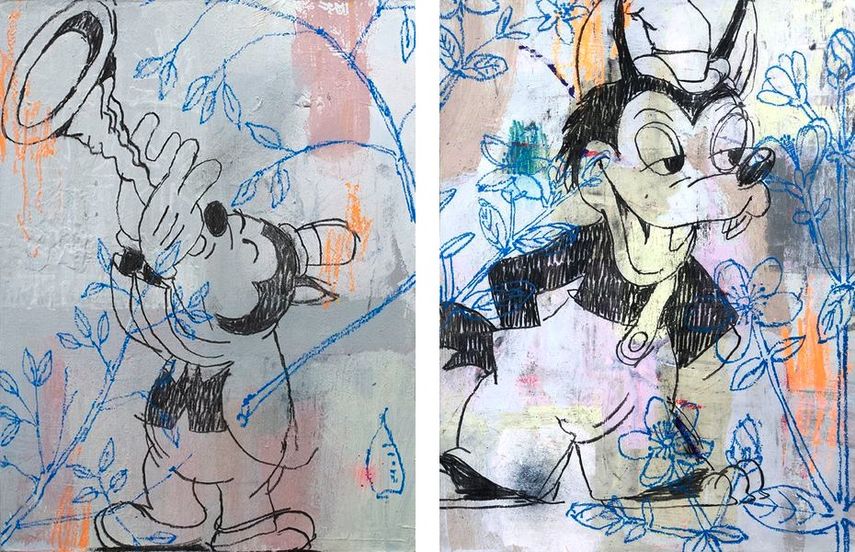 The Practice of Word to Mother
Born and raised in an English seaside town, Word to Mother studied illustration in art school, from there expanding into graffiti and tattoo art. All these different pursuits have profoundly shaped and continue to shape the work he creates today.
The artist's canvases juxtapose signature flourishes like hand-drawn personal sentiments and tight sign-written letters evoking vintage typography. Featuring a range of fragile and emotive elements shown through subtle textures and washes of colors, ranging from grey tones to reds, pinks, yellows and turquoise, his work has a distinct optimistic feel. The use of salvaged wood as a canvas provides a nostalgic feel.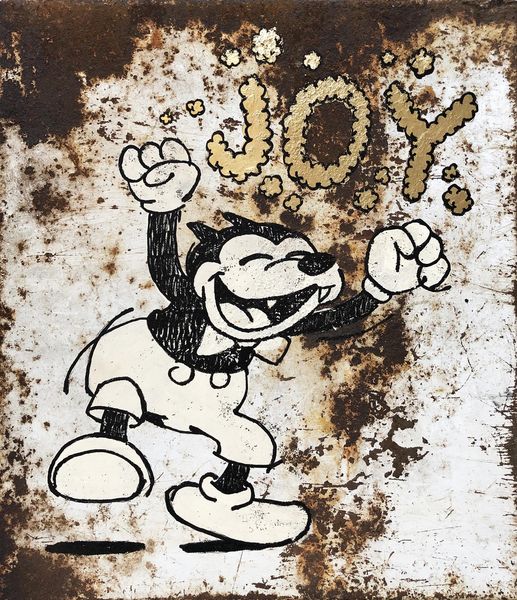 Art Fostering Positivity
Underlining the progression and maturity of Word to Mother as an artist, the body of work on view is rather positive, optimistic and playful. Patrick Hull, Vertical Gallery owner and founder, explained that art needed to play a role in fostering positivity and bringing joy as Word to Mother's art does.
The exhibition features two bodies of works — salvaged pieces and layered paintings — both featuring cartoon animals united by a shared spirit of perseverance and positivity. The artist used a limited color palette with minimal use of gold leaf on textures such as rusted metal surfaces and vintage wooden patinas as a backdrop for a range of characters radiating optimism and joy.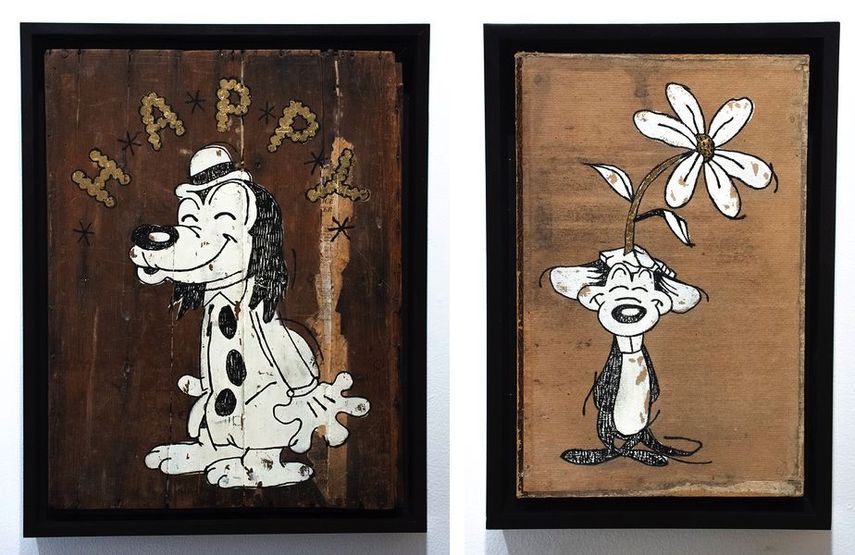 Word to Mother Exhibition at Vertical Gallery
As the rest of the artist's oeuvre, this body of work is characterized by an emotive, nostalgic depth achieved through textured layers of spontaneous mark-making.
Let Love Lead The Way will be on view at Vertical Gallery in Chicago from October 5th until October 26th, 2019. The opening reception will be held on Saturday, October 5th, from 6 to 9 p.m.
Featured image: Word to Mother Artwork (detail). All images courtesy Vertical Gallery.