With more than 300 artists and galleries participating in the 2018 edition, World Art Dubai is one of the most important fairs in the Middle East.
It is also the only event of its kind dedicated to the affordable artworks that are, however, still very much world-class, ranging from $100 to $20,000.
But why cover the accessible sector? And what can we expect from the 4th edition of the fair? This is where World Art Dubai curator Zaahirah Muthy comes in, with answers to all of our questions.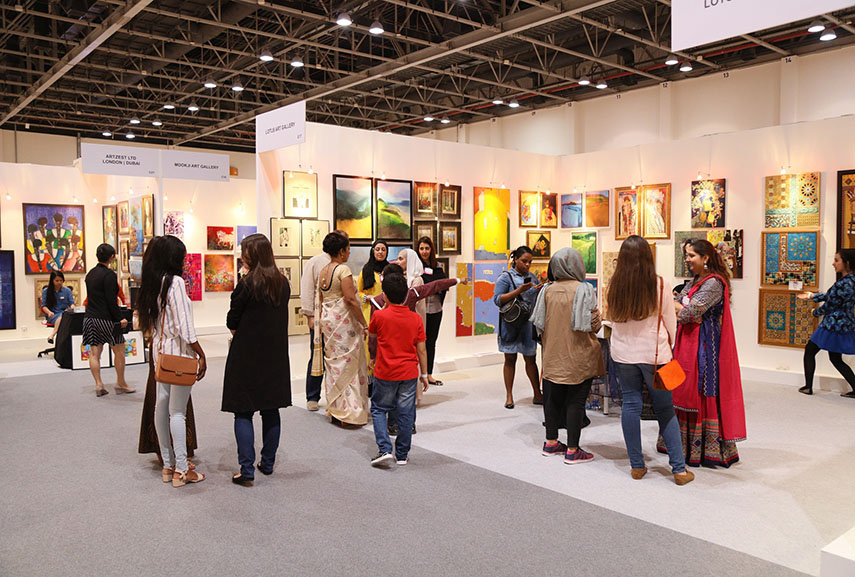 Bringing the Affordable to the Middle East
Widewalls: What can you tell us about World Art Dubai's participation in the affordable art sector? Why did you decide to be part of it?
Zaahirah Muthy: Although Dubai has been home to a wide variety of public art exhibitions - managed by both public and private sector entities - for many years, Dubai World Trade Centre identified a gap in the market for an affordable and accessible art fair that collected local, regional and international artists and galleries in one setting.
Dubai is home to niche events for local artists, such as Sikka Art Fair, as well as major international fairs such as Art Dubai, but World Art Dubai filled the gap for an accessible and affordable fair featuring emerging artists from around the world and which caters to all budgets.
This year is the fourth edition of World Art Dubai and we're now the Middle East's largest affordable art retail fair. As a flagship of Dubai Art season, World Art Dubai brings a stunning collection of wallet-friendly art to Dubai World Trade Centre, all priced between US100 and USD20,000 in a four-day extravaganza featuring over 4,000 inspirational works of art from 300-plus artists and galleries.
Our roll-call of international participants includes art world talent from 43 countries across five different continents this year (we have 149 exhibitors and 47 galleries represented) - it's a huge draw for the UAE's increasingly-visual and vocal population of art collectors, as well as curious, new-to-the-segment individuals looking to take their first steps into the art world.
We're also expecting our largest-ever corporate attendance this year, as budget-conscious firms across various industries - from hospitality entities to corporate offices - descend on the event in their masses.
Widewalls: What have the past three editions shown to you about the art market today, and its status in Dubai and the country as a whole?
ZM: For three consecutive years, World Art Dubai has shown significant growth year-on-year, with both visitor and exhibitor numbers steadily rising. Dubai is currently among the top 25 cities in the world for contemporary art, and we are the largest affordable art fair in the city - the market gap we identified is proving very lucrative for artists from the UAE and further afield.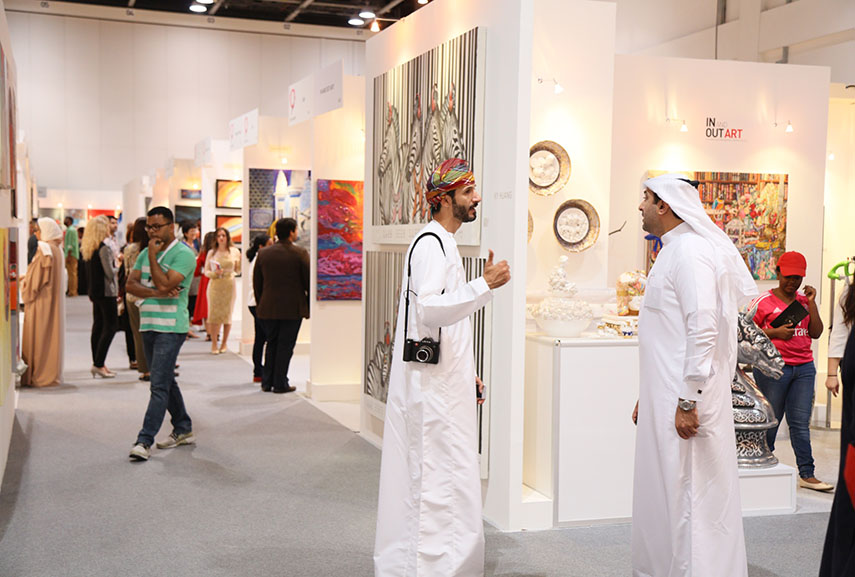 World Art Dubai 2018
Widewalls: An incredible number of participating galleries this year at WAD: is there a curation process for them?
ZM: World Art Dubai operates an extensive curation process. Galleries submit an online application and enter basic information such as where they're from, their operational history and type of artists they represent.
We also ask galleries to provide information on the artists and works that they are planning to bring to the show, including price-point information on specific works - this is a vital step because we need to retain our accessible and affordable ethos.
The team at DWTC collates every submission and politely declines any galleries whose works are outside of the fair's price bracket. The final list of all possible galleries is then provided to the fair's three-strong panel of curators who select the final list of participating galleries. Individual artists go through the same process, although it's usually a little simpler because they tend to represent themselves.
Widewalls: Any highlights you would like to mention?
ZM: In terms of artists and galleries, it's almost impossible to pick from the pool of incredible talent, but particularly of note is award-winning, New York-based artist Shreya Mehta, who will be debuting her new Liquid Tapestries collection, while China's Fu Wenjun will blur the lines of photography and paintings with his brand-new art style, Digital Pictorial Photography.
I am also looking forward to seeing what Bharat Thakur has to offer this year - a yogi by trade, the Himalayan master has been painting since the age of 17, and with thousands of spiritual followers worldwide, he's an incredible human being. What's more, Bharat has never used a paintbrush, palette or easel, and only works with his fingers - his work includes everything from experimentation art to figurative, pop-ups, abstracts and portraits.
So much more than just an art fair, World Art Dubai goes well beyond its core gallery and artist proposition with a series of public-friendly workshops, cultural performances and interactive talks.
Returning for the fourth consecutive year, the Art For Every Wall section features a variety of original artworks with prices up to AED3,000 that are perfect for first-time buyers and something I recommend each and every visitor to check out. There will also be a series of free and informative talks at the fair, exploring everything from art and empowerment to the role of culture in CSR.
New to this year's bill are four-panel discussions focusing on topics including 'Art and Impact, What Does It Really Mean?', 'Waste Shouldn't be Wasted' and 'Art, Travel and Photography'. There are also several interactive workshops over the weekend, where visitors can learn to create dreamcatchers, explore Mandala Art and learn all about Islamic Geometry with our local artists.
I'm also looking forward to the Japanese Cultural Evening on Friday, where we will have a handful of our Japanese artists creating incredible oversized calligraphy artworks to traditional music, all while wearing beautiful haute couture kimonos. Oh, and look out for Exhibition Islam, too!
Widewalls: WAD is also all about the youth: who are you involving this year?
ZM: Repton schoolchildren will also be holding a Mixed Media Workshop that celebrates the Year of Zayed. The workshop is open to all but aimed at children from six-years-of-age upwards. Kids will be tasked with creating artwork with a selection of craft, pencils, pastels, inks and printing materials.
In addition, the winning entries from a series of Repton School Competitions will be on show at World Art Dubai. The competitions were held in a series of mediums, including prints, digital, painting, mixed media, clay tile, sculptures and collaborative art mosaic. Prizes for the winners will be awarded in the fair's Creative Learning Workshop area on Friday 20 April between 2:30PM - 3:00PM.
Widewalls: How does the fair honor Sheikh Zayed this year?
ZM: World Art Dubai 2018 will feature a couple of Sheikh Zayed-themed activities. Firstly, our Official Award Partner, Forever Rose, will be presenting an installation at the hall entrance in celebration of the Year of Zayed. And secondly, schoolchildren from Repton Dubai, Repton Abu Dhabi and Foremarke Dubai are coming together to celebrate progression and innovation, both in the UAE and globally, by looking to the future and taking inspiration from the past - hallmarks of the Father of the Nation's vision.
The schoolchildren are exploring the concept of transformation through traditional and contemporary sources and mediums, with a rich body of representational and abstract drawings and paintings, sculptural works, collaborative installations and digital artworks. The diverse range of work draws inspiration from the huge achievements of Sheikh Zayed and the developments yet to come in this ever-evolving international community.
Featured image: Zaahirah Muthy, courtesy World Art Dubai.