They are billionaire property developers, celebrities, company software designers, football team owners, hedge funders, philanthropists. They all have two things in common: they are not short on money, and they all love - and have - art. World's top art collectors are certainly a diversified bunch of people that found collecting of artworks both amusing and lucrative, in an era when the art market appears to be stalling for the first time in years. Year after year, the collector lists compiled by platforms like ARTnews and artnet continue to reveal interesting facts, giving us an insight into who these people are, what they do, where they come from and, of course, which remarkable artworks one could find in their collection. Shall we find out?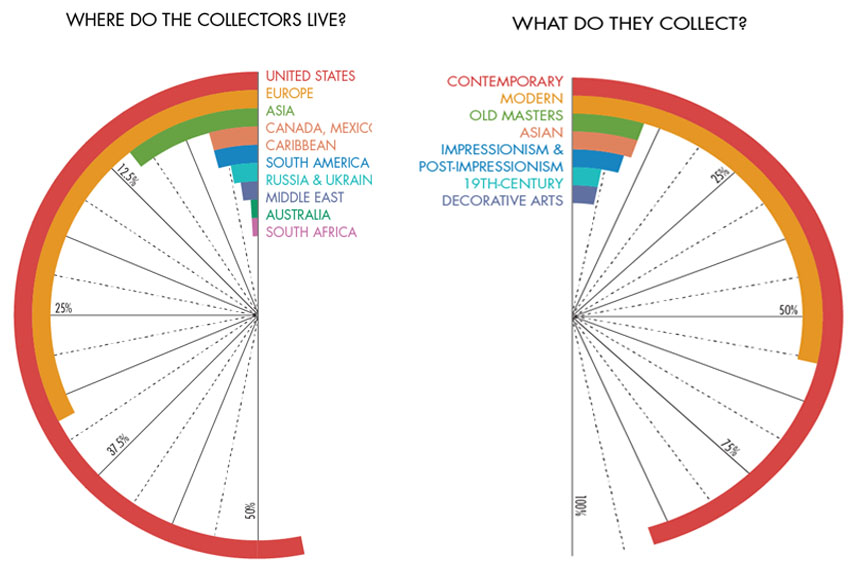 ArtNews Top 200 Art Collectors
ArtNews' list of Top 200 Art Collectors of 2015 was the 25th edition of this practice. Last year's edition had an intriguing revelation: a growing number of collectors have established private museums or foundations. In fact, 46 of them have opened spaces to house their artworks and archives, many in recent years: we have Russian collector Dasha Zhukova, the owner of Moscow's Garage Museum of Contemporary Art, French magnate Bernard Arnault, who opened the $135m Fondation Louis Vuitton in Paris in 2014, and Broad Museum's patrons from the US, Edythe and Eli Broad. Among the longstanding names, there are Norwegian millionaire Hans Rasmus Astrup, whose Astrup Fearnlet Museet opened in Oslo in 1993, or German collector Udo Brandhorst, who set up a foundation with his wife Anette that same year too.
The ArtNews list also revealed an increase in the leading collecting field, Contemporary art, some 30% since 1990. Wealthy collectors also seem to have lost interest in Old Masters and Impressionism & Post-Impressionism, down 5% and 9% respectively. More than 50% of them live in the United States, followed by some 30% in Europe and 10% in Asia. The list has been more or less constant over the years, with 13 names that never left the line-up since 1990, like Agnes Gund, Martin Z. Margulies, Charles Saatchi, Jo Carole and Ronald S. Lauder, the Sainsburys or the Bramans. On the other hand, 23 of them appear for the first time: Adrian Cheng, Wang Zhongjun, Sultan Sooud Al Qassemi, Grazyna Kulezyk and Leonardo DiCaprio.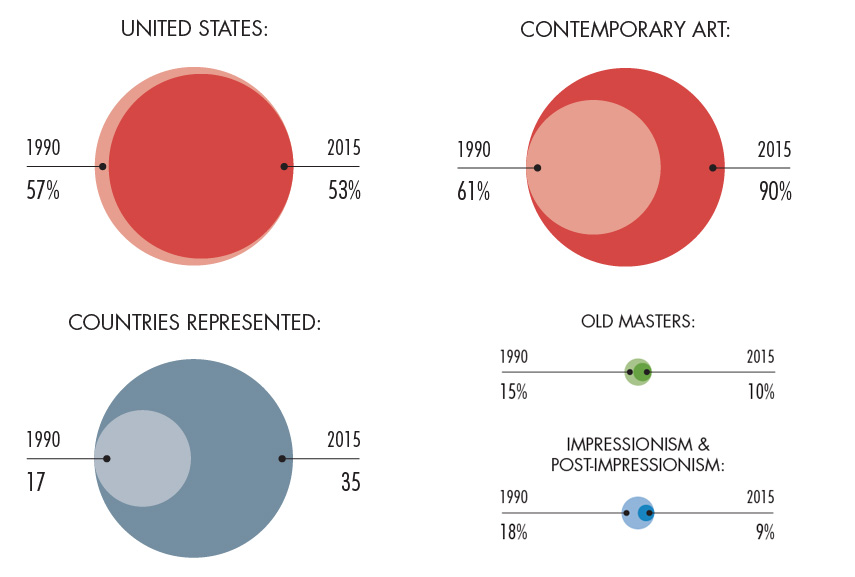 What Do They Collect?
Whether they're on view in their private museums or hanging from the walls of their luxurious mansions, some of the world's most famous artworks are in possession of these very collectors. It doesn't come as a surprise, for instance, that an entire array of works by the most expensive Russian artist, Ilya Kabakov, belongs to Chelsea FC owner Roman Abramovich. Debra and Leon Black, investment bankers, proved to be fans of Chinese sculpture and Edvard Munch, for instance, as they own one of four existing versions of The Scream, which they purchased for $119.9 million (but that's nothing compared to their $5.4 billion fortune). Advertising and communication moguls Karen and Christian Boros own some 700 works including those by Elmgreen & Dragset, Wolfgang Tillmans and Ed Ruscha, while commodities trader Larry Fields and his wife Marilyn have a Kara Walker, David Hammons and Christopher Wool, among others.
When it comes to lady collectors, who are still a minority on the largely male-dominated charts, we have Ingvild Goetz, with some 5,000 contemporary artworks held in the Herzog & de Meuron museum in Munich, Arte Povera and Zero pieces can be found in the private residence of Erika Hoffmann-Koenige, while art ranging from 1970 to today, including Anish Kapoor, Thomas Ruff, Cindy Sherman and Maurizio Cattelan is in the collection of Patrizia Sandretto. Hotel magnate Elaine Wynn was apparently the one behind the $142m buy of Three Studies of Lucian Freud painting by Francis Bacon in 2013, the most expensive artwork sold at auction at that point. And speaking of most expensive, Georgia O'Keeffe's Jimson Weed/White Flower No. 1 is the proud member of Alice Walton's art collection.
  Editors' Tip: The Art of Buying Art
While we wait for the 2016 list and the changes it will bring, let us remind you that you don't necessarily have to be a millionaire to buy artwork - although we can all agree that certainly helps. The Art of Buying Art written by Alan Bamberger, a San Francisco–based art consultant, expert, syndicated columnist and advisor best known for his regular posts to ArtBusiness.com, is surely one of the best books on collecting out there. From it, you can easily learn how to buy, sell, evaluate, appraise, and collect art. Topics include how to research and evaluate art prices like professional dealers and appraisers, how to focus your art collecting, how to spot fakes and forgeries, how to buy art at online auctions, how to negotiate for art, how to buy directly from artists, how to buy fixed-price art online, and how to tell the difference between an original and a reproduction.
Featured images in slider: Dasha Zhukova. Photographed by Robert Fairer, Vogue, March 2008; Eli and Edythe Broad. Image via cpexecutive.com; Bernard Arnault and Frank Gehry in front of Fontation Louis Vuitton. Image via parismatch; Patrizia Sandretto. Image via wwwold.fsrr.org; Sultan Sooud Al Qassemi and Mandy Merzaban. Image via gulfartguide. All images used for illustrative purposes only.