The Barcelona based Fluorescent Smogg project space is about to become home to The Moon on a Stick, an exciting sounding site-specific showcase of meditative work by British artist Xenz. London based artist Xenz has developed a very unique style since taking up graffiti over twenty years ago, becoming recognised for his beautiful and stunning imaginary landscapes, which seamlessly combine elements of both graffiti and fine art. The works of Xenz transport the viewer into an oasis of natural wonder often inhabited by stunning creatures, which will appear in a slightly different way for his debut exhibition with Fluorescent Smogg, The Moon on a Stick. Barcelona based Fluorescent Smogg were responsible for the Paranoia on Paper: The Sequel, an installation and collaborative print release from Sickboy and Word to Mother and a recent exhibition by Max Rippon, which you can hear him discuss in his Widewalls interview.
Xenz "The Moon on a Stick" from Fluorescent Smogg on Vimeo.
Xenz at Fluorescent Smogg
The Moon on a Stick site-specific showcase of meditative work at Fluorescent Smogg, finds Xenz leaving behind his usually colourful imaginary worlds and entering into monochromatic illustrations. Always inspired by nature, The Moon on a Stick arrives with the May full moon and the emergence of a new season, Xenz exploring themes of the lunar cycle, its effect on us and nature. The stripped back colour palette used by Xenz in this new solo exhibition highlights the stark contrast between our post-industrial landscape and the dream-like escapism of his imaginary landsacpes. The new solo exhibition at Fluorescent Smogg also finds Xenz inspired by wildlife courtship rituals and survival instincts, linking them with human themes of identity, relationships, success and competition in our modern world. Read about a previous Xenz exhibition, Building the Dream and take a look at Xenz's Illusion, an exclusive interview with Widewalls.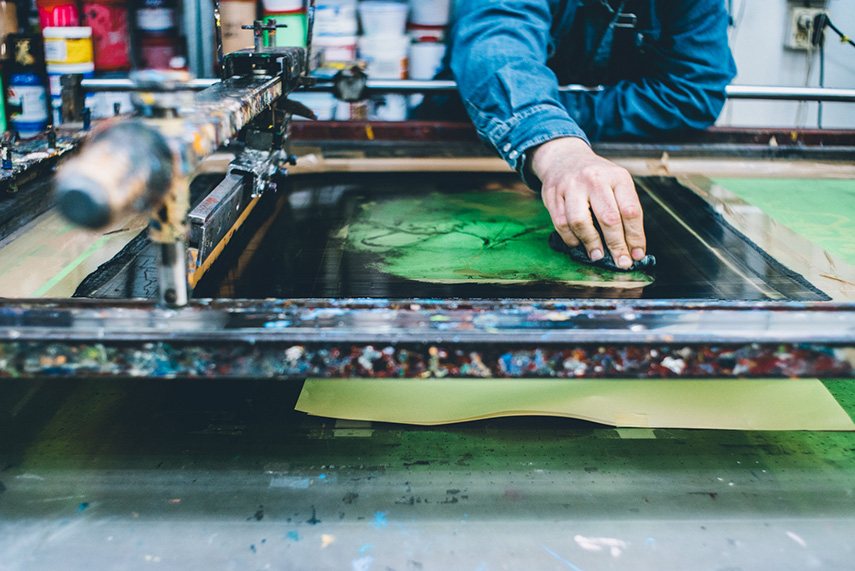 Xenz Prints for The Moon on a Stick
Along with the site-specific showcase of meditative work by Xenz at Fluorescent Smogg, the artist and project space are celebrating The Moon on a Stick by releasing a number of prints to coincide with the solo exhibition. Available will be a five-colour screenprint in an edition of 25, a hand-finished special edition of the screenprint in an edition of just 5 and a very limited edition box set containing A3 black and white prints along with an original sketch, released as an edition of 4. The opening night will also have a limited run of black and white show posters available for purchase.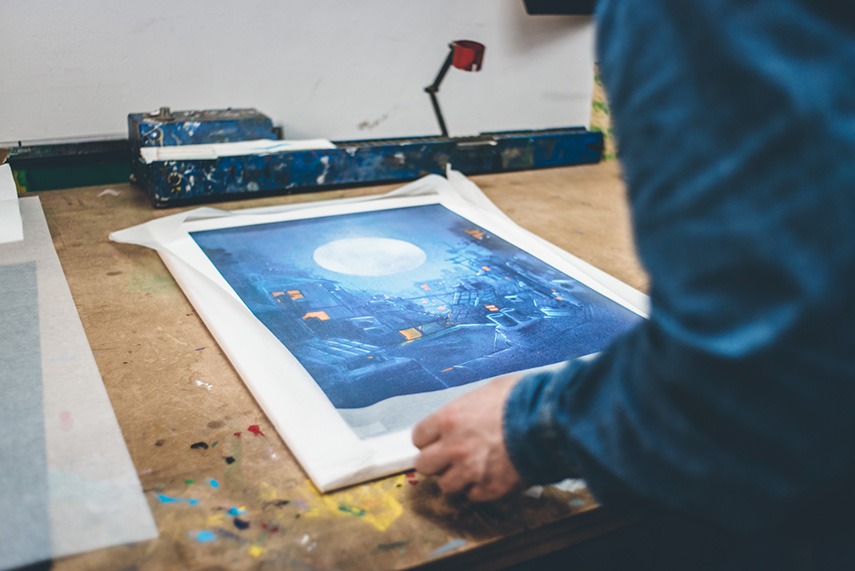 Xenz Solo Exhibition
The new Xenz solo exhibition, The Moon on a Stick at Fluorescent Smogg, will see the British graffiti artist set up a unique site-specific takeover of the Barcelona project space, aimed at extending the ideas apparent in the limited edition prints with a set of unique artworks. The exhibition also offers the viewer a unique opportunity to experience the beautiful imaginary landscapes of Xenz in a new light, the usual inviting vivid colours having given way to the stark black and white imagery to be found in The Moon on a Stick. For more imaginary landscapes explore the works of Nataša Kokić in Introducing and Ariane Monod in Sublime Landscapes.
The Moon on a Stick by Xenz opens at Fluorescent Smogg, Barcelona, on 30th April, 2015. Opening event, Thursday 30th April, 2015, 7-11pm.
For all the latest exhibition news sign up to My Widewalls today.
Photos by Filipp Shamshin, courtesy of Fluorescent Smogg.