Being a small and almost hermetic part of the world of creativity, the fantastical world of Outsider Art exists on the outskirts of mainstream contemporary art disregarding the confines and rules of academic artistic institutions. The growing number of active outsider artists coming from different societal margins continues to keep this art form vital today. XVA Gallery, in collaboration with Morteza Zahedi, will present the work of two outsider artists at the upcoming exhibition entitled Watching and Caring. The exhibition will feature sculptures by Alikhaan Abdollahi and paintings by Mohammad Ariyaei. Following their imagination and creating works without taboos and inhibitions, these artists provide a valuable insight into a different world seen through their eyes.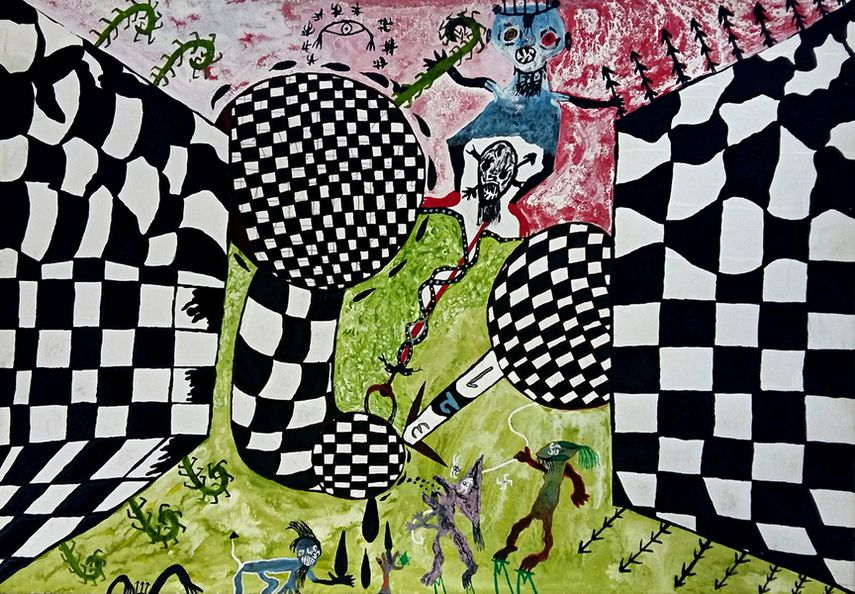 The Fantastical World of Mohammad Ariyaei
Drawing his subjective visions and having imaginary friends throughout his childhood and now being a fan of Harry Potter books, Mohammad Ariyaei has always been absorbed in the world of fantasy. Living in Iran and working in the Pegah dairy factory of Golpayegan, Arieyaei was first encouraged to start painting in 2013 after meeting an illustrator for children's book. Being the embodiment of his surreal primitive expression, his paintings take the viewer on a journey through his dreamlike, delirious and nightmarish imaginings. His works are often compared to artists Hieronymus Bosch and Jean-Michel Basquiat and the outsider artist Carlo Zinelli.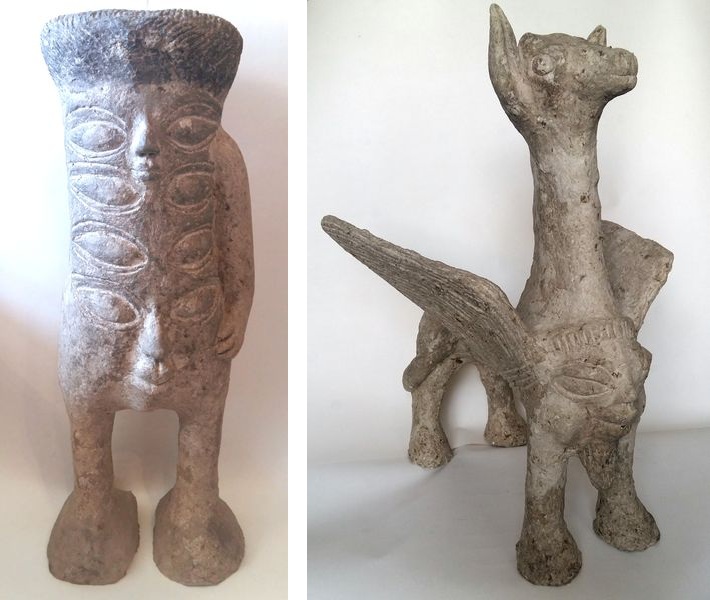 Mythical Sculptures of Alikhaan Abdollah
Originating from Afghanistan and currently living in Iran, Alikhaan Abdollah only started to learn to read and write at the age of thirty-five. The biggest influence on his artistic practice was the relationship with the self-taught artist Hasan Hazer Moshaar who managed to guide his deep-rooted interest in the sculpture that he has had ever since his childhood. Finally finding motivation to create despite his life circumstances and difficulties, Alikhaan managed to find the main paste for his work after several years of experimentation with various materials. He started using recycled egg boxes and library paste as a natural kind of glue. Being produced without the specific design and plan, his sculptures are the result of his imagination at the time and are a combination of legendary, mythical and metaphysical creatures.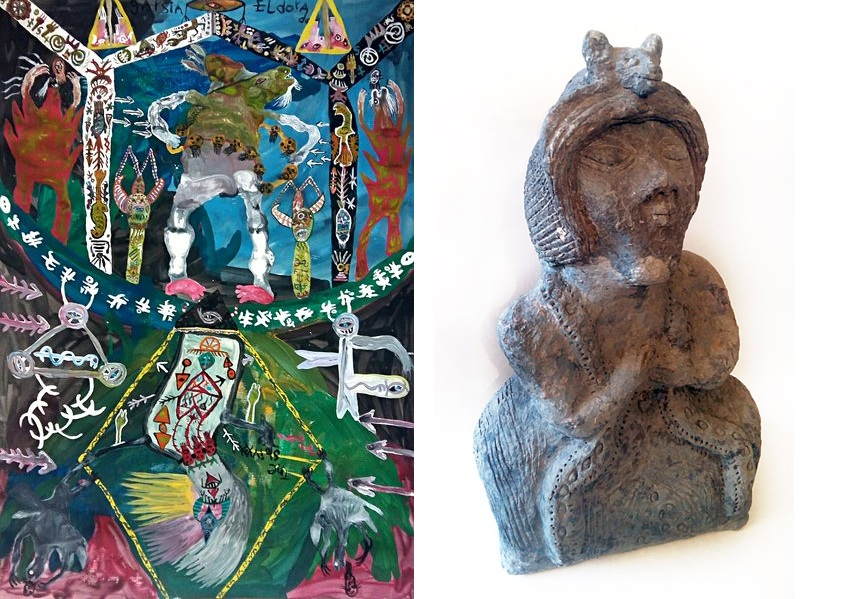 Watching and Caring at XVA Gallery
Located in Dubai in Al Fahidi Historical Neighborhood, XVA Gallery is one of the leading galleries in the Middle East specialized in contemporary art coming from the Arab world, Iran and the Subcontinent. Featuring works by both established artists and emerging ones, XVA Gallery exhibits both locally and internationally with works that explore different cultural identities and perspectives. The exhibition Watching and Caring will be on show from April 30th until June 7th, 2016. The vernissage will take place on April 30th from 6pm to 9pm.
Featured image: Mohammad Ariyaei - Untitled (detail), 2015. All images courtesy of XVA Gallery.