One of the most recognizable faces in contemporary art, Yayoi Kusama started her career almost five decades ago in New York, at the time of the burst of creative energy expressed through all art disciplines. By the late 1960s, the artist made a name of herself and her engaging happenings infused with the vigor of the hippie counterculture where her signature polka dots were patented, became critically acclaimed, and positioned Kusama in the international context.
Through her multimedia practice - spanning from performance to film and fashion - Kusama has been exploring the repetitiveness of the motif while exploring different formats, forms, and contexts. The influence of the Japanese tradition is most apparent in the simplicity that prevails through all of her outputs, despite the visually challenging aesthetic reminiscent of Pop art and the hallucinatory experiences caused by magic mushrooms or LSD.
The year 2020 will be full of exhibitions honoring Kusama's practice in the States and Europe, with a special presentation featuring both the artist's latest and historic works at The New York Botanical Garden, opening in 2021.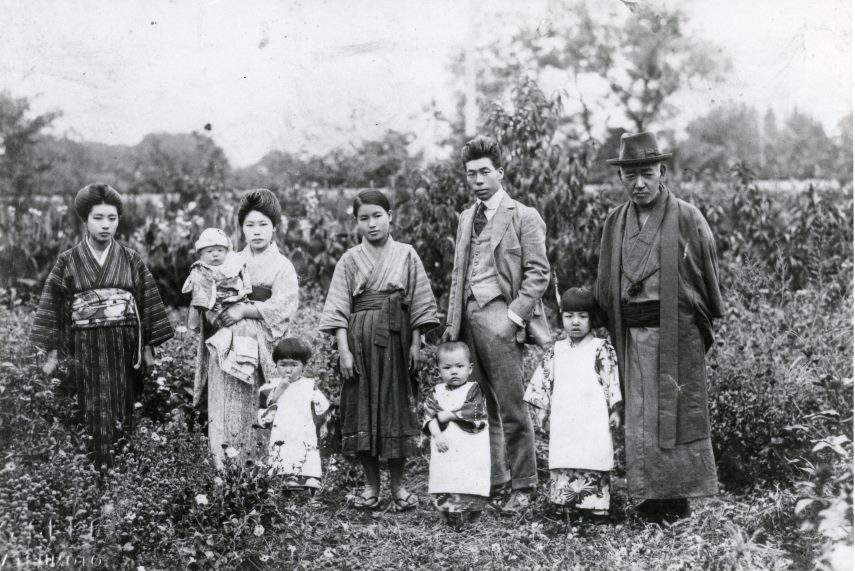 The Importance of Green in The Art of Yayoi Kusama
In general, the NYBG exhibition tends to underline Yayoi Kusama's connection with nature to the full extent, starting from her childhood spent in the greenhouses of her family's Nakatsutaya seed nursery, and the first works and installations, to her mirrored environments and organic forms, then floral polka-dotted sculptures, mesmerizing paintings, and her debuting participative greenhouse installation.
The visitors will also have a unique chance to see sketchbooks from her youth that show the artist's lifelong fascination with flora that shaped her aesthetic. Carrie Rebora Barratt, Ph.D., CEO & The William C. Steere Sr. President of The New York Botanical Garden, shared her excitement with the upcoming show:
The Garden is uniquely suited to present this once-in-a-lifetime display of Yayoi Kusama's work for our visitors. An exceptional selection of work invites visitors into her universe, to consider her practice through her unique vision of the natural world. Our subtitle, Cosmic Nature, references her bold investigations of materiality, media, color, form, and pattern that proliferate into an expansive sense of becoming with the cosmos. We are thrilled to mount this focused survey of the work of one of the most influential artists of our time.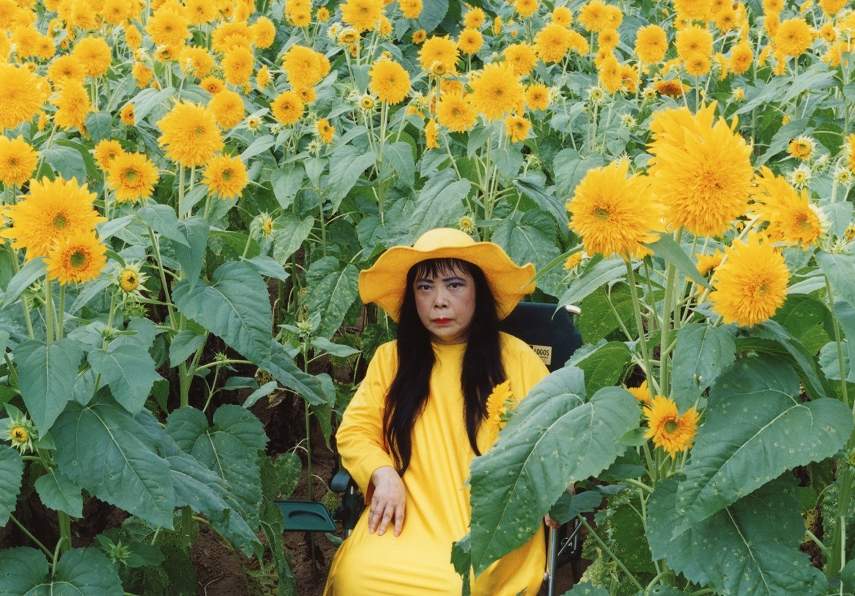 The Plants And Artworks
The works will be installed across the Garden in several of its facilities, while the part of the outdoor presentation that will include large-scale sculptures. Alongside KUSAMA: Cosmic Nature, The Enid A. Haupt Conservatory will exhibit a spectacular horticultural tribute to Kusama inspired by one of her vibrant paintings, and The LuEsther T. Mertz Library Building will feature immersive installations along with the selection of her earlier works (botanical sketches, paintings, works on paper, biomorphic collages, assemblage, and recent soft sculpture and paintings).
The new works to be presented are Flower Obsession (2020), the artist's first-ever greenhouse where visitors will be encouraged to apply coral flower stickers; a monumental, 16-foot-high sculpture Dancing Pumpkin (2020); an immersive outdoor installation responding to changing light throughout the day and seasons titled Infinity Mirrored Room—Illusion Inside the Heart (2020), and I Want to Fly to the Universe (2020), a vibrant, 13-foot-high biomorphic form with a yellow face and signature polka dots.
Kusama's artworks will be complemented by seasonal in- and outdoor displays of tulips and irises formed by the garden's horticulturists. Here it's also important to mention that polka-dotted sculptures that will be installed across the Garden will be followed by meadow grasses, bellflowers, water lilies, and other plants.
An outdoor Dancing Pumpkin will be enriched by an immersive landscape of various plants that resonate with the sculpture. The same method will be applied for the other Kusama sculpture called Hymn of Life: Tulips (2007) featuring literary three gigantic fiberglass flowers.
Also, two exhibition space in the Conservatory facility will be transformed into environments honoring Kusama's practice and her self-proclaimed biophilia with the pieces Starry Pumpkin (2015), and a vibrant painting ALONE, BURIED IN A FLOWER GARDEN (2014) that will be followed by a living work of art with plants changing seasonally.
The mentioned selection of Kusama's early works at Mertz Library Building will not only show the early influence of natural world on her practice, rather it will accentuate the avant-garde climate of the New York City between 1958 and 1973, which Yayoi Kusama shared with Joseph Cornell, Eva Hesse, Donald Judd, and Claes Oldenburg. It's worth mention that the immersive experience titled Life (2015) will offer the visitors a chance to navigate a circular space enclosing polka-dotted forms with mosaic surfaces, while Pumpkins Screaming About Love Beyond Infinity (2017) will provide a more contemplative experience as it is a mirrored cube reflecting an infinity of polka-dotted pumpkins.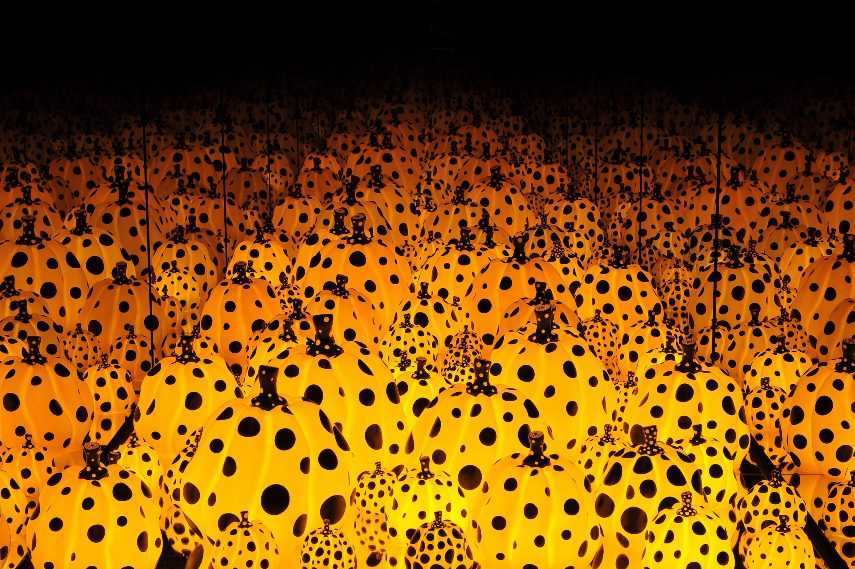 Yayoi Kusama at The NYBG
Due to the shifting nature of the garden, the exhibition will provide the visitors to experience Yayoi Kusama's art in different settings formed by new plantings, palettes, and textures. That will be additionally enforced with public programs including film screenings of Kusama Infinity (2018) and Kusama's Self-Obliteration (1967); lectures; fun-filled Polka Dot Picnics in spring; and Pumpkin Power Weekends in autumn.
During summer 2020, a fully illustrated exhibition catalog including essays by guest curator Mika Yoshitake, art historian Jenni Sorkin, curator Alexandra Munroe, and NYBG curators and scientists that explore Kusama's lasting connection with nature will be published.
KUSAMA: Cosmic Nature, which was due to open in May 2020, will now open in the spring of 2021 at The New York Botanical Garden.
Featured image: Yayoi Kusama, 2020; Life, 2015. Fiber-reinforced plastic, glass tile, Dimensions variable. Collection of the artist. Courtesy of Ota Fine Arts. Courtesy The New York Botanical Garden.