You probably know her for her Infinity Mirror Rooms, where it's very possible you've taken a selfie. You might know her as the most popular artist of 2014, too. You most definitely remember her polka dots, everywhere.
But are you aware of the path Yayoi Kusama walked to get where she finally is today?
Shedding some light on this important matter is Kusama - Infinity the long-awaited feature documentary chronicling her journey from a conservative upbringing in Japan through her time in New York, and to the fame she enjoys today. It is a compelling visual story about a battle - one against sexism, racism, ageism and mental illness, toward a fulfillment of an artistic dream.
After growing up in a strict family, Yayoi Kusama managed to attend art school, and eventually went to New York after corresponding with none other than Georgia O'Keeffe, in order to become an artist. There, she quickly became a major figure, becoming part of avant-garde movements such as Pop art, Minimalism and Abstract Expressionism, and friends of artists like Joseph Cornell and Donald Judd.
In the early 1970s, Kusama returned to Japan, only to become isolated. Her mental and physical state got worse, eventually leading her to voluntarily checking herself into an institution, where she still lives today.
Written, produced and directed by Heather Lenz, the Kusama Infinity film premiered at the 2018 Sundance Festival. Through present-day interviews with curators, museum directors and fellow artists, as well as Kusama herself, we discover the aspects of her uneasy life, and grow to respect her even more.
We talked to Mrs Lenz about the lengthy process of making this film, as well as its future.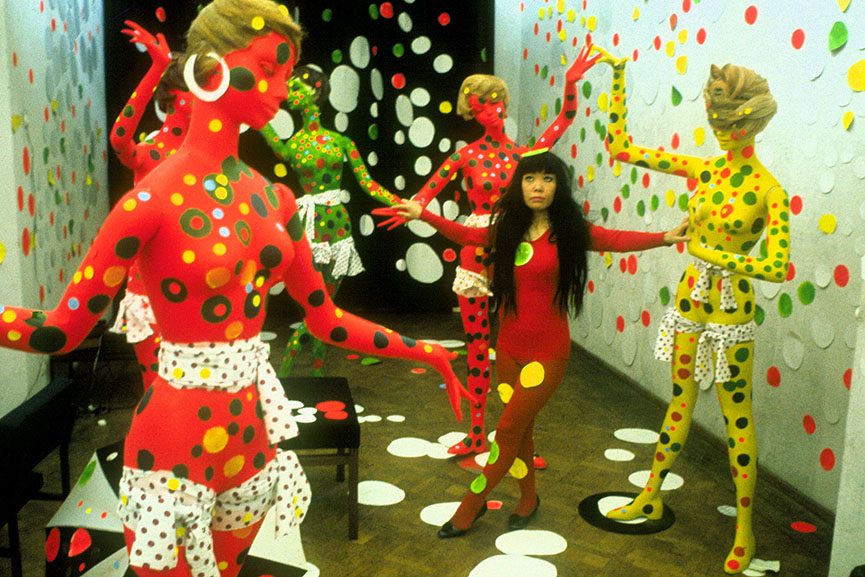 Yayoi Kusama's Mesmerizing Dotted World - Now On Film
Widewalls: Let's begin with a fairly obvious question: why Kusama?
Heather Lenz: I became interested in Kusama while earning degrees in Art History and Fine Arts. At the time, we learned the history of art via two-inch thick text books that seldom contained mention of any women artists, and certainly not Kusama!
When I first discovered Kusama's art it was love at first sight. At the time, there was only one book about her, and when I read it and found out that she was living in a psychiatric hospital I realized that in addition to being a great artist she is also a complex person.
In addition, I felt that her contributions to the American art world had not been properly recognized and it was my goal to help change that by making a film about her. I never anticipated that Kusama would be become the world's top selling female artist before the film was complete!
Widewalls: The film has been in the making for seventeen years. How would you describe this experience? Was it difficult to produce it? To find people who would participate: curators, fellow artists?
HL: It was not difficult to convince people to participate in the film. However, the film was expensive and complicated to produce because it involved international travel, multiple languages, and imagery that was expensive to license.
Most grants for documentaries preferentially fund social issues and while there are social issues buried within this film, there is a perception that the arts are frivolous when compared to some of the more obviously tragic stories in the world.
Personally, I think it's unfortunate that there isn't more funding available to tell the stories of people who aren't walking the beaten path and who are doing things that are challenging and inspiring. People like Kusama make the world more exciting and less dull. There is magic in that.
Widewalls: What about Kusama herself? Some describe her as challenging to collaborate with.
HL: By the time I finally met Kusama, I had been interested in her for many years and it was incredibly exciting to talk with her and ask her questions and hear her story directly. I also had the opportunity to read through many of her letters and go through her photographs and as a documentary filmmaker who has also studied art history, I found that thrilling.
Hand-written letters and even typed pages have a quality that email and text messages lack. And Kusama has a treasure trove of photographs that can't be matched.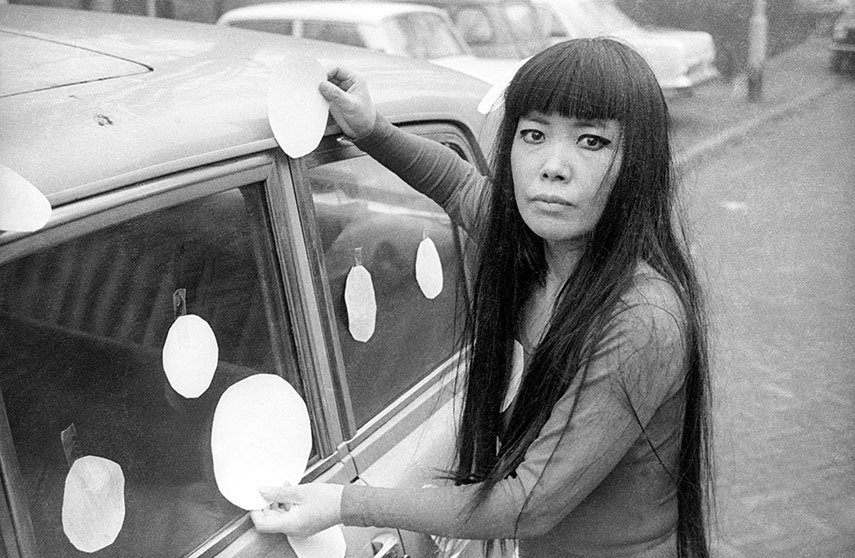 Kusama - Infinity
Widewalls: In your opinion, how does the film contribute to the fact art can serve as great relief for mental illness, racism and sexism?
HL: While I agree that art may be a relief for racism and sexism that's not how I see Kusama's art or her experience. Racism and sexism were obstacles that prevented her from getting recognition sooner and may have contributed to her mental illness.
That said, I do think art can be a relief for the struggles and challenges that life throws at people. I think that's partially because making art requires people to be in the moment and focus on the task at hand.
Widewalls: You are the project's writer, director, producer and editor. I guess this has given you a lot of freedom during the creative process?
HL: It's true that I originated the film and wore many hats but I didn't work alone. When I first decided to tell Kusama's story I started writing a script about her with the intention of making a biopic.
The time I spent researching her and thinking about how to structure her story was helpful when my producing partner, Karen Johnson, and I started shooting interviews in 2004.
Although I was an editor on the film I would really like to shine a light on the final editor, Keita Ideno, who worked around the clock in the months before Sundance to finish the film. Keita is very talented and also bilingual and he found hidden gems in our footage that had been overlooked before he got involved.
We also had the good fortune to work with Kate Amend as a consulting editor and it was a privilege to work with her in the edit room. She is incredibly sharp and able to zero in on things that aren't obvious to anyone else.
Yayoi Kusama – Obsessed with Polka Dots, A Video made for the Tate Modern Museum Retrospective, 2012
An Incredible Experience
Widewalls: How did this film enrich you, both as a director and as a person?
HL: There is a saying, "Wisdom is knowledge you acquire after you need it." As a director and as a person I learned things making this film that I wish I had known in advance!
Widewalls: What was the critics' and the public's response to the film so far? What is it you'd like the movie to tell its audience?
HL: I hope people will find the film inspiring. So far we've only screened it a few times. The audiences at Sundance were very enthusiastic and it was a privilege to share the film with them especially after working on it for so long.
Widewalls: Are you interested in creating more similar documentaries in the future?
HL: There are many subjects I would like to make movies about but after spending so many years on this film I need to be very careful about how I spent my time moving forward and I'm not sure yet what my immediate future holds.
Widewalls: The documentary was presented at Sundance. Where will we be able to see the film next?
HL: We are currently entering the film in other festivals and Magnolia plans to do a theatrical release later this year, probably in the late summer or early fall.
For anyone interested in more details, please like us on Facebook or join our mailing list at: www.kusamamovie.com.
 Editors' Tip: Yayoi Kusama: Infinity Mirrors
This book explores Yayoi Kusama's best-known and most spectacular series - the Infinity Mirror Rooms - and its influence on the course of contemporary art over the past 50 years. World-renowned Japanese artist Yayoi Kusama has worked in a variety of media, including painting, sculpture, performance art, and installation.
Featured images: Kusama in Japan © Tokyo Lee Productions, Inc; Heather Lenz and Yayoi Kusama © Tokyo Lee Productions, Inc; Kusama at Orez © Harrie Verstappen; Kusama with Orgy magazine © Harrie Verstappen; Yayoi Kusama © Harrie Verstappen. All images courtesy Heather Lenz.