About three years ago, Guardian's art critic Jonathan Jones posed an interesting question in one of his articles: Where is British art, after 25 years of being young?[1] The author's tone was narrative rather than critical, but the question contains an important premise. Young British Artists was a group formed in the late 1980's, whose members were, undoubtedly, young at the time. However, in this particular context the word "young" is not an attribute that only speaks of the artists' age, but instead it stands for the general attitude that characterizes the movement (as the question that served as a point of departure suggested). In fact, it may be the only common denominator for their art (except, perhaps, for the other term integral to the name of the group - British). When we say young, we usually think of a spirit that is free, progressive and open-minded. But frequently enough, being young is used as an alibi, as it makes the reckless, untactful and obscene behavior seem less blameworthy. In both senses of the word, it seems like its appropriation was apt.
London in the late 1980s
In the 1980s, London was a major financial center, but its art scene was slightly underdeveloped when compared to that of New York and West Berlin. It seemed like, while the Pictures Generation and the Neue Wildern were flourishing as fresh postmodern movements in the USA and Germany, there was nothing particularly new in British contemporary art. This was the framework that provoked new thinking and understanding and it coincided with the emergence of Young British Artists, whose identity was partly built on rebellion, and partly on good entrepreneurial skills. The group showed no stylistic or ideological consistency, no preferred medium, and many would argue that most of them had no "artistic skills" either. And yet, at each of the exhibitions they took part in, you could tell a YBA from any other British artist, even if they were just as young. The Young British Artists used their "youthfulness" in a very specific way, to claim the identity of their generation and ultimately, to make it marketable. Instead of a written manifesto, they pursued coherence through their behavior and lifestyle, often reflected in their work. Their art was outspokenly direct, often violent, pornographic or bizarre, but it was just enough to create a public personality that matches a Young British Artist. It was the generation with an in-your-face attitude, something that critics address to the British "laddishness" and sarcasm[2], fueled by the typically-postmodern fascination with the spectacle and immediacy. History has not seen another movement that became known only for its wild partying, eccentricity and a nonchalant, ignorant outlook on reality, which once again reveals how in contemporary art, context really is everything.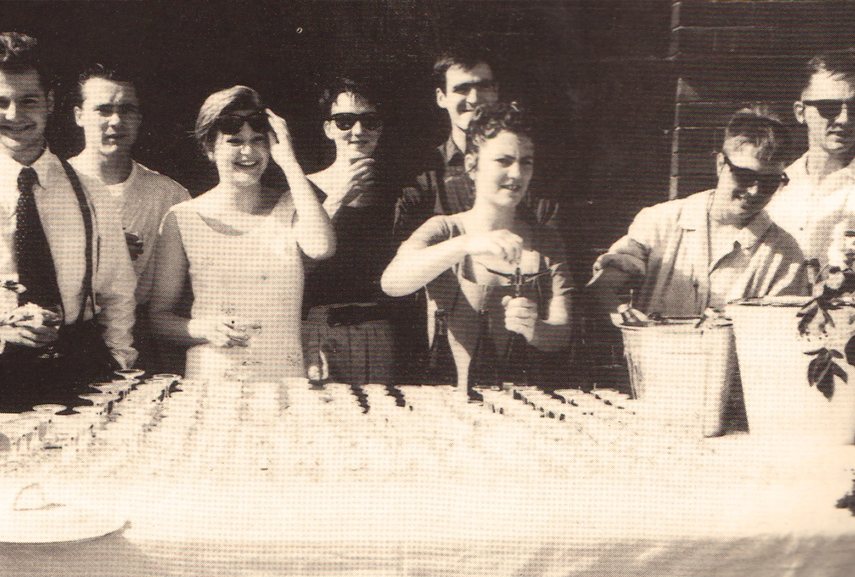 The Birth of Young British Artists - Freeze
The first YBA show was called Freeze, and it was held in 1988 in an abandoned warehouse in London. This ambitious student show is today considered to be the one that gave rise to the entire movement, although the name Young British Artists was not coined until 1992, by Michael Corris. Nonetheless, it gathered young artists who all went to the same school, Goldsmiths college in London, and it clearly demonstrated the young British piece of mind. The exhibition turned out to be a major success - however, as is openly admitted and criticized by some, the show was not only great because of the greatness of the works, but also because of the contacts supposedly pulled by the students' tutor, Michael Craig-Martin. In his own words, he suggested to some of the great names in the art world (Nicholas Serota and Norman Rosenthal) to come see the show. Although Craig-Martin claims that the success of YBAs resulted from a combination of circumstances, good relations with the art world being only one of the many, some critics would still argue that the YBA phenomenon was overrated, explaining how the shock tactics that they deployed were not all that original in the first place[3] (think: 70's performances, Vitto Acconci, Chris Burden).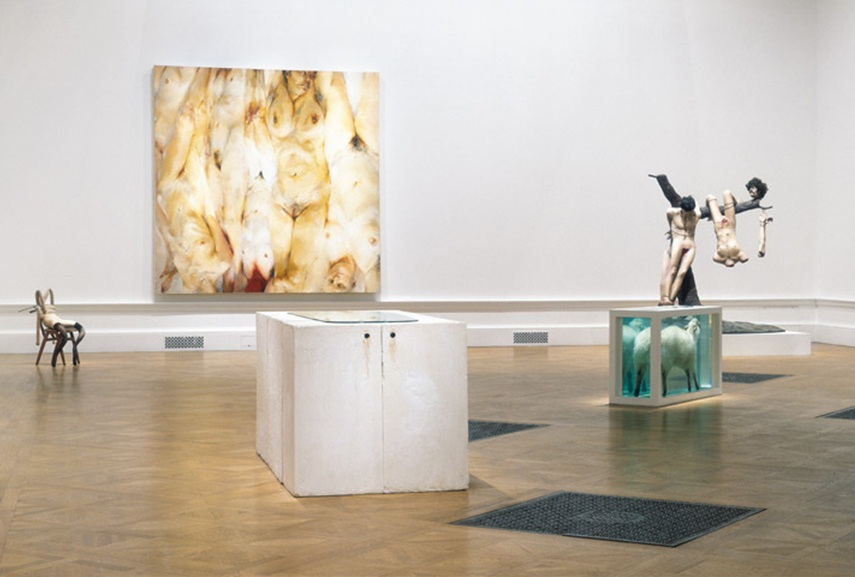 The Involvement of Charles Saatchi and Further Recognition
Interestingly, Freeze was organized and curated by Damien Hirst, labelled as the infamous one, the blackest of all sheep in the family. A lesser known fact is that, while some of his colleagues sold their first pieces at that show, Damien didn't actually sell anything, nor did his work get any specific attention (allegedly, this was because the artist was too busy organizing the show, which left little time for him to work on his own art). In BBC's Damien Hirst - Freeze documentary, the artist said that he "took this personally", and decided to make art that you could not ignore. So the Hirst we know today is possibly the alternation to an angry adolescent from 1988. Only a couple years later, it seemed like Hirst was doing just fine after all, since he had become a friend of the mogul Charles Saatchi. Having visited the first show himself, Saatchi turned out to be one of the key sympathizers and supporters of the group, being a collector and a promoter as well. In 1997, he displayed the YBAs as part of the Sensation exhibition, where some of the seminal Britart works were exhibited for the first time. After that show, the YBAs reached even greater public attention and publicity (both the good and the bad kind). In the following years, many of the group's members were either nominated or had won prestigious prizes, such as the Turner prize and the lifetime memberships at the Royal Academy of Arts. Throughout the nineties, artists who were not initially part of the group (did not exhibit at Freeze), started becoming spontaneously associated with it - such as Tracey Emin, Rachel Whiteread, Jenny Saville, Marc Quinn, etc. Let us remember the most prominent YBAs - the ones who took part in Freeze and the ones who joined afterwards.
Editors' Tip: Young British Artists
If you're interested in a more detailed outlook on the YBAs, consider purchasing this book. Young British Artists aims to provide a genuine insight into the artistic activity in London during the 1990s. It contains fragments of interviews with Rachel Whiteread, Sarah Lucas, Gary Hume and others. The editor, Jonathan Barnbrook, designed the book in a unique, unconventional manner, and illustrated it with 600 full color reproductions. The members of the legendary "Britpack" are portrayed through short biographies and authentic press clippings from the media frenzy of that time.
Damien Hirst - The Most Terrible Enfant of Them All
The story of YBAs is much about Hirst himself. His initiative to organize an exhibition while he was still a student is symbolic enough, but his further engagement and persistence was of great importance in the future. After the first warehouse show (Freeze), the artist organized two other shows with a similar sentiment - Modern Medicine and Gambler, both in 1990. It was on this occasion that Charles Saatchi fell irreversibly in love with Damien's work, although the astonishment was provoked by the grotesque rather than beauty. It was his first "animal" installation, which pushed Hirst into the world of endless provocation that he is "able to get away with". The famous YBA is one of the wealthiest and most successful artists of his generation today, having sold an entire show once in 2008, for the record-breaking amount of £111 million.
Tracey Emin - The Extroverted Feminist, but "Not a Feminist Artist"
Tracey Emin is widely considered the female alpha of the group, mostly due to the popularity and respect that she has today. Initially, her relationship with the YBAs came out of her friendship with Sarah Lucas, with whom she ran a store called The Shop in Bethnal Green. The two used to sell their works and arty objects, including a peculiar ashtray that people like to describe to this day (it had Hirst's photograph on its bottom). The same year that the shop was open (1993), Emin had her first solo show at The White Cube. From the very beginning, it was clear what her art was going to be about - autobiography, the kind that most artists would not voluntarily share with the public. In the following years, Emin became known to the public as sloppy, but disarmingly honest, "wounded and not afraid to expose herself", as Madonna described her once. In 1999 she was a Turner prize nominee, which was when My Bed was created - probably still one of her most famous pieces.
Sarah Lucas - Vulgar Humor and Critique
Being one of Goldsmiths' graduates, Sarah Lucas was among the artists exhibited at Hirst's Freeze. Since then, it seems that her career was on a steady rise, crowned with Whitechappel Gallery's retrospective of her work in 2013. Lucas creates her installations, sculptures and photographs with strong regard to the gender issue, sex and socially acceptable behavior. She often deploys humor and sarcasm to demonstrate the absurdity of cultural biases, trivial day-to-day life situations and instances from the male-dominated environment. Cigarettes are probably the most common motive in her works, both sculptural and two-dimensional. Lucas represented Great Britain at 2015 Art Biennale in Venice.
Marc Quinn - The Renowned Sculptor
Once he was featured in Sensation, it became clear that Quinn's approach to art was in much similar to that of the established members of the group. Although he is now famous for a wide range of realistic sculptures, which often explore the various notions of a human body, the work that caught Charles Saatchi's attention was the Self project, an ice sculpture made with 9 liters of the artist's own blood. The mogul bought it in 1991 for £13,000, and in order to demonstrate that the sculpture hasn't melted, he exhibited it once again in London, in 2003. Quinn makes a new Self sculpture every 5 years, documenting the progress of his physical appearance over time.
Angus Fairhurst - A Man Abandoned By Colour
Angus Fairhurst may have actually been the genuine progenitor of the entire movement, having organized a student exhibition a few months before Hirst did. It was held at the Bloomsbury Gallery of London's Institute of Education, and it featured works by Damien Hirst, Mat Collishaw and Abigail Lane - all future YBAs. The exhibition apparently inspired Hirst to a certain extent, and Freeze, naturally, included Fairhurst's work as well. Fairhurst made a few significant pieces in the 90s, mostly working with photography and spatial installation - one of them being the image featured above, the author's own interpretation of Pieta. After his untimely, self-inflicted death in 2008, Tate's director Nicholas Serota spoke of him as one of the wittiest creators of his generation and "an enormously influential friend of other British artists who came to prominence in the early nineties".
Jenny Saville - The Lucian Freud of Our Time
Enthusiasm and help offered by Charles Saatchi came in handy to another Young British Artist-to-be in 1994. The art collector was one of Jenny Saville's major supporters at that time, and he used her painting named Plan as the signature piece for the Young British Artists III collection displayed at Saatchi Gallery. Like many of her works, the self-portrait was somewhat realistic, but with a crude undertone that exposes human flesh in an animalistic manner. This a style that Saville would pursue in future as well, and it became part of her identity today.
Jake and Dinos Chapman - The Brothers
The two famous brothers are of Greek origin, but spent their lives in England. Their art was mingled with that of Young British Artists as part of the Sensation exhibition. Their sculptures often involve plastic dolls or mannequins, either fused together or mixed in some other way, and brought into unusual physical relations. Just like many other YBAs, the brothers were nominated for the Turner Prize. Despite having matured in the meantime, their art never stopped being controversial in a certain sense. However, they have also been associated with charity work and open support for the development of contemporary art.
Angela Bulloch - Synergy Of Senses
Angela Bulloch is always mentioned as an important member of the YBAs, but the shocking effect deployed by most of the artists is not something that characterizes Bulloch's work, which has developed to become a kind of art that defies genre. The "freeze" effect was manifested a bit differently in her art. She often works with sound, combining the visual data with the audible, and creating interactive works that include biofeedback technology. This particular interest in interactive installation was present from the beginning of her career, since one of her earliest works, The Laughing Crowd Sound Piece from 1990, was also dependent on the viewer's actions.
Mat Collishaw - Creator of the Signature Piece
Reportedly, it was Collishaw's Bullet Hole that served as inspiration for the title of the seminal show. The critic Ian Jeffrey wrote a review for the exhibition catalog, in which he described the piece as a "freeze frame". The installation is composed of 15 blocks that depict a shot of man's scalp, apparently shot by a gun. The imagery is at the same time suggestive of female genitalia. The theme of death, interwoven with that of sex, is somehow symbolically related to YBAs, which makes the piece the true icon of the movement. Since 1988, Collishaw has become internationally acclaimed and world renowned.
References:
Jones, J. (2013),

Here's to the YBAs, and the best 25 years in British art history

, The Guardian [September 8,2016]
Cohen, D. (1997),

Letter from London: Sensation

, artnet [September 8, 2016]
Windsor, J. (1998),

Art 98: Collecting - Let the love affair begin

, The Independent [September 10, 2016]
Featured images, in chronological order: Angela Bulloch sitting on Damien Hirst's lap during the preparations for 'Freeze' in Port of London Authority (PLA) building, 1988; YBAs - Angus Fairhurst, Sarah Lucas, Damien Hirst, de Beauvoir, London, 2003. Photograph by Johnnie Shand Kydd, via artimage.org.uk; Sensation, 1997, exhibition view, image via wikiwand; Sensation, 1997, exhibition view, image via saatchithesite; Portrait of Damien Hirst by David Bebber; Tracey Emin at Leopold Museum Vienna; Sarah Lucas 'Self Portrait with Fried Eggs', 1996 © Sarah Lucas; Portrait of Marc Quinn via pierantoniotanzola.com; Angus Fairhurst 'Pietà (first version)', 1996 © The estate of Angus, via tate.org.uk; Portrait of Jenny Saville in her studio in Oxford, via theguardian.com; Photo of Jake and Dinos Chapman by Stefano Moscardini; Portrait of Angela Bulloch via tagesspiegel.de; Mat Collishaw 'Narcissus', 1990 © Mat Collishaw. All images used for illustrated purposes only.