Coral reef structures, seaweeds, anemones, and other organic forms are the inhabitants of Yellena James art. The scenes on her artworks cannot be attributed to a certain location, or even forms that can be indeed found in nature, but this is what makes her pieces particularly appealing. Colorful worlds filled with uncanny objects possess a hypnotic allure, inviting viewers to delve deep into them, and to get lost in their mesmerizing beauty. In April 2017 the public in Portland will have the privilege to enjoy these worlds at Stephanie Chefas Projects, where the exhibition Thrive of Yellena James' artworks will be organized.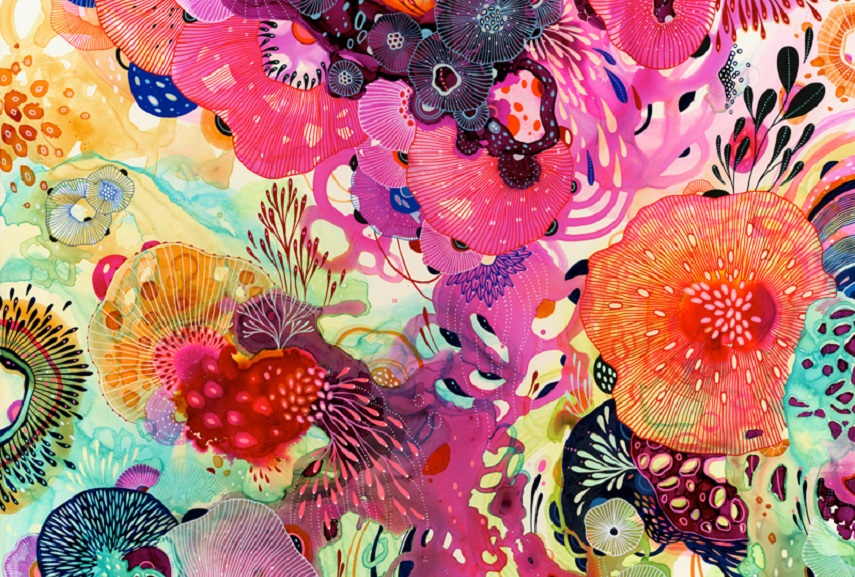 Ethereal Places Infused with Color and Life
The beauty of the worlds created by Yellena James is best described by the artist herself. As she explains, her latest art continues to discover imaginary worlds in vivid color combinations, drawing the viewers in, and leaving them to "get lost in these ethereal places full of life." Her organic landscapes are not instantly recognizable, but often resemble coral reefs. The choice of intense colors adds to the otherworldly effect, while a combination of textures emphasizes the artist's singular style.
At Thrive, the visitors will be able to see biomorphic shapes done on panels that create the visuals full of kaleidoscopic and brightly colored flora. The intricate layers and delicate patters offer a glimpse into a subaqueous ecosystem, overlaid with intricate forms, but all combined in a balanced way. Randomness and accuracy of the imagery replicates often visually random but mathematically precise harmony that exists in nature as well. In this way, the worlds of Yellena James, although imaginary and fantastical, seem to come to life.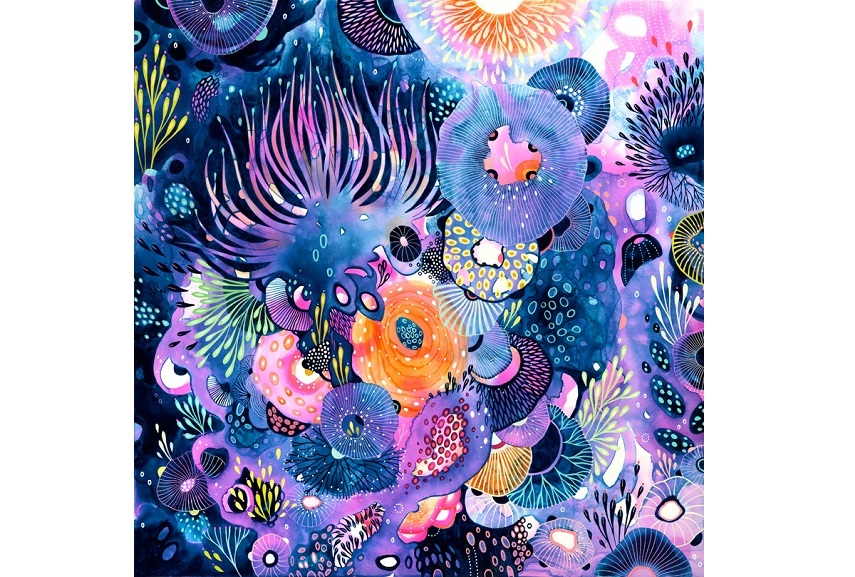 Yellena James Art
Originally from Bosnia and Herzegovina, Yellena James grew up and attended school in Sarajevo, before moving to the U.S. She gained her BA in painting and graphic design at UCF, after which she moved to Portland, where she lives today. Her recognizable artistic style is a combination of different techniques and materials, including pens, inks, and acrylic paint. Although bordering on abstract excellence, her works are at the same time organic and abstract, natural and alien. Although created with no specific landscape in mind, James's images still possess a sense of a defined place which radiates with emotion.
So far, James has participated in numerous shows in U.S. and overseas, with few solo shows happening in Los Angeles, San Francisco, Portland, and Bristol (UK). Besides creating paintings, she also works as an illustrator, and has contributed illustrations for Crate and Barrel, Crabtree and Evelyn, Anthropologie, and Relativity Media.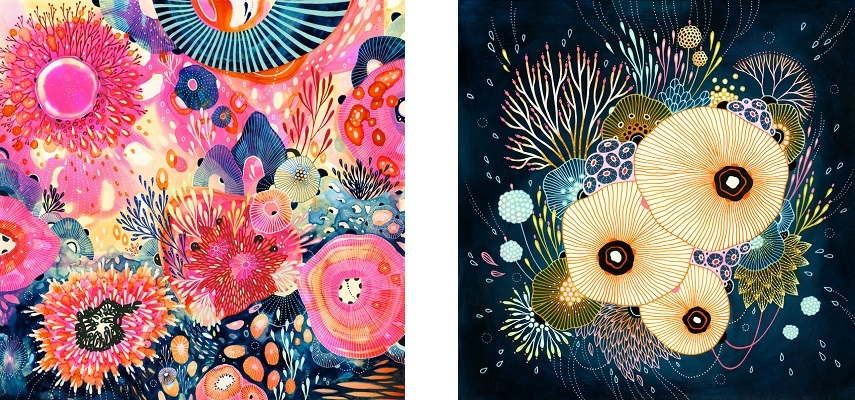 Thirve at Stephanie Chefas Projects
Stephanie Chefas Projects is a brainchild of its owner, Stephanie Chefas, who has been curating art exhibits for almost a decade in Los Angeles and San Francisco. Today she lives in Portland, where she runs this new space open to contemporary, cutting-edge, and challenging art. Monthly exhibitions are focused on cultivating talents and encouraging risks among visual dreamers.
The Thrive exhibition of Yellena James's artworks at Stephanie Chefas Projects, 305 SE 3rd Avenue #202, Portland, will run from April 7th through 29th, 2017. The opening reception will be held on Friday, April 7th, from 7 to 10pm.
Featured images: Yellena James - Challenger Deep, detail; Yellena James -Ambient. All images courtesy of Stephanie Chefas Projects.