Her name may have become a synonym for breaking-up and discord, due to her relationship with John Lennon and connection with the Beatles' break-up, but what cannot be overshadowed even by that infamous status is the fact that Yoko Ono is a ground-breaking figure, fierce activist and an original creator. With her oeuvre spanning over a variety of mediums from music, film and performance art, to painting, sculpture and text, Ono has been an eclectic author with groundbreaking notions. Blending her creative force and artistic expression with activism and performance, Yoko Ono art pioneered the ideas of feminism in artistic practice, and she dedicated her whole life to campaigning for world peace. Even though she was frequently criticized and even ostracized by the press and the public, she fought her way through all the hardships with her creativity and challenging artwork. The simplicity of her work may have been derided for years, but it is exactly that which makes it greatly accessible. With each successive generation, her blend of artwork and activism found a new audience, breaking her infamous status, one piece at a time. Activist for peace and human rights since the 1960s, a versatile persona and performer, courageous and unrelenting woman fighter, Yoko Ono still stands proud and strong after decades of misconception, misunderstanding and unfairness.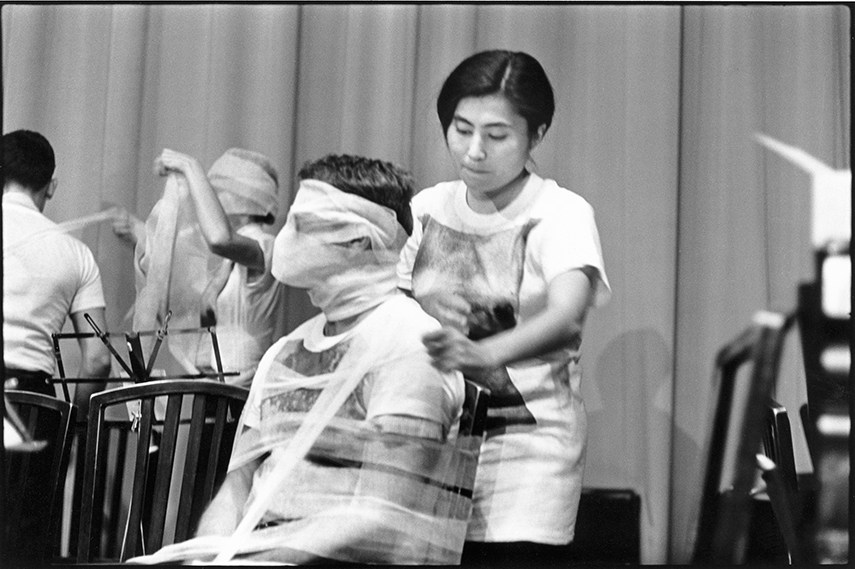 Early Life and Beginnings of Yoko Ono Art
Born and raised in Tokyo, Yoko Ono grew up in a wealthy Japanese banking family. Ever since she was a student, Yoko excelled at whatever she did. In 1952, she became the first woman to study philosophy at Japan's Gakushuin University. In the following year, young Ono moved to the U.S. to study at Sarah Lawrence College, but that educational pursue did not last long either. After dropping out, she became involved in the Fluxus movement which was led by conceptual artists from New York, like George Maciunas, Diane Wakoski, Walter De Maria and La Monte Young. Once Ono was settled in her new surroundings, she began writing poetry. Even at her early age, her work was considered as too radical by many, so it did not receive much recognition and acceptance. It was only later on when she became involved with American jazz musician/film producer Anthony Cox that she gained some recognition, for it was Cox who financed and helped coordinate her "interactive conceptual events" back in the early 1960s. Even her earlier pieces often demanded the viewers' participation and forced them to become involved with the artwork. Staged in 1964, one of her most famous works was the Cut Piece, where the members of the audience were invited to cut off pieces of her clothing until she was naked, thus making an abstract commentary on discarding materialism and its impact on society. Many of her conceptual pieces were exhibited and/or performed at the Carnegie Recital Hall, Village Gate, and various New York galleries. In 1966, her lecture brought her to Indica Gallery in London, where she met John Lennon.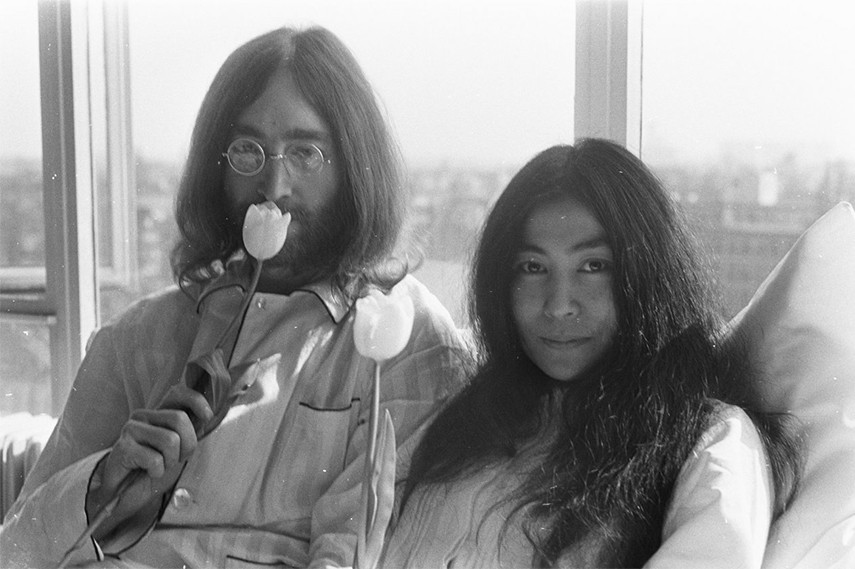 Yoko Ono and John Lennon
It would be fair to say that Lennon influenced Ono as much as Ono influenced Lennon, in some ways that improved and progressed both of their careers. The "pre-Lennon" phase in Ono's artworks encouraged a Zen-like dissolution of thought, and after she met the love of her life, she began shifting towards a greater campaign for world peace, using not only galleries but the mass media as well. The couple explored avant-garde art, music and film. It soon became obvious that Lennon considered his relationship with Ono as the most important thing in his life, and their inseparability, combined with Ono's influence over Lennon, would develop as a source of great tension among the Beatles, only to announce the coming of their last days as a band. After getting married in 1969, the couple invited the press to their hotel room in Amsterdam, where they stayed in bed for a week. This was to become their first "Bed-in for Peace," project which was part of the peace movement that gained much publicity. The Lennons campaign continued with speeches to the press; "War Is Over! If You Want It" billboards sprang up in 12 cities around the world. Throughout the Beatles' break up and fall out between the members, Yoko Ono and John Lennon pursued their anti-war goals and dedicated their lives to the cause. The couple collaborated on art, film and musical projects, becoming famous for their series of conceptual shows which were dedicated to promoting world peace.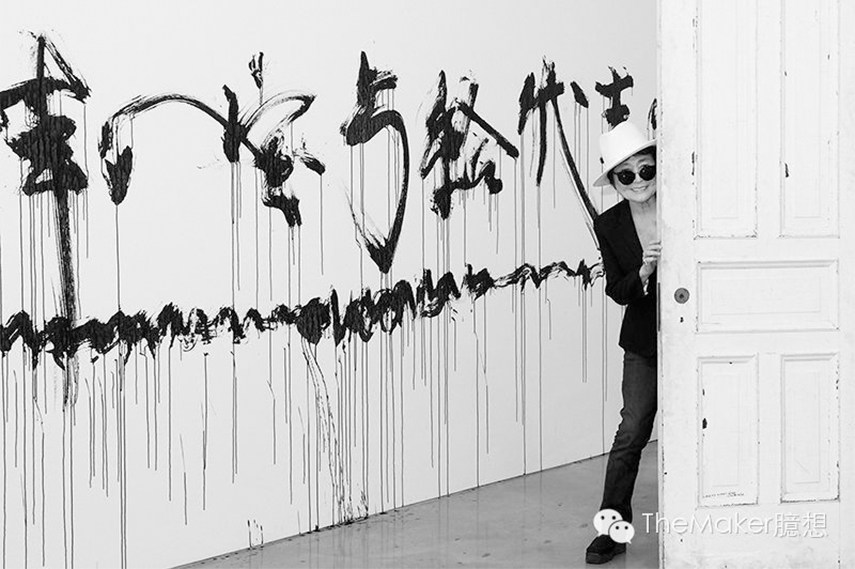 Misunderstood, Derided and Underappreciated
Yoko Ono has been, without a doubt, one of the most misunderstood artists in the past 60 years. It is her massive fame, association with the Beatles, and heal-the-world rhetoric that have obscured her groundbreaking contributions to the world of art of the 1960s and beyond. Her wide-ranging artistic expression encompasses film, sculpture, text, performance, music and artwork. Although eclectic in nature, her work has been often greeted with incomprehension, mockery and even rage. Her work has always been an indivisible element of her activism and life-long mission of communicating with the world at large. Despite the often hostile response, Ono has won the Lifetime Achievement Award in the Observer Ethical Awards for her activism lasting over half a century. Her combined work has been exhibited in a unique show at The Museum of Modern Art, entitled Yoko Ono: One Woman Show, 1960-1970, the exhibition featured Ono's artistic practices and her involvement in the Feminist movement. As she explained, art represents a way of showing people how you can think, and even though some people think of it as a beautiful wallpaper that you can sell, Yoko Ono rather perceives it as a direct connection with activism. Her style often included "dematerialization of the art object," which is a phrase that would only come to use when the critic Lucy Lippard employed it to talk about the practice of turning away from objects and towards ideas. So, even before this phrasing, Ono created artworks that could exist in a variety of idea-oriented context. From sumi-ink paintings on unstretched canvas, where one is burned, another placed on the ground and another drips with water, to different artworks that could exist as mere instructions, to be executed once, multiple times, or even never.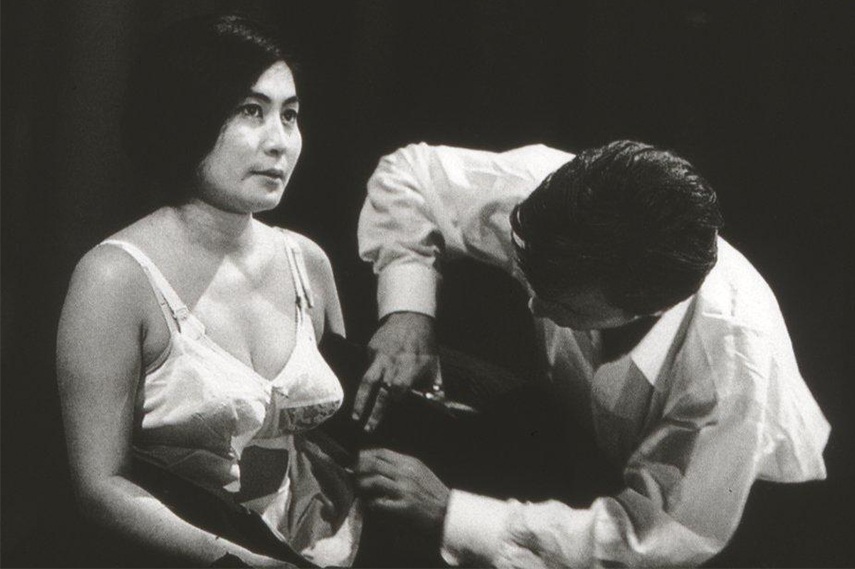 Cut Piece, Feminism and Activism
One of her most famous artworks, Cut Piece, still remains as a precursor to a myriad of feminist and body-centered art pieces and performances. Interestingly enough, this artwork also displays her deep influence of Zen Buddhism, as Ono stated recently, when she was creating the controversial piece, she was originally thinking of Buddha and how he gave everything up. It wasn't uncommon for Yoko to draw parallels between spiritual and religious practices and artistic creation. She allowed her Japanese education and American artistic formation to merge into a new mindfulness, creating a vessel through which she viewed artistry as the absence of complexity, a vacuum through which she was led to a state of complete relaxation of mind. Her idea that physical presence of the artist could communicate far more forcefully than a mediated representation influenced generations of future artists. Cut Piece was one of the best examples where the visceral presence of the author confronted the tension between exhibitionism and voyeurism, masochism and sadism, between victim and assailant. The artwork was lauded as an enactment of the physical vulnerability of women in a world where they are reduced to mere objects for looking at. The groundbreaking artwork is hailed as prophetic of feminist activism and of performance art as a form.
Yoko Ono Believes in the Power of Physical Presence of the Artist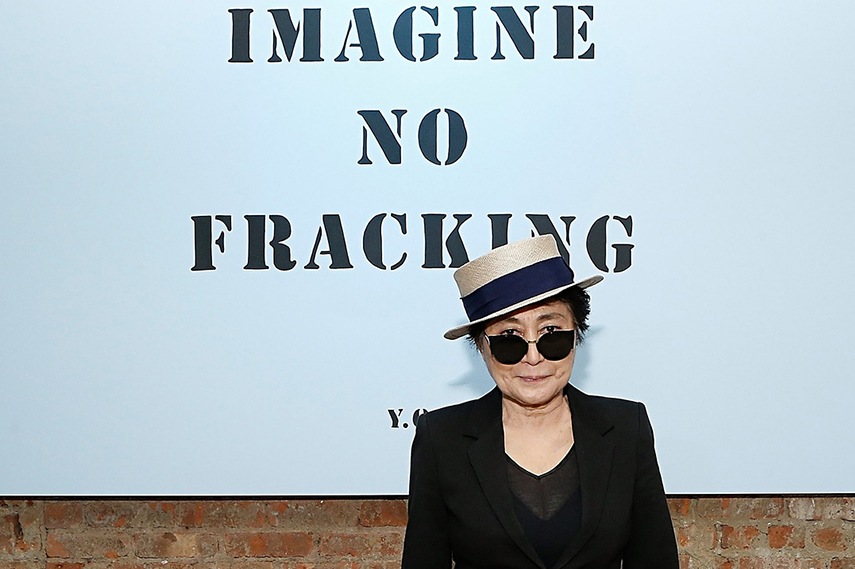 Yoko Ono Doesn't seem to be Stopping at 82 years of age
Today, Yoko Ono continues to express her artistic practice strongly as ever. In 2011, the 78-year-old made history as the oldest artist to have a number-one dance hit with her single Move on Fast. Her musical career has received positive acclaim and her songs have been reworked by famous artists like Basement Jaxx and the Pet Shop Boys. Ono continues to honor Lennon's memory and their joint commitment to world peace with a number of different projects. The pioneering conceptual artist, musician, performer and activist, is now 82 years old. Recently, she stated in an interview that she felt like she was starting a new life, a second life. Either way, it doesn't seem like she's done with this one yet, and we can surely expect even more artworks from this prolific creator. Her latest causes include campaigning for gun control and against fracking, her vision remains somewhat utopian and she still pursues the ideals which led her in the past. Ono truly believes that despite the rising terroristic activities, we are finally on our way to world peace, and she predicted that we will have heaven on Earth in 2050. If her hopes, aspirations and dreams will come true, we cannot know, but only time will tell.
Editors' Tip: Acorn by Yoko Ono
Almost 50 years after the publication of her book of conceptual instructions Grapefruit Yoko Ono has picked up where she had left off. In her book Acorn, this legendary avant-garde icon that has inspired generations of artists and performens offers enchanting and thought-provocing excercises that open your eyes and senses to more creative and mindful ways of relating to ourselves and people and world around us. This beautifully designed book also features Yoko Ono's 100 black-and-white drawings. Wildly original, stimulating and hard to label, this book may actually change the way you think and experience the world through this purposeful play, bran poetry, guided motivation or even Zen-like incantations.
All images used for illustrative purposes only