The UK's largest dedicated sculpture festival, Yorkshire Sculpture International offers exciting programing including exhibitions, talks, and presentations. This year, it will sprawl across Leeds and Wakefield with several impressive public commissions, as well as with exhibitions partner institutions such as Leeds Art Gallery, The Hepworth Wakefield, the Henry Moore Institute and Yorkshire Sculpture Park. The festival is deeply inspired by a rich history of Yorkshire as the birthplace of pioneering sculptors such as Barbara Hepworth and Henry Moore, and as the hub of a consortium of galleries and esteemed sculpture collections.
The 2019 edition is a reflection of the proposal made by the British artist Phyllida Barlow that sculpture is the most anthropological of the art forms. This established artist represented Britain at the 2017 Venice Biennale and two of her sculptures are on permanent display at Yorkshire Sculpture Park, and a collection of her drawings belongs to the Leeds Museums & Galleries permanent collection. Barlow stated:
The sculpture is an awkward and provocative discipline, constantly and persistently questioning itself. Yorkshire Sculpture International is an imaginative initiative - the renowned institutions centered in Leeds and Wakefield, which already constitute an exceptional focus on sculpture, will provide a challenging and inspirational opportunity to give priority to what sculpture is now - who it is for, what it is, and where and how it is located. No doubt each institution will reflect different concerns and raise questions around the rich potential of what sculpture can be - the more confrontational, surprising, difficult and thought-provoking, the better.
The program will be focused on exploring the notion of sculpture in a contemporary moment in both local and global terms. Yorkshire Sculpture International 2019 is jointly curated by a team consisting of Sarah Brown (Principal Keeper, Leeds Art Gallery), Andrew Bonacina (Chief Curator, The Hepworth Wakefield), Laurence Sillars (Head of Programmes, Henry Moore Institute), Clare Lilley (Director of Programme, Yorkshire Sculpture Park), Jane Bhoyroo (Producer, Yorkshire Sculpture International) and Meghan Goodeve (Engagement Curator, Yorkshire Sculpture International).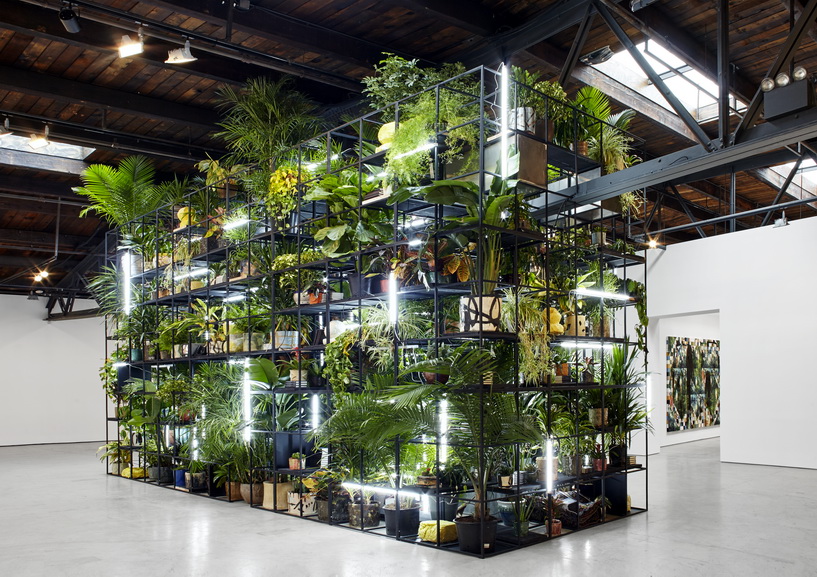 The Outstanding Selection
Fifteen international artists from twelve different countries were selected upon the organizers' belief that all of them share the common interest in harnessing the cultural histories and physical properties of the materials they use. The audience will be able to see new commissions by Rashid Johnson at the Henry Moore Institute, rarely-seen sculptures by sculptor David Smith at Yorkshire Sculpture Park, as well as a series of large-scale installations including new work by Wolfgang Laib and Tau Lewis at The Hepworth Wakefield. Also, Leeds Art Gallery will showcase new collection gems, few solo presentations and new commissions by artists including Nobuko Tsuchiya. New commissions by Huma Bhabha, Tarek Atoui, and Ayşe Erkmen, will enhance the public space in Wakefield and Leeds.
Bhabha will release her first public commission in the UK in central Wakefield, while Ayşe Erkmen will create a new public installation in Leeds, and Tarek Atoui will release series of participatory performances exploring instrument-making, the material properties of sound and its connection to the body of the performer and those of the audience.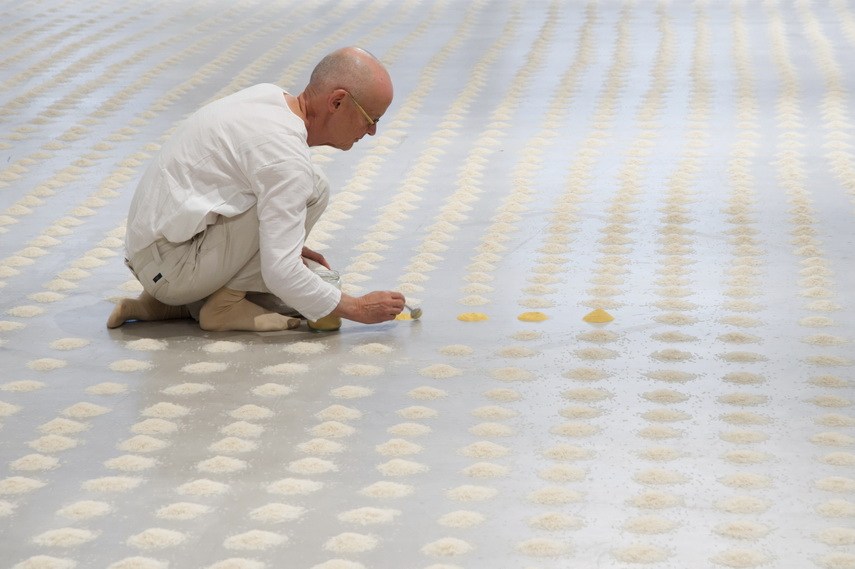 Damian Hirst Sculptures at Yorkshire Sculpture International
During the festival, seven major Damien Hirst sculptures will be revealed. The Hymn (1999–2005) and Anatomy of an Angel (2008) will be positioned outdoors in Leeds city center, Charity (2002– 2003), Myth (2010), The Hat Makes the Man (2004–2007), and The Virgin Mother (2005–2006) will be shown at Yorkshire Sculpture Park (YSP), while Black Sheep with Golden Horns (2009) will be on view at Leeds Art Gallery. Hirst expressed is excitement:
I'm so happy to have my work in and around Leeds. When I was growing up in the city, the Leeds Art Gallery was my way into art. I never thought I'd ever be famous or considered important or anything like that, but seeing paintings by people like John Hoyland, Francis Bacon, Peter Blake, and Eduardo Paolozzi – alongside the aquarium and natural history stuff in the City Museum – opened my mind to art. The things I saw made me so excited for what art could be. If people feel anything like that when they see my work, then that's the greatest thing you can hope for as an artist, and it's a double excitement for me that there'll be sculptures in the town as well as the gallery. The giant bronze sculptures at YSP are where they belong – they're just made for that setting. I used to hang out a lot on Ilkley Moor and Otley Chevin, and I will always love the Yorkshire landscape.
All the sculptures will be positioned in the city center on landmark locations in the city. The Hymn is six meters tall bronze sculpture of an educational anatomical in which a cross-section reveals the internal organs of the male torso, while Anatomy of an Angel is a marble work reminiscent of classical sculpture also with exposed vital organs beneath the skin are exposed.
At the Leeds Art Gallery the audience will be able to see Black Sheep with Golden Horns which is a part of Hirst's iconic formaldehyde series (it will be at the center of the Ziff gallery Display); four sculptures will be placed in the newly revived 18th-century At YSP in a Deer Par; ten-meter tall The Virgin Mother is considered a female counterpart to Hymn and will stand near the Lower Lake, while Charity, will be positioned near the recently opened Weston building.
Myth - a white unicorn with revealed insight - the sculpture based on the exploration of the recurrent art history motif such as the horse as well as the mythological component of it, will also be on view. The Hat Makes the Man is based on a 1920 collage of the same title made by Surrealist artist Max Ernst. Hirst reinterprets Ernst's work by presenting it in three dimensions by using bronze casts.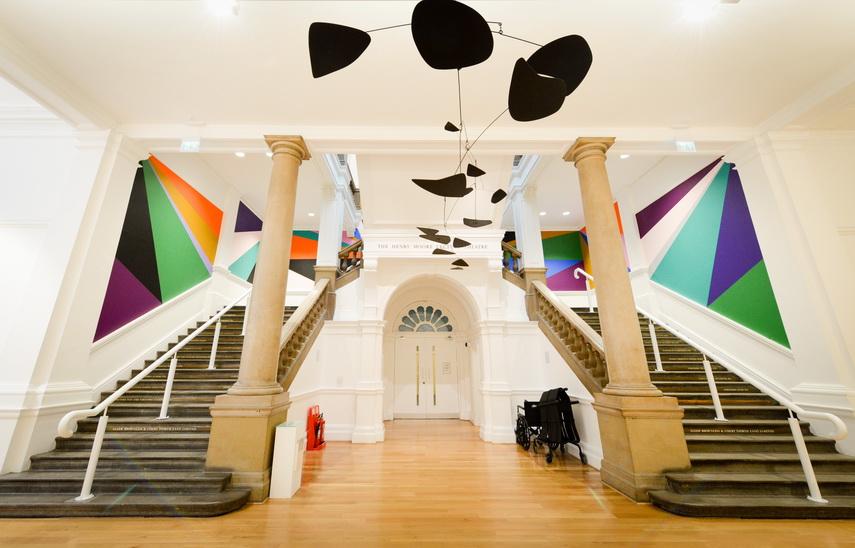 The Exhibitions
The Hepworth Wakefield will reveal the most ambitious exhibition to date. Few new commissions made by established and emerging artists within the David Chipperfield-designed gallery spaces. The thematic frame is rooted in the truth to materials which implies that the exhibition will explore the idea that a sculptural form should be determined by the characteristics of the chosen materials.
Recent works by Jimmie Durham will be contrasted with early carvings and sculptures by Barbara Hepworth and Henry Moore so that the works show how these artist handled raw materials. Also, a new installation by Wolfgang Laib will be revealed; it is a sculpture produced of rice and pollen collected by the artist near his home. A sculptural series made of glass, zinc, and resin titled Dwindlers by Nairy Baghramain will be on display as well.
A solo presentation of the self-taught Jamaican Canadian artist Tau Lewis will be on display; a large-scale collaged textile hanging, figurative forms composed of found objects and materials from different cultures and places, and soft figurative forms with hand-carved plaster faces and feet. On the other hand, Tarek Atoun will present a newly commissioned installation that will span over two gallery spaces.
At the Henry Moore Institute artists Rashid Johnson and Tamar Harpaz will present new commissions dealing with the responsibilities of objects within anthropology. At the same venue, to be more precise in the institute's library Sean Lynch will release based on the life and work of  Flint Jack, a nineteenth-century Yorkshire antiquarian, highly skilled artisan and vagabond.
The Leeds Art Gallery will host a series of solo shows and new commissions focused on the issues regarding contemporary sculpture-making including the first solo exhibition in the UK by Nobuko Tsuchiya, works by Rachel Harrison, and Joanna Piotrowska. Leeds Art Gallery will also display their sculpture collections.
A major exhibition of work by American artist David Smith will be presented within Yorkshire Sculpture Park; it will be the first solo exhibition of his work in the UK since 2006. Namely, Smith was a pioneer in working with welded metal and was a highly influential figure for the development of international abstract sculpture. This survey will encompass a number of forty sculptures made by the artist for four decades. Smith embraced the creative continuity that keeps humanity across millennia by directly connecting to an ancient craftsmanship tradition.
Finally, the Korean artist Kimsooja will transform Yorkshire Sculpture Park's historic chapel with a new immersive installation made of lights and a mirrored floor; the practice of this prolific artist is based on the exploration of traditional forms of female labor and craft.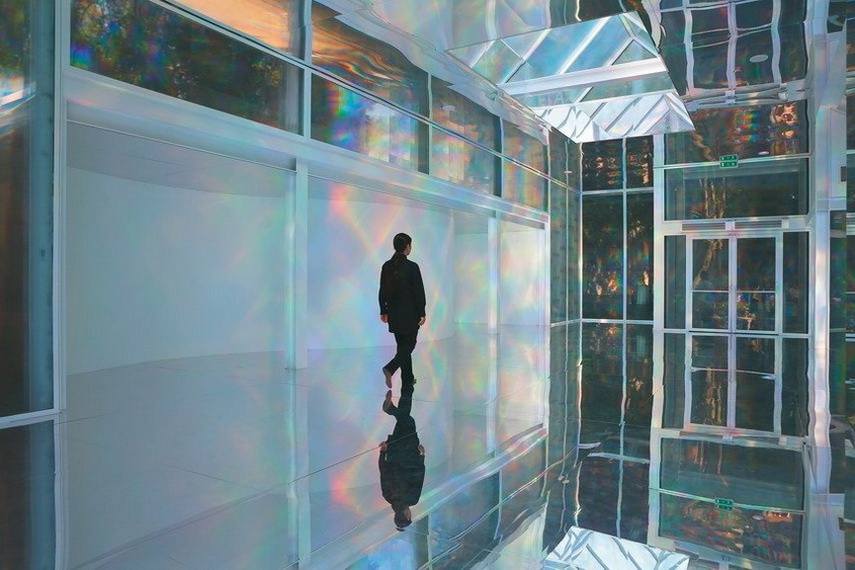 Yorkshire Sculpture International 2019 – Practical Information
Yorkshire Sculpture International will be held from 22 June until 29 September 2019 across Leeds and Wakefield. The press preview will be Thursday 20 June 2019, timings and further details to be announced.
Visitors will also have a unique chance to plunge into extensive cultural offerings across Yorkshire, such as Rachel Whiteread's recently unveiled sculpture in the heart of Dalby Forest and Harewood House, and the largest permanent collections of David Hockney's work.
For more information, please visit the official website.
Yorkshire Sculpture International Festival 2019 Wakefield and Leeds
Featured image: Ai Weiwei - Iron Tree, 2013. Private Collection. Courtesy Yorkshire Sculpture Park. Photo © Jonty Wilde; The Hepworth Wakefield. Photographed by Hufton Crow; David Smith - Gondola II, 1964. Courtesy Estate of David Smith. All images courtesy Yorkshire Sculpture International.