For the past twelve years, Andreea Zecheru has been a painter, focusing on abstraction and experimenting with different techniques and materials. At one point, after participating in numerous art projects and collaborating with other artists, she came to the idea of adopting another career - that of a gallerist.
Zecheru's experiences as an artist, as well as her degree in Law and Marketing, came very much in handy in the opening and management of ZContemporary, an art gallery in Hamburg, Germany. And the fact that she makes art herself gave her a useful perspective on how to promote the works of her colleagues. "Both are very connected," says Zecheru in an interview with Widewalls. "I have been an artist long before becoming a gallery owner - and the story would certainly not have been the same under other circumstances. I regard it as an advantage, being able to have a better understanding of both sides – now from the view of a gallery owner, but with the background of an artist. The insights from both worlds are very valuable. It is a continuous learning process."
And so, ZContemporary came to life, aiming to discover and promote high-quality contemporary art, but also to provide companies and private collectors with the best art advisory and tailor-made concepts for exhibiting art in their spaces.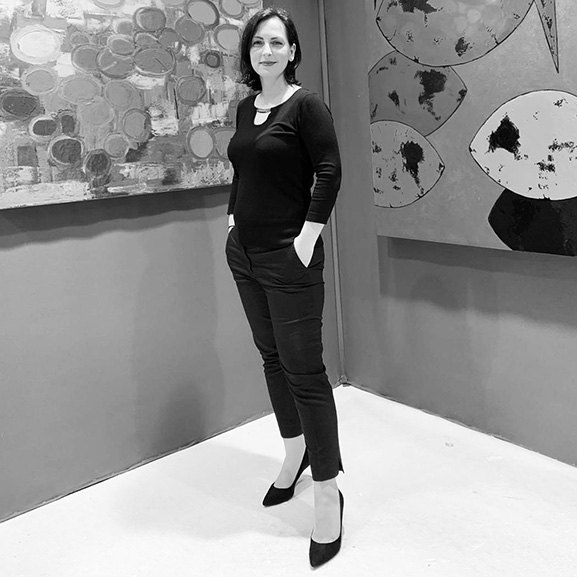 ZContemporary - Nurturing The Power of Compelling Art
With a strong belief in talent and its right and necessity to be promoted, ZContemporary represents emerging artists only. For Zecheru, this was a clear decision from the beginning. "We are living in a time of supersaturation on every level. Out there, so many talented artists are striving for recognition – and they do not always get that chance. Thus, so many good artists are overlooked. It is my wish to work with new talents and see them 'grow', to support them on their way - helping them get established in the complex world of art. Succeeding this has always been a personal achievement."
ZContemporary already has a permanent roster of up-and-coming artists, but they are always keeping an eye for new, exciting additions. How can an artist become part of the gallery's family? "Generally, the artist's work is important, of course, it has to fit in the gallery profile. Apart from that, the personal interaction is definitely a key aspect. I am interested in the story behind, I would like to know the artist I am working with. Building a long-term, stable and supporting relationship, based on trust and good communication, is very important."
To show her artists' work to the world, Zecheru regularly holds exhibitions at ZContemporary. This year has been a particularly busy one, with already five group shows under its belt. "Right at the beginning of the year, ZContemporary partnered up with Azaro Art Spaces, sharing the gallery space and organizing joint exhibitions – each gallery featured its own artists, but had an overall concept for each show." For a newcomer to the art scene that presents mainly abstract art, this could very well be described as a great success.
But it's not just exhibitions that help ZContemporary get their artists out there. The gallery also offers art advisory and leasing services, particularly to companies and private individuals who are looking to start, or expand on, their art collections. Whether they need pieces to decorate their homes or offices, or are in search of support in finding the right works, ZContemporary is there to lend a helping hand. "There is a huge market out there and not everyone has the time to search [for art themselves]. We are creating individual solutions based on client's needs, often cooperating with interior designers and architects. These cooperations are valuable and are the key to complete, custom solutions."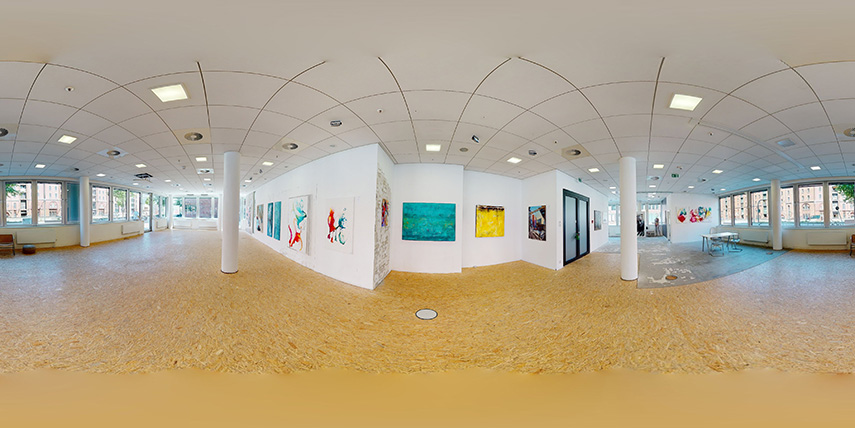 Looking Ahead
To operate an art gallery as a brand new player on the scene has always been challenging. The ongoing pandemic is only muddying the waters further. But Zecheru is focusing on its positive sides. "The digital strategies of the galleries have been polished, and new ways of showing art emerged - who could have imagined a digital Art Basel a year ago? Digital viewing rooms, online exhibitions and events, fighting for survival – that all happened and took us further."
Despite such conditions, for ZContemporary it's an optimistic outlook. This year has been their first business year, which Zecheru describes as "challenging, but very exciting."
We have had online shows during the lockdown, online openings, video introductions of our artists, the new Studio Stories project, a lot of social media work. Our digital strategy was key, even if there were some uncertainties and adjustments on the way. It has been the year of flexible, fast reactions for all of us. I am sure we will all come out of this richer in experience, in new developments and with a changed way of thinking.
And the hard work will continue - improving their digital strategy remains ZContemporary's priority. "We are also planning the next local shows and, as much as that's possible in the current situation, for the first half of 2021. The participation at art fairs would be an important next step, as well as building and strengthening our cooperations with other galleries and interior designers. I am looking forward to the new future opportunities!"
Featured images: ZContemporary Art Gallery Views. Courtesy ZContemporary.