PACE Hong Kong is organizing an exhibition featuring works by five renowned Asian artists questioning the influence of Zen in contemporary art. As one of the cradles of Buddhist thought, Zen is deeply rooted in cultural, social and religious groups and communities in East and Southeast Asia. Throughout the centuries, Eastern religious ideas, as well as philosophy, have influenced the art practices in Asia and Europe. How has Zen influenced contemporary art practices? What is the role of Zen in conceptual and visual linguistic systems in contemporary art? An exhibition titled Where Can the Dust Alight will provide answers to these questions. The five participating artists are: Hong Hao, Liu Jianhua, Song Dong, Hiroshi Sugimoto and Zhang Huan.

Zen in Contemporary Art
Zen is one of the most famous Eastern schools of religious and philosophical practices that emphasizes rigorous self-control, meditation-practice, insight into Buddha-nature, and the personal expression of this insight in daily life. It's a very introspective philosophy. Being deeply rooted in Buddhism, Zen would inevitably clash with the avant-garde artistic concepts from the West to create richly complex artworks. As art changes, so does the influence of Zen on it. Zen is very inspirational when it comes to reshaping conceptual explorations of art forms and techniques. The rise of the avant-garde art movement in the 1950s and 1960s opened the doors for new definitions of the meditative experience and the transformation of the role of the self in art. The title of the exhibition at PACE Hong Kong Where Can the Dust Alight is a Buddhist saying that embodies highly thinking on emptiness and nothingness, core philosophical ideas in Zen Buddhism.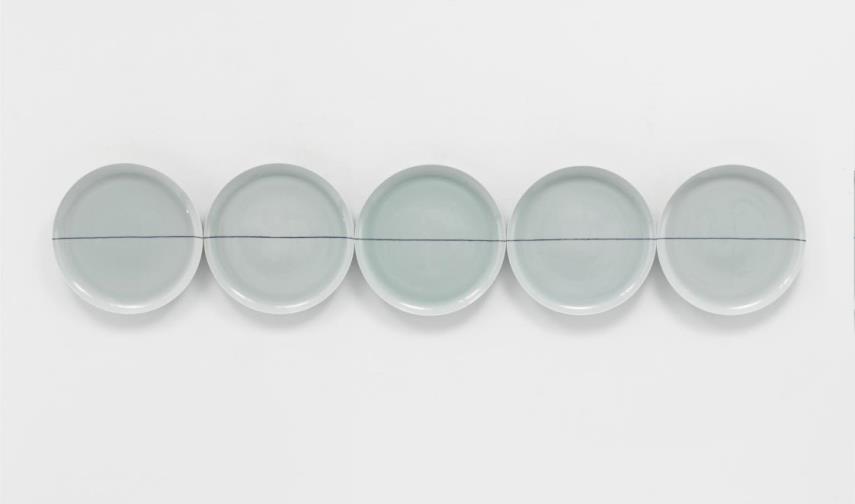 Where Can the Dust Alight
Hiroshi Sugimoto will present work Sea of Buddha, conceived in 1988 and completed in 1995. This is a series of works presenting the scene of the one thousand Avalokiteshvara statues at Sanjūsangen-dō, famous temple in Kyoto, Japan. Chinese contemporary artist Zhang Huan is inspired by Tibet's religion and culture. Song Dong finds inspiration in Mandala. In the rituals, monks painstakingly draw designs in crushed gems only to sweep them away and return them to a state of emptiness. Song Dong creates his own Mandala, spiritual symbols of Nirvana. The artist uses different techniques in order to represent the metaphor for the subtle connections between art and life. Two more artists are participating in the exhibition Where Can the Dust Alight - Hong Hao and Liu Jianhua. Their works are more conceptual presentations. Liu Jianhua will present porcelain works, such as Fallen Leaves, while Hong Hao will present new work Edged No.2. In creating this work, Hao collected dust in a natural state each day, presenting thoughts on vision through the emergence of forms in the dust.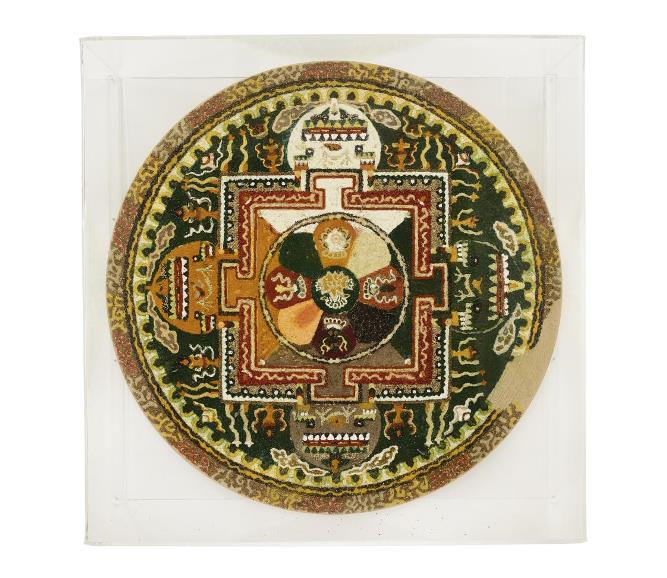 About Zen in Contemporary Art – Exhibition at PACE Hong Kong
Being one of the most important elements of the East religious and philosophical systems, Zen certainly plays an important role in contemporary art practices. Works by five renowned Asian artists that will be exhibited reflect the influence this school of thought has on contemporary art. The show that is titled Where Can the Dust Alight will be on view from October 1 until November 12, 2016 at PACE Hong Kong. The opening reception is scheduled for Friday, September 30, 6-8pm.
Featured Image: Song Dong - Mandala 012, 2015, detail. INSTALLATION, Black sesame, white sesame, white pepper, lemon powder, curry, pepper, chicken powder, cumin, fennel, bean flourm beetroot powder, beetroot powder and other condiments, 7 knives, Diameter 118.5 cm. All Images courtesy of PACE Hong Kong.