A contemporary Chinese painter, Zeng Fanzhi is best known for expressionist canvases characterized by emotional directness. Guided by a highly personal search for a fundamental understanding of painting and its potential as a means of expression through the medium itself, he continually challenges convention to transcend a simple representation of the physical world. As the artist explains, everything he feels, sees, hears or thinks is articulated through his works.
This fall, Hauser & Wirth is presenting a comprehensive exhibition of the artist's work across three of the gallery's spaces in Zurich, London and Hong Kong. Titled Zeng Fanzhi. In the Studio, it will bring together recent bodies of work and important paintings, all examining the possibilities of painting in the contemporary era.
Best known for his psychologically probing portraits executed in the expressionist style, Zeng Fanzhi depicts his subject with vivid and lively brushstrokes that often border with abstraction. Examining the possibilities of his medium, he employs elements such as the painted gesture, the creations of pictorial space and use of color to convey human experience and a meditation on the inherently subjective nature of perception.
Over the past two decades, Zeng began moving further into abstraction, informed by the renewed interest in Classical Chinese painting. He started experimenting with landscape painting, creating gestural works which share the same dynamic energy of his portraiture. In parallel with landscape experimentations, he began to advance with a more experimental language in his portraiture studies, stretching across the canvas with his entire body to apply color with multiple paintbrushes at once.
The exhibition at Hauser & Wirth reflects Zeng's multi-layered approach, giving the audience a unique opportunity for an in-depth understanding of the bold development of the artist's creative process.
Each locale features new works which have not been exhibited before, focusing on a different aspect of his practice. In Zurich, the exhibition features abstract landscapes from the last two years, which present an evolution of a series of nocturnal abstract landscapes the artist began in 2002; in London, the focus is portraiture from the late 1980s to the present day, which reflect his understanding of the genre as a means of observing "the fundamental emotional state of humankind"; and in Hong Kong, new paintings and drawings deftly draw on conjunctions of Oriental and Western artistic traditions reflecting Zeng's ongoing research and experimentation.
We talk to the artist to discover move behind the three shows.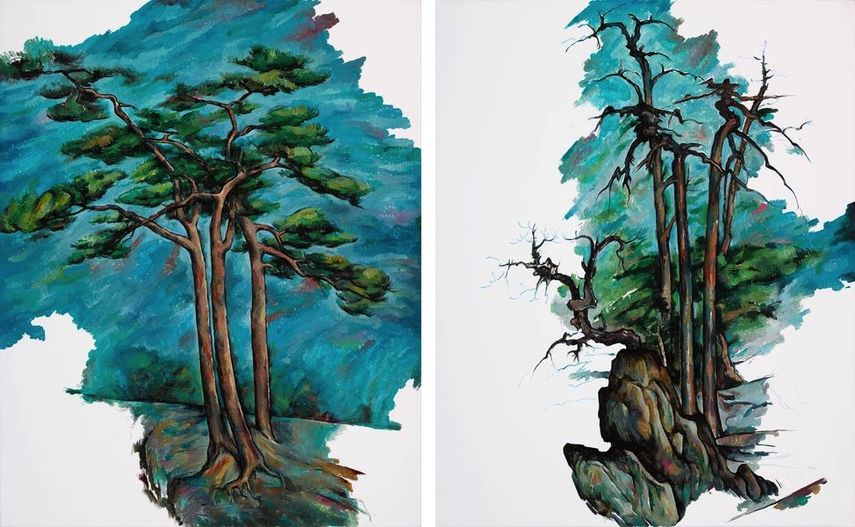 Zeng Fanzhi Exhibitions at Hauser & Wirth
Widewalls: Not one, not two, but three Hauser & Wirth exhibition spaces will be dedicated to your painterly explorations. How do these bodies of work differ between themselves? What does each of them give you as an artist?
ZF: The decision for the exhibition to be held in three different locations - Zurich, London, and Hong Kong - was made to display the three layers of my creative practice. For an artist, it is important to regularly evaluate a selection of past work; this exhibition presents such [an] opportunity for me. It reflects my typical work habit since I simultaneously create pieces of different styles, learning the figurative from the abstract, and vice versa. What the viewers will see in this exhibition reveals how I work in my studio.
The paintings in Zurich best capture my current emotion and state of mind. I began painting the abstract landscape series in 2002. At first, I hoped to explore the spatial dimensions with lines; now I have totally let go of the figurative forms such as sky, water, or fire in this series. The lines in these new paintings solely express my personal feelings without any figurative appeals.
I have been practicing portraits since the beginning of my career. Through portraits, see in the London presentation, I can observe the most fundamental emotional state of the humankind while registering my own ideals to them. My aesthetics and interests at different stages, as well as my exploration of techniques, are all reflected in my portraits, which also serve as a window to examine my own creative progress.
The works shown in Hong Kong reveal the process of my daily observation, providing a research practice. It began with my discovery of Cézanne's Mont Sainte-Victoire in Chinese painter Zhao Gan's work. To illustrate this observation, I studied the modelling techniques of both Cézanne and Zhao Gan and combined them to display a thought process. Later, I explored Cézanne's colouring method and tested it with my brush, comparing its visual outcome with Morandi's colouring approach. As a painter, I cannot deduce a new conclusion from rigorous intellectual debates like a theorist, but I can show my sensory discoveries on the canvas.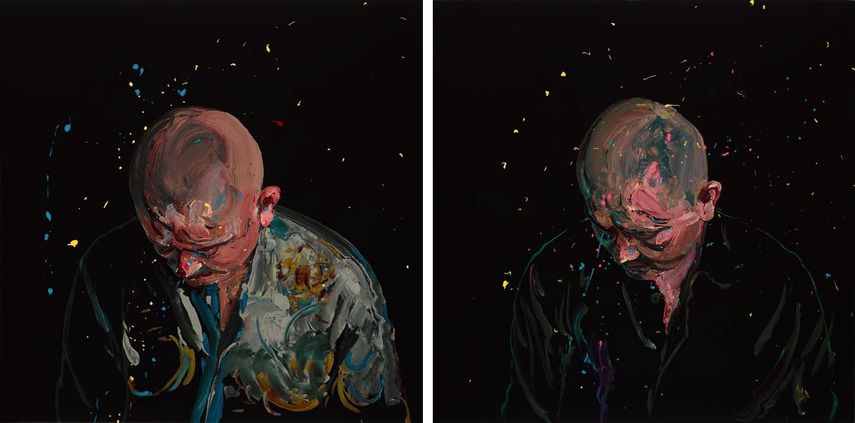 Charting the Developments of the Artist's Creative Process
Widewalls: How would you comment on the position of the medium of painting today? Would you say that your painting is trying to improve that position?
Zeng Fanzhi: In the process of its long evolution throughout art history, painting has always occupied a core position and remains one of the most enduring media. I believe there are abundant possibilities and potentiality in contemporary painting and I also try to verify this viewpoint through my own paintings.
Widewalls: The painted gesture, the creation of pictorial space, the use of color… All of these provide grounds for new discoveries. What does this process look like?
ZF: Painting provides me a gateway to stay in contact with the world. What I feel, see, hear, and think are all articulated through my paintings.
I go through two stages to complete this process. The first stage is informational input such as ancient Chinese artefacts, Western oil paintings, even the movies and television programmes I watch and the music I listen to - they construct my visual and auditory experiences. The second stage is informational output, which reveals how I process these visual experiences and incorporate them in my work. This is how I stay connected to my contemporary reality.
I find that how to paint is more important than what to paint.
The form of abstract landscapes sums up my understanding of this painting approach. In short, it is a process of construction, destruction, and reorganisation of the original painting structures. When I face the canvas, I often imagine myself as a band conductor. Before I paint, I draw a sketch similar to a colour coverage layout. During the following painting process, I would encounter many impromptu changes which bring increasing challenges toward the end as the colour relations between different layers and sections become more complex. Also, how the brush touches the canvas and the gesture of each brushstroke are both crucial; one misleading line can spoil the entire painting.  As a result, painting is equivalent to running an experiment: both require rational and emotional capacity. Not every trial can be successful; the process involves luck.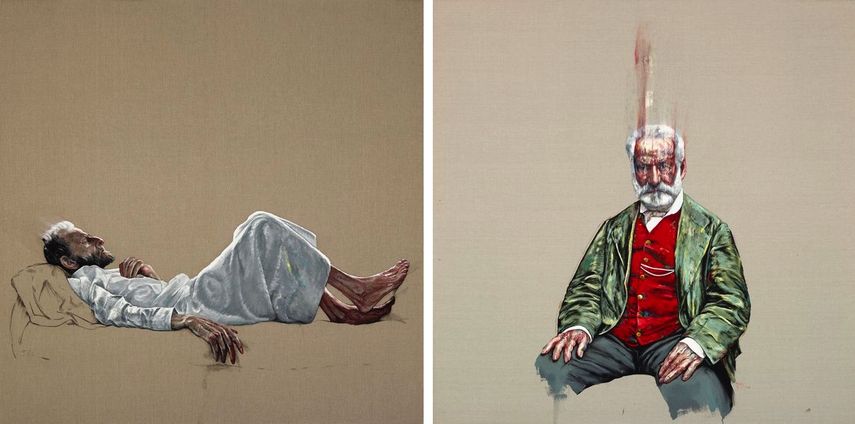 Between East and West
Widewalls: Your art more often than not lies on the crossroads between the Chinese and the Western art traditions. How did this balance change for you over the years? How would you compare it to when you started?
ZF: As an artist, I do not worry too much about which region I represent, or how to overcome the East-West barriers. My art simply reflects my feelings responding to the outside world.
Of course, there are linguistic and cultural differences between the East and the West, but when it comes to individual interactions, many feelings transcend language and culture. I always believe that we share these mutual feelings.
I have been asked many times over the years about being a "global artist" or "global painter." This might come from the perspective of a critic or a curator which is not my job. I only express what I feel, and I happen to live in the contemporary China; my expressions are therefore subject to how others interpret this environment. Similarly, I prefer not to fall under the simple and blunt label of a "Contemporary Chinese artist." I think every artist might feel this way, whether from the East or the West.
Widewalls: What do you look for in the works of other painters, namely Cézanne and Zhao Gan, in this case?
ZF: Today's artists have opportunities to experience many art forms; to understand them is to engage myself in a conversation. However, these references are not relevant to what I really want to express. When I paint, I try to reveal the relationship between myself and these references, as well as how to manifest this connection. This dialogue can be seen in the works in the Hong Kong section of the exhibition.
Widewalls: What's next for you?
ZF: I will continually delve into the on-going research of the works on paper (not shown this time). These works, rarely exhibited before, comprise a new series that began ten years ago which is still subject to a lot of reflection and experiments. I hope time will bring these works to a state of completion.
The exhibition Zeng Fanzhi In the Studio is on view at Hauser & Wirth in Zürich, London and Hong Kong until November 10th, 2018. The opening reception at Hauser & Wirth Hong Kong will take place on Sunday, October 7th, from 6 to 8 p.m.
Article composed by Elena Martinique and Angie Kordic.
Featured images: Zeng Fanzhi – Untitled, 2018. All images © Zeng Fanzhi. Courtesy the artist and Hauser & Wirth.