As a gallery which praises itself for the promotion of the contemporary art of all forms and regions, Geraldine Zberro Gallery in Paris is proud to present the solo Zenoy art exhibition this time round. Zenoy's art signature and style are defined to stand as an heir to the writing technique born in Philadelphia in the late 1960's. This art of signature, based on the work of the letter, graffiti tagging, has been a great love of the artist since 1988. At the age of 14, in fact, this interest of his began, and throughout the years we have witnessed how it grew.
Zenoy's Art Style – In Love with Letters, in Love with Colors
Thanks to the media coverage of the American hip-hop culture, the practice of graffiti tagging, and graffiti art entered France in the early 1980's. At this time, Zenoy was 14 and showcased excellent, some would even say, divine drawing skills. Tagging his first signature AwaySun on the school benches, the walls of Parisian suburbs, trains, and posters, the artist showed his true rebel colors. Today, graffiti remains an integral part of Zenoy's life, which he successfully translats onto the surface of the canvas, into sculpture, and of course on a number of walls throughout the world. Always looking for a certain harmony between colors and forms, Zenoy's art pieces are like fireworks and celebrations of the extraordinary sense of living.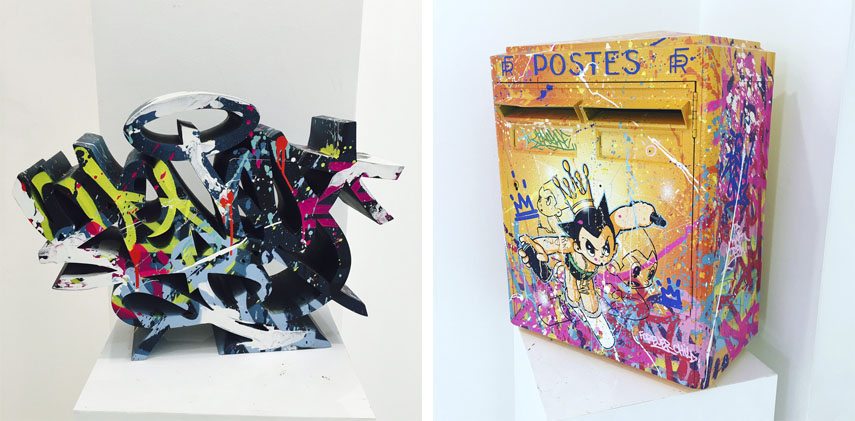 The Many Layers
Of course, the letter is the basis of Zenoy's work but pushed on by a great need to experiment and create. For more than 15 years, the artist has dedicated himself to take graffiti to a new level. Participating in a number of contemporary art exhibitions, the artist devoted his practice to graffiti on canvas, yet his main area of concern still remains in the street art culture. Incorporating found objects as well, such as furniture, subway maps, subway signs, PO boxes and toys, Zenoy's pieces are full of different layers of vibrating color, reflecting the street walls which surround us all.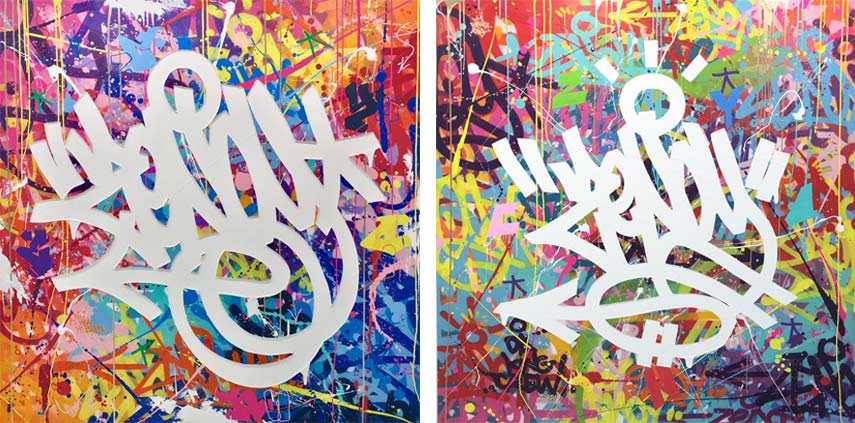 Zenoy Art Exhibition at the Geraldine Zberro Gallery
Gradually registering himself, his concepts, and ideas within the realm the contemporary art, Zenoy is recognized by all for his love of graffiti art, tagging, and letters. Proudly presented at the Géraldine Zberro Gallery in Paris, the artist shares his vibrant colors and extraordinary joy of living in his latest solo exhibition Colors Addict. New canvas works, decorated toys we all recognize from the popular culture, and street furniture placed in the gallery, all await the Paris public from March 9th, 2017 until March 20th, 2017. At the private viewing on Thursday, March 9th at 6:30 pm, the artist will be present.
All images courtesy of Galerie Geraldine Zberro. Featured image in slider: Zenoy - Extrusion.