Is human defined just by belonging to the homo sapiens species or it encompasses broader notions? Human population is a very large group of individuals, all of which are connected through historical, cultural, geographical or racial heritage. It's an assembly of numerous races, united into one - A Human Race. The most general and the most intimate understanding of human race is the focus of new Zero Cents exhibition at Gallery AD, who strives to answer the ultimate question related to the mystery of human condition - what does it really mean to be human?
Throughout his pessimistic, bleak series, the artist narrates the universal story of life, in which each one of us tends to define self through belonging. Racial traits he perceives as innate, following man on his life journey, which he also marks as a "race" - a chase, endowing a word play scenario to his artistic expression, alluding to the continuous struggle of humans.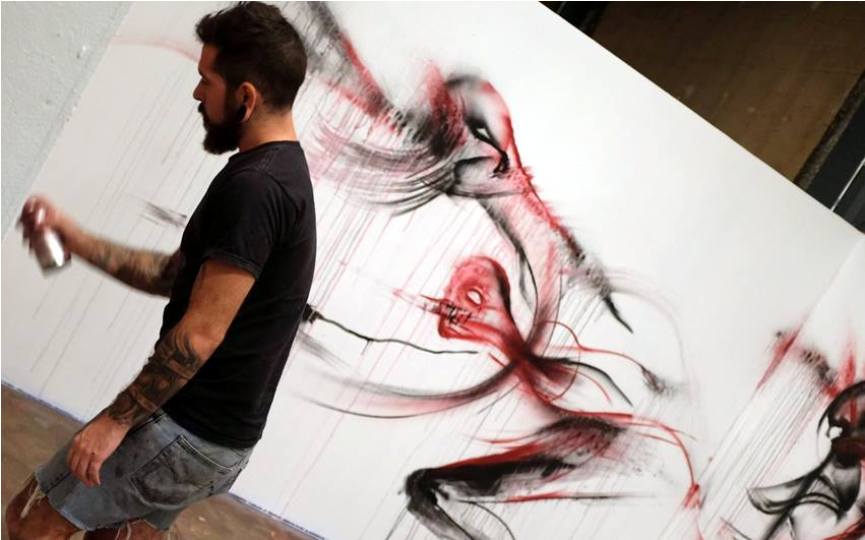 Zero Cents
Born in the USA, Zero Cents is today based in Tel Aviv, one of the booming urban art centers, where he lives and works. This 28-year-old artist has been active on the street art scene for the past nine years, working on his studio pieces, murals and in situ installations. He draws his inspiration from people, so the human race thematics comes naturally, while he is turned to the persons form his immediate surroundings and their stories. Zero Cents' artwork depicts scenes of lovers, fighters, party people, intellectuals, dancers and the anathematized. Conceptually, his work focuses on prime virtues of human race, depicting wisdom, morals, values and other positive traits or the obvious lack of any of them. Researching the grounds for his work, the artist conjures series of energized representations on different areas, including found wood, public walls. His choice of medium varies according to the piece, while his style is largely evocative, described as semi-abstraction.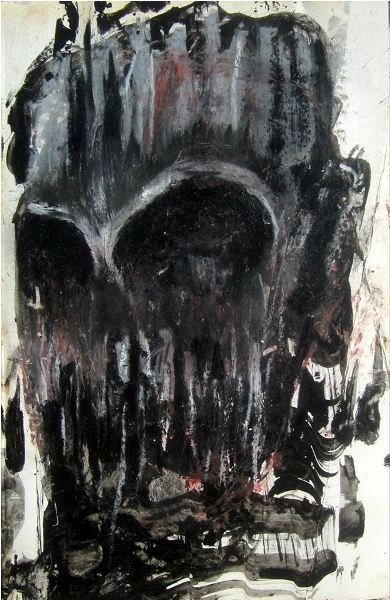 Zero Humanity
Very expressive, graffiti of Zero Cents remind of neo-expressionists, packed with metaphorical meanings, dressed in desperation and the paradoxical tendencies pertinent to all. His palette is dimmed, accentuated with cherry red washes, to imply blood, or life force within an individual. Composition-wise, his images disperse, oozing primarily the inner focus, with little regard for the canvas, declaring an inherent graffiti characteristic. Gray shadows build the very basic human outlines, invisible through heavy mist, while the general atmosphere of A Human Race series demonstrates coherency, wounded emotion and hopeless atmosphere.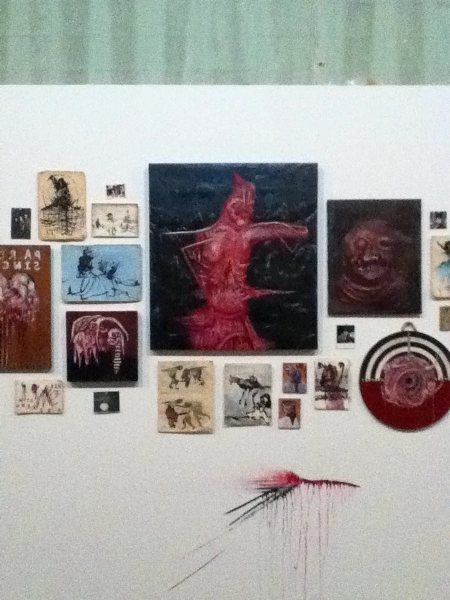 A Human Race Exhibition
Having exhibited in group shows around the world and solo exhibits in Tel Aviv, A Human Race opened on August 1 is the first solo exhibition for Zero Cents outside of Israel. Hosted by Anno Domini Gallery in San Jose, California, it will remain on view through September 13, 2014. Opening reception was also a part of a local arts and culture event, South First Fridays art walk.