Launched in 2015, Over The Influence gallery has been establishing itself as a unique platform with an innovative program involving today's biggest names in contemporary art.
Take Cleon Peterson and Zevs, for instance: one, a living legend of his genre and collectors' darling, and the other, a pioneering graffiti artist in Paris in the 1990s and one of the most original art-makers on the scene right now.
Their new bodies of work took over both of OTI's spaces in Los Angeles and Hong Kong respectively, donning a treat for the many fans of their phenomenal artistic practices.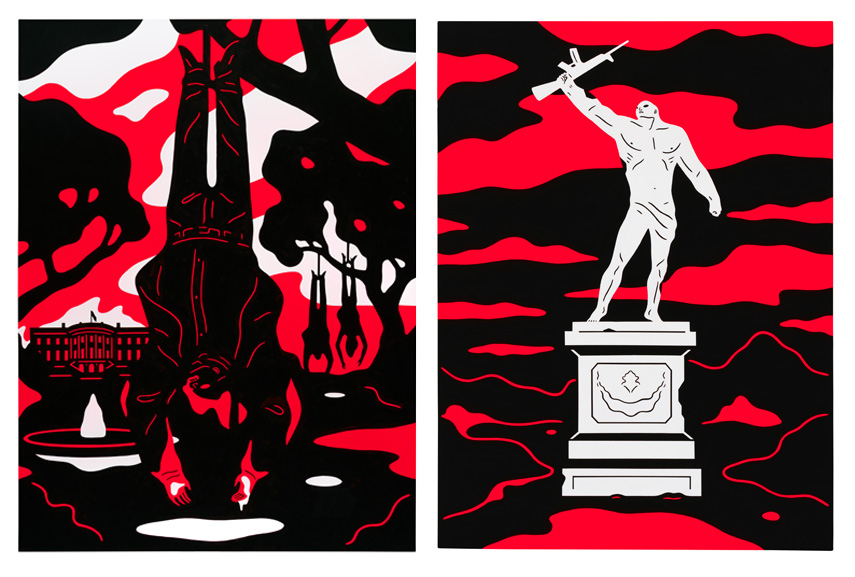 Zevs - Supreme Même
You probably know Aguirre Schwarz aka Zevs for his Liquidation series, in which he fearlessly turns famous logos into deconstructed forms. This artist is certainly no stranger to irony and provocation: his show at Over The Influence marks his return to Hong Kong after having painted a Chanel logo on a Giorgio Armani shop window.
Zevs will now explore the fetishized relationship between another two powerhouse brands, Louis Vuitton and Supreme, by altering their well-known logos and assigning them with another context. His new canvas works, performance, sculpture and installation pieces stand as a critique of modern-day materialism and the distorted ideas the society has on the importance of wealth and status.
Cleon Peterson - Blood & Soil
If you are a fan of cheerful, playful art, Cleon Peterson is most definitely not your guy. Following the steps of his predecessors who also pained eerie scenes, like Bruegel, Goya or Bacon, he gives the concept of violence a contemporary note, through the use of a limited, yet poignant color palette and a clear graphic style.
In his new series of paintings, small bronze sculptures and one large-scale piece, Peterson once more revisits his views on the savage cruelty, transmitted by ominous characters that are both power and subduedness.
Cleon Peterson hides or conceals nothing - his art is as straightforward as it can be in portraying bloodthirsty physical violence in its many shapes and forms and it is very easily described using all the "bad" adjectives - atrocious, terrifying, chaotic, nightmarish, merciless… What his artworks also don't do is leave anyone indifferent.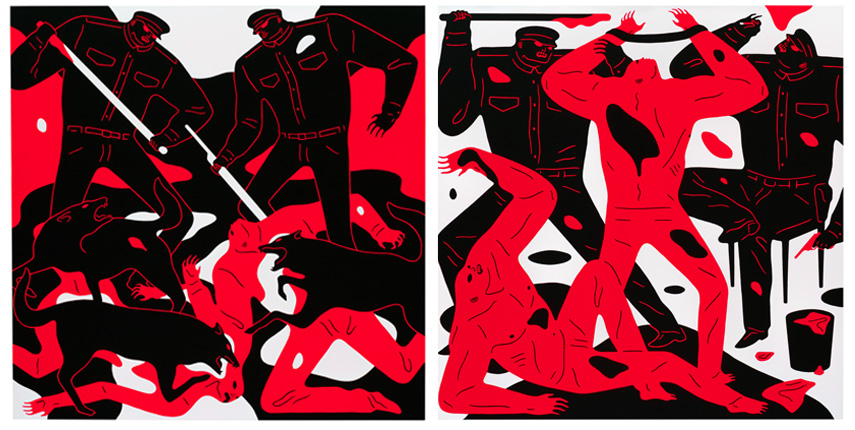 Legendary Artists at Over The Influence
Blood & Soil by Cleon Peterson is on view at Over The Influence in Los Angeles through August 5, 2018, while Zevs' Supreme même is at the Hong Kong branch until August 4, 2018.
Featured images: Cleon Peterson - Compromise; Fall Asleep. All images courtesy Over The Influence.