The Chambers Fine Art in New York announces opening of Zhao Zhao's third exhibition at the gallery titled Constellations II. In this show Zhao Zhao presents oil paintings that stemmed from his previous project Constellations from 2013 that was shown at the Art Basel Hong Kong and New York. Constellations II is a series of oil paintings.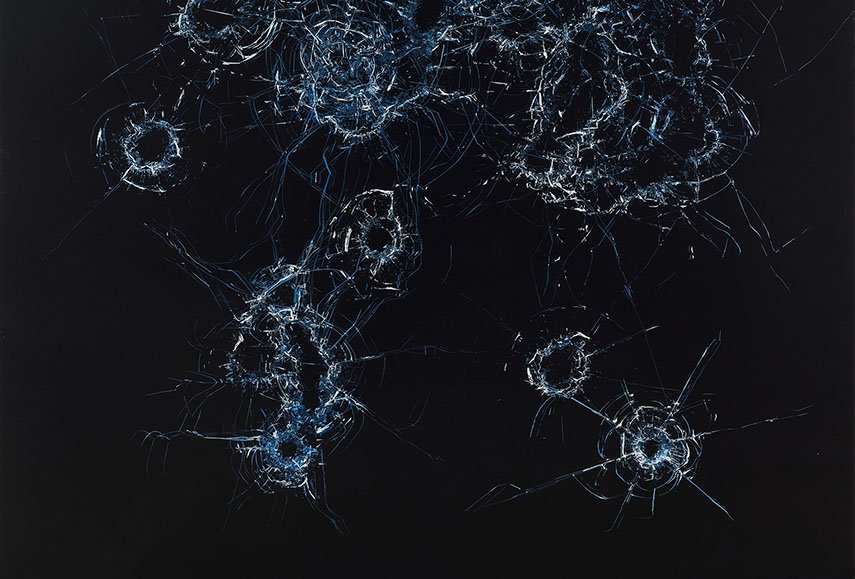 Zhao Zhao's Rebellious Art
Zhao Zhao is emerging Chinese artist that already has a rich career and his works are often politically provocative. He is known for his seven years long cooperation with Ai Weiwei. Zhao Zhao works in a wide range of disciplines starting from painting and sculpture to the video and documentation of the lives of people in his proximity, Ai Weiwei being one of them. Zhao Zhao tends to refer to and criticize the difficult situation in his country utilizing different mediums. However, this kind of activism delivered through his art comes with a price. Zhao Zhao has had many problems with authorities that resulted in a few arrests and some prison time as well as confiscations of his works. Such was the case few years ago when Zhao Zhao was supposed to have a major solo exhibition in the Chambers Fine Art gallery. He packed a great number of his works and shipped them but they never arrived in New York. Instead, the works got held up at the customs and Zhao was ordered to pay a large fine. But even after paying his artworks were destroyed, among them was a provocative figure of a large police officer whose uniform number happened to be the date of Ai Weiwei's arrest.
Zhao Zhao prepares for Art Basel Hong Kong

Fragments and Constellations
Lately however Zhao seems to be more active in painting than in activism which reflects in this exhibitions consisted mainly of paintings. Seven year ago he was involved in a hazardous accident in which he hit the windshield with his head. He preserved the windshield and used the pattern of this violent impact for Fragments in 2007 for which he created a small object that subsequently served as inspiration for an ongoing series of works in which he deals with the consequences of violent interventions on forms that were not damaged before. The audience is left to wonder if this series was triggered by Zhao's accident or is it yet another covert political statement.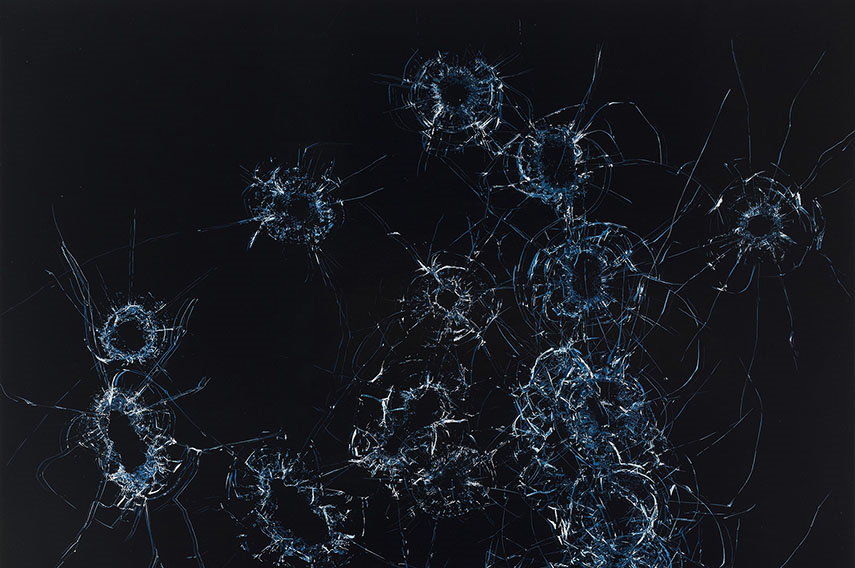 Zhao Zhao at Chambers Fine Art
The series connected to violent impacts reemerged in 2013 as Zhao Zhao's experiment in which he would shoot at the glass which is a daunting task in China for private ownership of guns is almost illegal. In this work Zhao was probably more allured to the challenge of procuring the gun as well as with the technical activity of scattering bullet holes and cracks creating scenes reminiscent of the astronomical that lead to the title Constellations. Thirty of such panels were photographed for the first Constellation that Zhao Zhao later painted constraining his pallet to the Prussian blue, Van Dyck brown and white. The paintings are done quite meticulously in detail contemplating these important moments. However, Zhao paints fairly large scale artworks with a technique of a miniaturist subtly providing hints of irony. So don't miss out on the Constellations II that opens on May 15th in the Chambers Fine Art,a gallery that specializes in contemporary Chinese art. Zhao Zhao's exhibition will last until August 22nd.
Keep up with fast-pacing contemporary art by signing up for My Widewalls!
Featured Images are Courtesy of the Chambers Fine Art.