The 1980s nurtured a new generation of intellectuals who considered the human body and the concept of identity flexible categories. The emerging gender studies dealt with an array of implications related with these issues - technology, sociology, anthropology, medicine, etc. - and the results achieved by this particular academic branch, as well as other sub-branches, are being explored today in the global landscape entirely colored with the digitization of physical and mental experience.
Identifying oneself in different manners would appear easier today than before; however, despite the liberalization of certain societies, self-identification aimed to disrupt the heteronormative discourse is still being overlooked, and even entirely neglected, to a certain extent.
The American artist Zoe Avery Nelson gained attention for producing intimate, yet socially-charged paintings centered on the explorations of corporeality and transgender identity. Their latest series is currently on display at the Rubber Factory, within the recently opened solo exhibition titled The Measure of a Boi.
The Disobedient Body
Namely, with new paintings Zoe Avery Nelson is articulating the temporality of inhabiting/being a body; by fragmenting, dissolving and deconstructing it, Nelson is creating a unique entity in an otherworldly space suitable for sculpting oneself.
The physical body becomes transcended and the (transgender) identity expressed accordingly; Zoe Avery is able to move in a gap between desire and absence meaning that their body becomes fluid and not necessarily represented in its entirety, able to appear or disappear.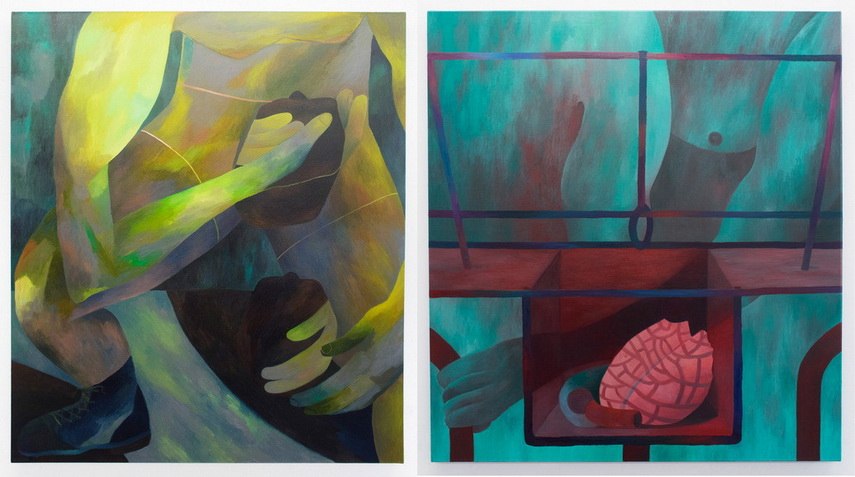 Music Sets Me Free
The artist is are very much inspired by rave culture which enables the body to free itself (the audiovisuals provide the catharsis and possible transcendence). The notion of the bodily form is, in general, an inherited construct, which can be overcome or at least extended through art. Zoe Avery explains:
From these paintings, I found Avery, or rather, Avery found me on the dance floor, and I found Avery through painting. At first, Avery was fragmented and found in moments of slippage, or referenced through an object of desire or ambiguity. As I started dancing, the distances between myself and Avery – between fantasy and lived experience – started to decrease. The distances between the fragmented sections of the painting started to decrease as well. That is how Avery emerged.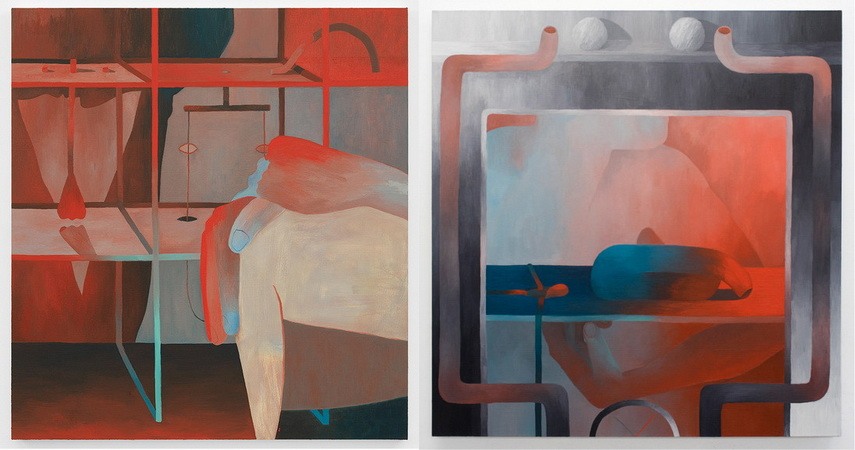 Zoe Avery Nelson at The Rubber Factory
This exhibition unravels not only how thoroughly the artist is exploring the mentioned concepts in regards to contemporaneity, but also underlines the excellence of a painterly approach mostly reminiscent of Frances Bacon, as well as other notable painters from art history.
The Measure of a Boi will be on display at Rubber Factory gallery in New York until 21 April 2019.
Featured image: Zoe Avery Nelson – The Measure of a Boy, 2018. Oil on canvas, 48 x 44 in. All images courtesy of the artist and Rubber Factory.