Zora Kreuzer uses light and paint to highlight the mystery and beauty of an architectural space.
While much of her work responds directly to the environment, Zora brings to her projects a love of Berlin nightclub culture as well as strong fascination with the graphic signages that surround her in the everyday.
She describes her practice as ordered and calm. I would like to add the word 'giving'. Here's what she has to say.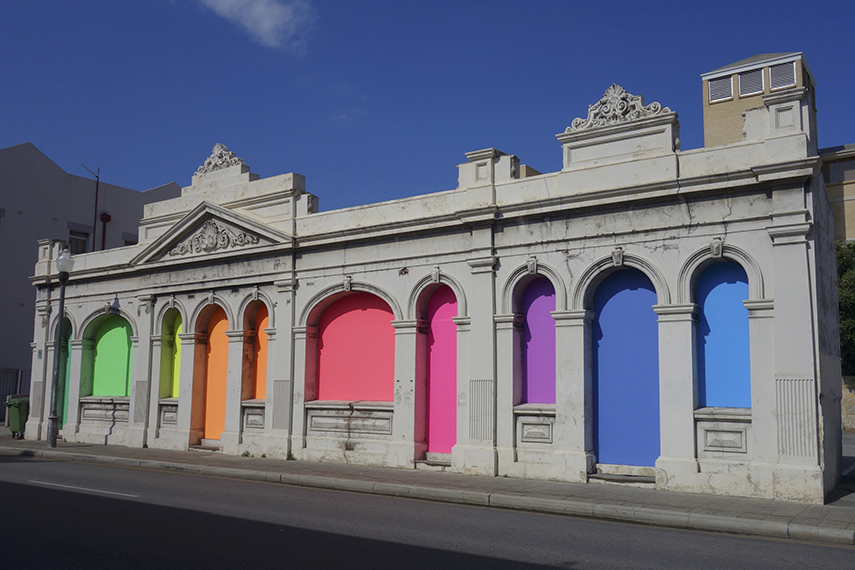 Zora Kreuzer and the Neon Colors
Brent Hallard: You have carved out quite a niche for yourself, and impressively so. You deploy large areas of neon colors, and pit them up against the singular 'absence of' color, black. A wall painting can dazzle the eyes with the added heat of fluorescent paint, or simply transport you to the nearest nightclub. Likewise, a room can be transformed 'a-la-Flavin' to bring to attention the architectural elements that the light sheds on them. Add more – you make modest-scaled paintings with the same signature Fluoro/black that pop and punch you back. Where did this all begin?
Zora Kreuzer: Colors in general were always the main topic of my work. But at some point in art school I wanted to extract the palette I really wanted to work with, to push things more towards a personal way of thinking.
That's when neon colors became exclusive. They just made me happy and I was really drawn to them. To ground and highlight the colors I contrast them with shades of grey and black. When I started to work with the reflection of the neon colors my work shifted from the canvas into space. And to use the whole space light became a tool, as it has no limit and touches' every surface.
At the same time, my paintings became bigger and bigger, as I wanted to create a different relationship with the spectator to the work. And this gave way to the wall paintings. Since then, I've been using both light and paint to work with the architecture of a space. Once you get that idea/sense of working with the space, there is no turning back.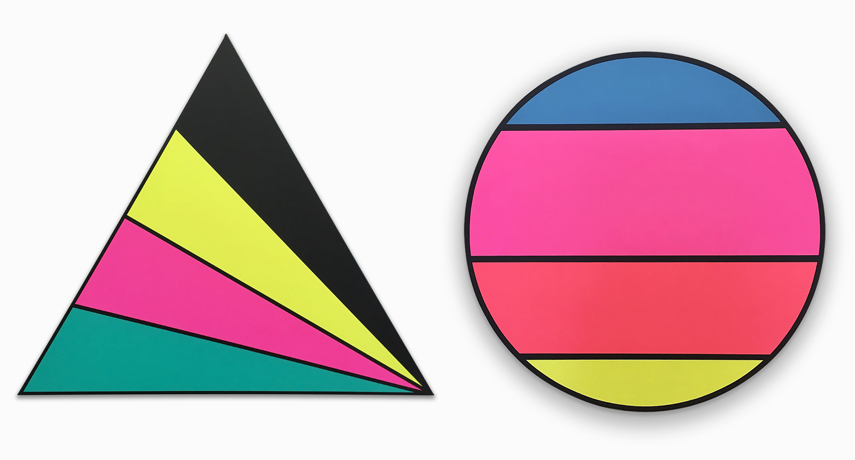 The Works
BH: Can you tell me about "Arcade"? I remember that came about through a residency in Western Australia. What I'm taken with is the dream-like quality – the juxtaposition of the (what kind of architecture is it), and the glow of the surreal. If de Chirico was working in the 21 century, this is what it would look like.
ZK: Indeed, it was kind of surreal. Arcade was painted on a 19th century facade of a Fremantle building, but in the back of it was just a parking lot. It felt a bit like a theater stage. The architectural elements of the facade are super opulent but next to it you find garbage bins and just the everyday city life. I painted the blind window openings in a spectrum of neon colors.
The combination of the bold and clean colors and the rundown facade melted together quite impressively. I love this kind of juxtaposition, that's why many of my works happen in the public space.
BH: And "Border Lights" also reads set-like. What a trip it would be to be driving along up to this and thinking 'what is going on?. Is this a moment of the meeting of the third kind?' What was the brief here?
ZK: Ha, ha! Yes! People never really know what's happening. :) But usually they love it. Arcade for example was used as a backdrop for many photoshoots, like weddings, fashion etc.
Border Lights is an intervention I did for an art project in Wernstein, a small community in Austria at the border to Germany. When we started to work there in 2015 the refugee crisis in Europe was at its peak, so the government also put refugees in an empty hotel there. It was very sad to see people from all over the world sitting in this tiny town with not even a shop, being totally isolated and with no perspective. Some wait up for 5 years or longer to be informed if they can stay or not. Our project included several interventions in the public space, so some artists invited refugees to participate in their projects and it was great to get to know some of them.
My project was located at the street next to the border, the River Inn, and also where the refugees lived and often wandered around, or sat outside. I transformed the streetlights into a color spectrum so the whole street was flooded in colored light. It was great to see the transformation of the street, and the people and cars passing along it! It stayed up for 3 months, and I hope it made a little change...
BH: "Light Walk" goes inside the architectural compound. And it looks as if this is less 'readily made' and the fluoro lights have been added as fixtures. This is Flavinesque in that way. Again, similarly to "Border Lights", you move through the light. It feels not overwhelming, as the architecture is not imbued with theatrics, instead it feels that the emptiness becomes the focus, albeit colored up. I'm thinking there should be a dance floor and a bar. How would visitors move through this space?
ZK: In Light Walk I wanted to make this beautiful and impressive space visible. It's a former power house and now it's a contemporary art space. For this project I shut down all the regular light sources from the ceiling and installed mine. It's a composition of thirteen fluorescent tubes placed on black painted pillars.
I programmed a time-laps of 30 min in which the fluoros go slowly on and off. It starts with just one color, and then more and more colors appear. I wanted to create a static but still changing atmosphere of light and shadow. The visitors were invited to walk through the space and every few minutes you would have a different light situation and different images would appear. It could become quite dramatic in a way.
For example, when there was only one white fluoro on, the space would be experienced in sharp black and white. However, you could also have a more colorful impression with all the lights on at one point: with the different colors of the lights and colored shadows happening all at once. You have suggested it could be perceived as an empty club, but for me it is more the images of the different light experiences that remain memorable. But, sure, I am totally inspired by club interiors… the lights, the Techno music. It's all probably just what happens when you grow up in Berlin in the late 90's. Clubs are still a place where I get ideas, and where I think about new artworks.
BH: You also have a studio practice where you make drawings for large wall murals, as well as discreet paintings that are simply placed on the wall to view. How do the navigate the differences between the very social practice of large scale projects with the more traditional atelier approach?
ZK: To create the large scale pieces, I'm dependent on a space to develop the work on site, so I'm kind of working from project to project. In between, the studio gives me the opportunity to work anytime I want.
If I don't need to prepare for large scale projects, I'm usually focused on the smaller studio paintings. It's more of an inward working process, and it's a good contrast to the large-scale projects, both physically and mentally. When I'm in that space, and in the studio, I like being able to just concentrate on shapes and colors on a manageable surface. It's a good shift. That said, the studio time is in constant exchange with the large scale works, especially the murals.
And, indeed, some of the murals have come out of the small paintings. But it can happen the other way around where a mural can spark an idea for a studio work.
Working with the exhibition space itself is often more interesting for me than just having a painting on a wall. So I haven't shown paintings much in the past few years.
Just recently I've had some opportunities, and I'm happy that people get to see some of the smaller pieces. I am also experimenting at the moment with placing paintings into new spatial works.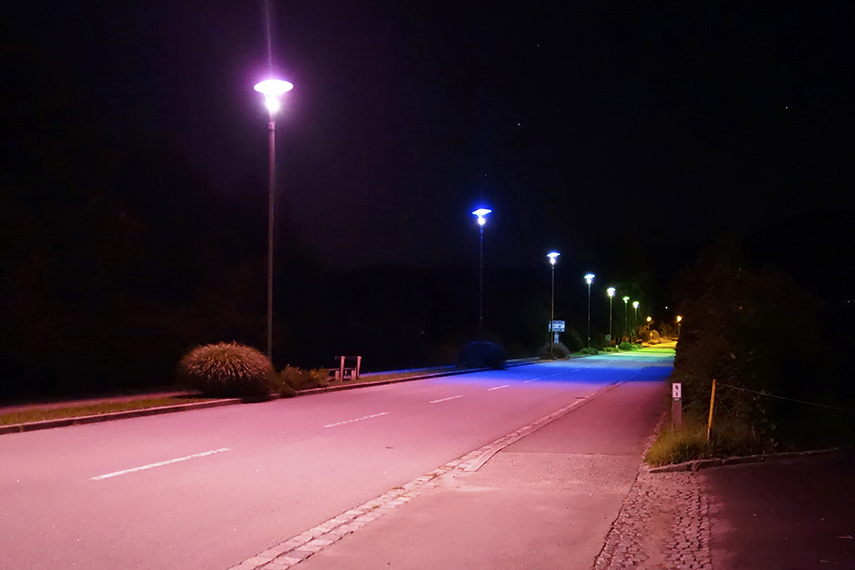 Between The Streets and The Studio
BH: You are fortunate that you feel comfortable working both ways. I enjoy the studio works also. They make no bones about a singular approach. "Sun" is a tondo, round, and there are a couple of horizontal bands divided by black. Black also frames all the colors at the border. It's a sunrise or sunset. Yet, it's convincing as an experience. And it works well on a formal level. What's not to like or get? But there is enough leeway for you to go into it further, and start to question why it impacts the way it does.
ZK: The studio works are often based on shapes I find in a public space. I work a lot with logos because of their clear and minimal style, and how they extract an image and turn that into a simple icon. So the paintings are made with those principals in mind, though very much in keeping with my colors.
In the wall and stand-alone paintings, the neon is softened with white so it appears more matte and less jarring while still retaining that reflective glow. Likewise, the black gets reduced to hues of grey: this way the colors can appear to meld together and create a very flat surface.
The paintings are hard-edge but painted by hand, so they retain a 'natural' look. In both the studio and the spatial practice I mainly work with the color spectrum. I pick colors in order of the spectrum, so I get some kind of gradient. I like the feeling of order – how the colors are fitting together like that. In all practices, the painting, murals and in the light works I create a minimal but colorful aesthetic.
In general, my work is very ordered offering a sense of calm and strength, which gives balance to the outside world.
Featured image: Zora Kreuzer Portrait credit Stephanie Neumann; Zora Kreuzer - Wave, 2017. Acrylic on wall, coloured fluorescent tubes, Freiburg (DE); Starfighter, 2015; Skipper, 2018; Light Walk, 2017. Coloured fluorescent tubes, light sequencer, acrylic on pillars, Gallery for Contemporary Art E-Werk, Freiburg (DE). Photo: Bernhard Strauss. All images courtesy the author.