ZsONA MACO, Latin America's most important contemporary art fair, comes back for the thirteenth time after some record-breaking attendance in 2015. After introducing ZsONA MACO FOTO last year and ZsONA SALÓN DEL ANTICUARIO in 2014 as well, the event is now focus on the best artworks presented by a total of 122 galleries from 24 countries. The fair will once again bring together influential collectors, specialists and artists from all around the world, traditionally divided into five sections and curated by an international committee. The visitors will also be able to enjoy a program of parallel activities, a series of lectures and a selection of exhibitions of modern and contemporary art and design objects - all that in an area as vast as 13,000 square meters. This February, Mexico City is the place to be for collectors!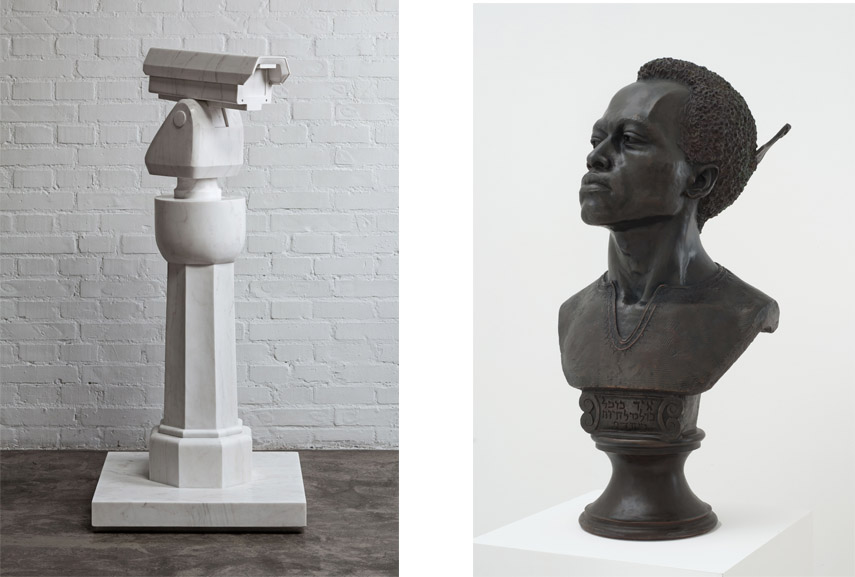 The Program for the Promotion of Collecting
Dedicated to the promotion of art collecting and the reinforcement of ties between curators, spaces, artists and collectors, ZsONA MACO announced its Program for the Promotion of Collecting, for the fifth year in a row, highlighting pieces sold under $5000. These works will be identified by a coloured sticker and can be found in all five sections of the fair. Their aim is to expand the international network of collectors by making art accessible to younger generations. The initiative, taken by the fair and its participants, has had gradual success during the previous editions of the ZsONA MACO.
List of Exhibitors
Participating Galleries
For one of the biggest editions yet, ZsONA MACO will present 122 galleries from 24 countries around the world. As every year, these will be divided into five sectors: General Section, New Proposals, ZsONA MACO Sur, Modern Art and ZsONA MACO Design, gathering together international curators, artists, gallery owners and collectors in one of the world's leading art events. The General section is the largest, with 73 internationally-renowned art spaces. Among them, we have Blain|Southern London, Brand New Gallery Milan, Galleria Continua, Dittrich & Schlechtriem Berlin, Gagosian, Lisson Gallery London, MAI 36 Galerie Zurich and David Zwirner. Artists on view will include Lucio Fontana at Cardi Gallery Milano, Ivan Navarro at Paul Yasmin New York, Kehinde Wiley at Roberts & Tilton Culver City, Andy Warhol at Corridor Contemporary Tel Aviv and many more.
New Proposals section will exhibit 22 galleries and an independent space, with original artworks made specifically for the event using innovative ways, by artists who have not exhibited in the city. In ZsONA MACO SUR, last year's Case Study #1 - Laplace's Demon gets a sequel, in form of Case Study #2: Rhythm is a Dancer, a more performative approach to the curatorial exercise. The fourth edition of Modern Art section will present 17 spaces with artworks produced during the first half of the 20th century, while ZsONA MACO DESIGN's 25 exhibitors will have an independent pavilion, where they will put on display limited edition objects and design of national and international studios, combining the latest trends with vintage design galleries.
The Location of ZsONA MACO 2016
ZsONA MACO 2016 - Practical Information
ZsONA MACO will be held from February 3rd through 7th 2016 at Centro Banamex, Hall D, in Mexico City. The opening is set for February 3rd from 4pm to 9pm. Opening hours will be 12pm to 9pm every day, 12pm to 8pm on closing day. Daily ticket prices range from 250 Mexican Pesos (~$14) for General Admission and 150 Pesos (~$8) for students, seniors and professors with valid ID. Entrance is free for children under the age of 12. For more information, visit the official website.
Featured images in slider: The fair 2015; Alexander Calder - Huit Rondelles Rouges, 1971. 81,2 x 132 x 132 cm. Courtesy Elvira Gonzales Madrid; Damián Ortega - Pluricelular 3, 2015. Pigmented concrete, 20 pieces, 50 x 50 x 50 cm (19.69 x 19.69 x19.60 in). Courtesy kurimanzutto Mexico City; Yves Klein. Photo by David Bordes, courtesy CAYÓN Madrid; Left: Lucio Fontana - Concetto spaziale, Attese, 1964. Waterpaint on canvas, 241/8 x 193/4in. (61.3 x 50.1cm.). Courtesy, Cardi Gallery Milan - London / Right: Ivan Navarro - Bomb, Bomb, Bomb, 2015. Wood, formica and drum hardware, 72 x 72 in, 182.9 x 182.9 cm. Courtesy Paul Yasmin Gallery New York; Left: William Kentridge - Drawing for Triumphs & Laments (#26), 2014. Charcoal on Ledger pages, 63x49,5x4 cm. Courtesy Lia Rumma Milan, Naples / Right: Carol Rama - Autorattristatrice n.09, 1969. Mixed media on canvas, 100 x 80 cm. Courtesy Raffaella De Chico Turin; Left: Andy Warhol - Hot Dog Bean, 1969. Edition of 250, color silkscreen from Campbell's Soup II, 35 x 23 in. (88.9 x 58.4 cm). Signed verso in ballpoint pen. Courtesy Corridor Contemporary Tel Aviv / Right: Joaquín Boz - Untitled #11, 2015. Oil on panel, 72 x 54 inches (182.9 x 137.2 cm). Image courtesy of the artist and Steve Turner, Los Angeles, Photo by Don Lewis. All images courtesy of ZsONA MACO.
zsona maco