State of Minds by MaisMenos Comes to Wunderkammern
Through his intervention art project titled ±MaisMenos±, the Portuguese artist Miguel Januário offers a critical reflection on the model of political, social and economic organization that manages contemporary urban societies. He holds a mirror to the lucidity of our dysfunctions – and by making them readable, he affirms the possibility of our emancipation from them. The latest ±MaisMenos± art will soon be on view at Wunderkammern. Titled State of Minds, the exhibition will explore the social, political and economic current situation, developing a variety of problematic aspects that seem intrinsic to the system we live in.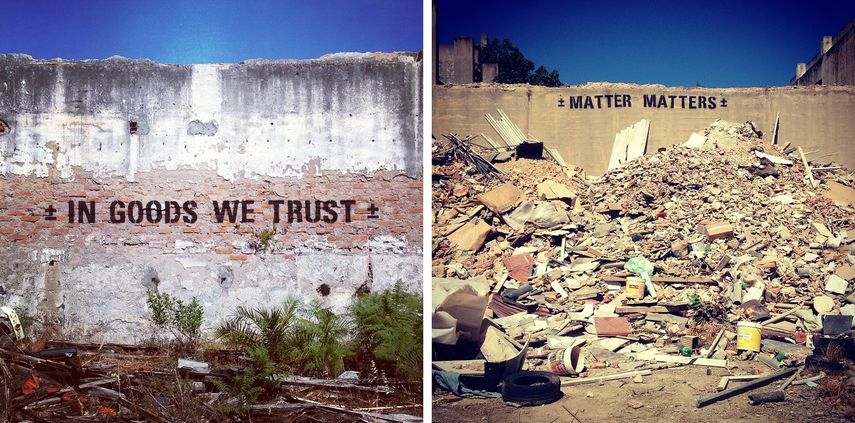 The MaisMenos Project
The Portuguese artist Miguel Januário has established the project ±MaisMenos± in 2005, producing work in a variety of media – from video to sculptural installations, from painting to performance. Critically reflecting the contemporary society, his practice provides a clinical dissection of reality conceptually reduced in its opposites: more/less, positive/negative, black/white. His intervention project is viral, direct and incisive. Questioning the social implications and consequences resulting from it, he has been producing thought-provoking, cutting-edge work both indoors and outdoors. Seemingly simple and text-based, his interventions deliver powerful messages that engage the audience in contemplating on social realities, both positive and negative, of the contemporary urban societies governed by bureaucracies.
State of Minds
Focusing on the social, political and economic situation, the artist will tackle issues such as the ideological crisis affecting liberal democracies and their guiding principles of liberty, equality, and fraternity, the role of the media and their mission, and the tragic refugee crises which is sadly juxtaposed to the brutality of a paradoxical system that increasingly demands open markets and closed borders. Presented in four interconnected segments – politics, media, borders and thought – each of them will occupy a different room of the gallery. The works range from participatory installations, encouraging the viewer to take the active role in these provocative pieces, to his famous, sacrilegious "streetments".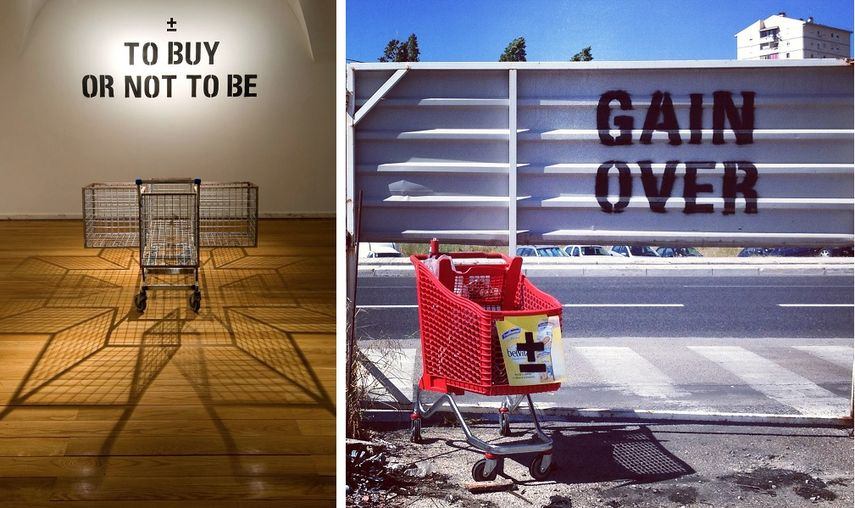 MaisMenos Art Exhibition at Wunderkammern Rome
Surfacing as a personal project developed in an academic reserach context, ±MaisMenos± quickly became a reference of creative intervention in Portuguese urban circles, due to its viral mechanics as well as the various media it wove itself into. His witty, cutting-edge works can be found in different locations in Porto and Lisbon, as well as in Brazil, Angola or Norway. Curated by Giuseppe Ottavianelli, the exhibition State of Minds will be on view at Wunderkammern Gallery in Rome from June 10th until July 22nd, 2017. The vernissage will be held on Saturday, June 10th from 6.30 to 9.30 p.m. The artist will be present.
Featured images: MaisMenos – Dollar Bill; MaisMenos – Silencio; MaisMenos – Noway; MaisMenos – Dream. All images courtesy of Wunderkammern Rome.