On Male Nudes in Art History
Although the female nude has certainly hogged the spotlights in art history, artists have celebrated the male nude since ancient times in ways both reverential and erotic. From Greek sculpture to contemporary photography, depictions of the male body have varied in style and medium over time; yet a man's body remained a powerful muse through the ages.
What's interesting is that the majority of the male nudes throughout art history were painted by men themselves. Their different approaches towards the male figure influenced their renderings, ranging from representations of strength, power and virility to those of beauty, vulnerability and sexual intrigue. These images often had the potential to challenge taboos around male eroticism and identity, encouraging explorations of what it means to be male.
While the female nude is generally regarded as a staple on the finest of museum walls, the male nude has managed to maintain an air of illicitness up until the present day, continuing to trouble people in different ways.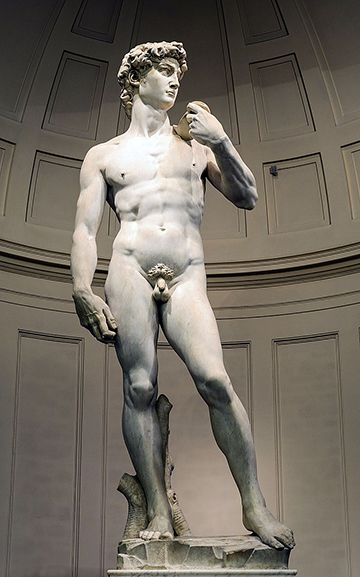 Early History of the Male Nude
The first major culture to celebrate the naked male body was that of ancient Greece, where male sexual relationships were common practice. Imagining their Gods to look like perfect humans, the ancient world have translated this idealizing quality to other subjects too. From 7th-century BC kouroi to 5th-century contrapposto, the male nude revered a physical form, symbolizing virility, strength and power.
From proud depictions which characterized the Antiquity, the male nude became awkward in the culture of the middle ages, with depictions becoming slight and slender. The nudity itself was associated with Original Sin and questions of (im)morality, turning into something to be embarrassed about.
In the culture of Renaissance Europe, the nude underwent yet another transformation. Inspired by Antiquity and the school of thought associated with humanism, the depictions became naturalistic, while the appreciation of the human body was renewed. Certainly, the most iconic male nude from this period is Michelangelo's David. Realistic bodily structure continued to be valued all through the 18th century.
The 19th-century provided one final opportunity for the classical tradition of the male nude. These masculine and naturalistic renderings include Rodin's sculpture The Age of Bronze, The Thinker and The Kiss, as well as George Minne's Adolescent I and Theodore Gericault's painting Male Nude. At the turn of the century, artistic depiction of all-male recreational and social activities became popular, especially bathing scenes, with the artist serving as a voyeur of sorts. At the same time, sexually-charged gaze into an intimate all-male enclave began to emerge.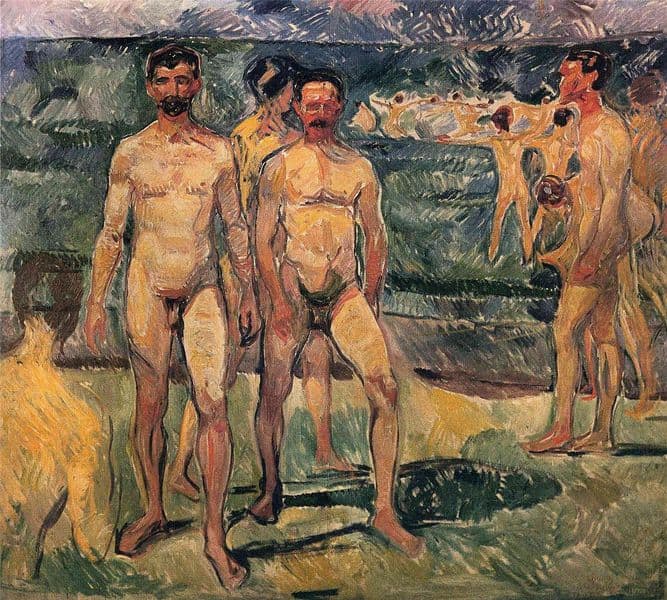 The Male Nude and Modernity
The advent of 20-the century avant-garde movements like Cubism, Expressionism and Surrealism brought a different perspective of the body. As the naked body was represented either fragmented into pieces, as tormented, adorned in rainbow colors, or with body parts replaced with objects, it became practically impossible to pinpoint a specific style of nude. However, these depictions were unified by the notion that the body's boundaries and composition could be mixed up.
The artist Egon Schiele developed a distinct graphic style which embraced figural distortion and bold defiance of conventional norms of beauty. Erotically charged and scandalous in its time, his nudes laid bare his subjects' raw emotional state and physical tensions. It was recently discovered that the majority of his works which were regarded as self-portraits were in fact portraits. As homosexuality was probably illegal in early 20th-century Vienna, it was safer for his biographers to consider the works self-portraits than to admit that the artist was actually depicting gay men.
During the 1950s, Andy Warhol created a series of drawings of male nudes which fused multiple influences – from the clean, simple lines of Henri Matisse and the creative figurative perspectives of Pablo Picasso to the eroticism of Jean Cocteau, who quite crudely presented eroticism and seduction.
An acknowledged desire for the male body and the liberalization of social conventions gave rise to some daring works from the mid 20th century onwards. A grand master of homoerotic art, Tom of Finland combined his love of machismo with his natural artistic talent to create a groundbreaking body of work that celebrates the idealized male form and male sexuality. His images of masculine gay men helped smash stereotypes and produce new diversity, not creating new role models for gay men, but also changing the attitude towards liberated sexual expression. David Hockney, who led his life as an openly gay man, has provided us with imagery through which we can begin to understand the white gay male experience in 1970s Los Angeles. One of his many male nudes, Man in Shower in Beverly Hills from 1964 includes some of the artist's favorite themes: moving water, the curtain, domestic scenes and homoerotic imagery.
Lucian Freud created an entirely new painting genre in the depiction of the human figure, rendering painted flesh with extraordinary, penetrating humanity. He showed us a male body that is almost too real, too fleshy and unsettling to look at. Freud's first portrait of a male nude, the painting Naked Man with Rat from 1977 depicts a well-built reclining nude of Raymond Jones, a popular figure in the bustling London scene and the artist's life-long friend.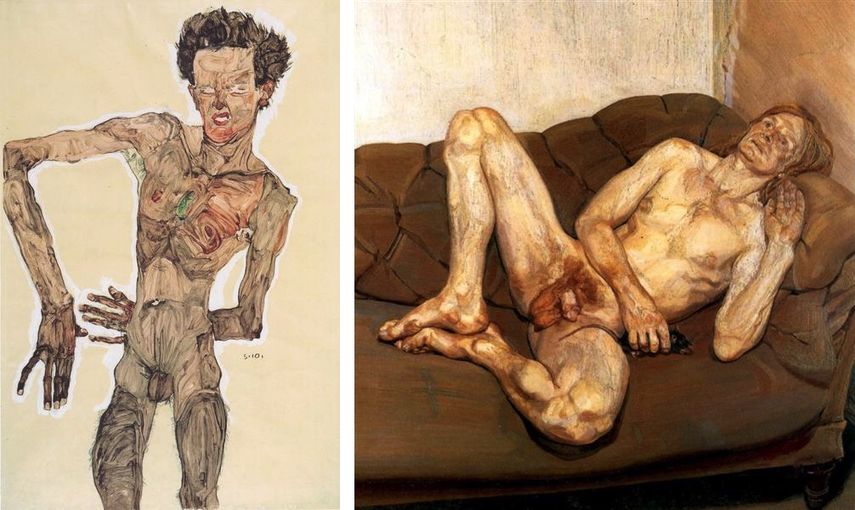 The Confrontational Male Nude
The rise of the photographic medium provided artists with further ways to explore the expression of the nude body. A part of Eadweard Muybridge's Animal Locomotion series, the work Men Sprinting is comprised of 24 photographs which are among the first to successfully capture the human body in motion.
Photography also provided a fresh tool for articulating identity, gender and sexuality. Perhaps no contemporary artist more beautifully and controversially depicted male sexual desire as Robert Mapplethorpe did. A master of art photography, he is famed for his highly controversial and sexually explicit images, radically changing the preconceptions of medium and stretched its boundaries, both in themes and style. Blurring the lines between high art and pornography, his work continues to ignite spirited discussions.
In response to Mapplethorpe's Black Book, a highly aestheticized study of nude black men, Glenn Ligon created Notes on the Margin of the Black Book using found sources and foregrounding race and sexuality. He took Mapplethorpe's book apart, framing and juxtaposing his pictures with short texts – quotes about the illustrations, the history of the representation of black people and issues of censorship and homophobia.
The nude male body continues to inspire contemporary artists, but there isn't a single type of nude to pinpoint. Today's body is confrontational, political and sometimes even difficult to face.
 Editors' Tip: Robert Mapplethorpe: The Black Book by Ntozake Shange
A classic, indeed perhaps the best of the Mapplethorpe books. The Black Book, first published in 1986, presents 96 formally stringent and highly erotic nudes, all of them photographs of black men, either as full figures or staged as details, as fragments of their bodies. Stylized as classical statues or provocatively in all their presence and sensuous radiance. Black-and-white photography was Mapplethorpe's preferred medium. The Black Book, Mapplethorpe s homage to the black male body, has always been one of the most important visual contributions to the discussion on beauty, sensuality, and sexuality in photography.
Featured image: William Blake – Newton, 1795. Monotype, 460 x 600 mm. Collection Tate Britain. All images Creative Commons.