Can I Make You Feel Bad? Malgorzata Markiewicz Exhibition at l'etrangere Gallery
Can I Make You Feel Bad? Can relationships make you cry? Can love save us from pain or bring us more of it? Find the unique artistic answer to these questions at Małgorzata Markiewicz exhibition at l'étrangère gallery. The starting point for the artist is emotional strains and culpable subtexts that hide behind the act of gift giving. Markiewicz explores the power competitions in relationships. The name of the Małgorzata Markiewicz's exhibition is Can I Make You Feel Bad?, presented with the red neon sign shaped like a necklace, which is also the subject of one of her works. Markiewicz's work tackles the themes such as the eerie, gender roles and gendered spaces, embodiments of desire, power, and intimidating remarks in domestic situations.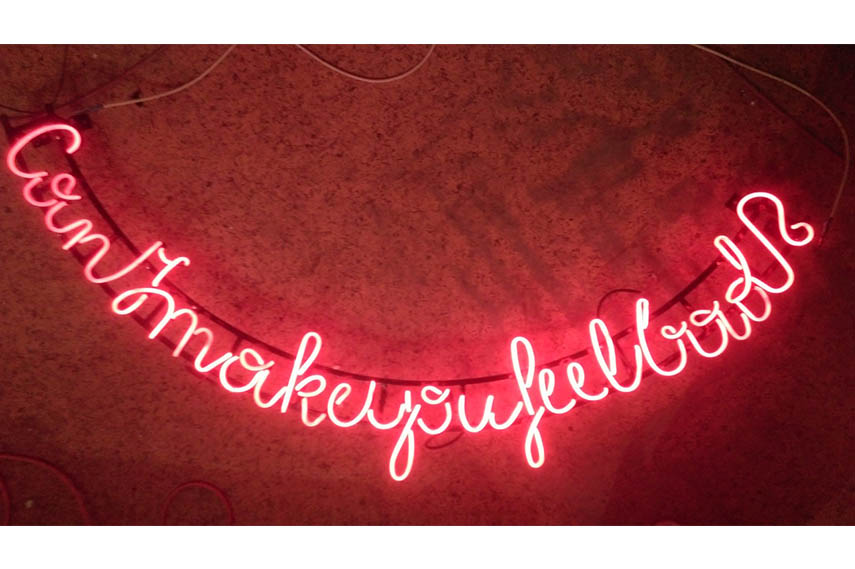 Relationships, Love, Lies
Markiewicz's works presented at her first solo exhibition at l'étrangère bring together metal, ceramic, neon, photographs, crocheted sculptures, and found objects. These unique materials combine to make a statement about the decay of love, about the lies that lurk in the backgrounds of relationships, about the power game, about gender roles. The metal cobwebs pulled across the windows suggest the prison-like environment in which the concealed power tensions in relationships become dictatorial and ruinous. Markiewicz expropriated the unpredictable patterns that spiders weaved when dispensed with toxic solutions in the time of a scientific experiment. Just like the intoxicated spider, the artist creates a support structure in the act of "homemaking". The lack of uniformity of the spider's weaving is mirrored in the situations that make home serenity and relationships turn toxic.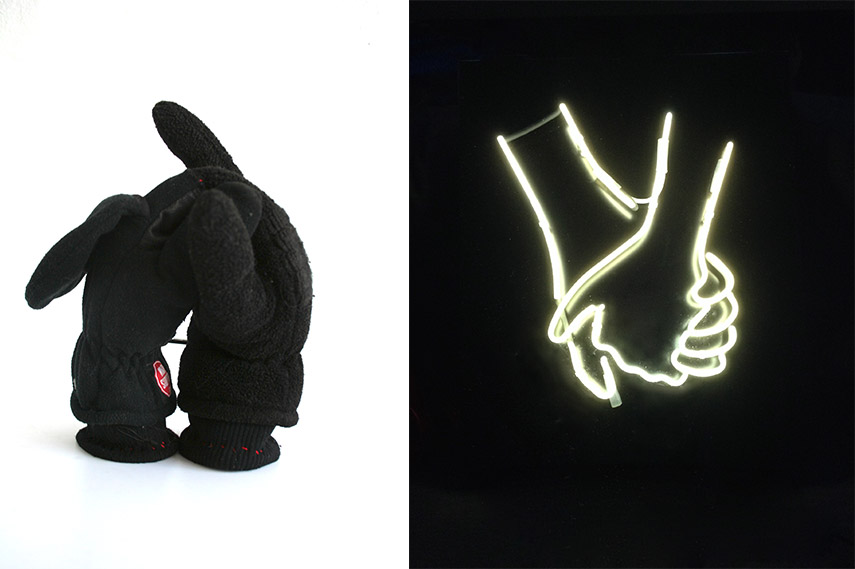 Love and Photography
The series of photographs of the artist dressed in a seductive pinafore while executing a series of household chores constructs the difficulties of traditional gender roles and the tensions they bring with themselves. Found gloves that Markiewicz bundled and hemmed together into squashy sculptural forms and critically placed on a series of twisted bases become simulators of human communication and coupling, of touch and desire. This is replicated in a soft neon, representing a drawing of two hands holding one another tightly as a beacon of hope within the disarray of devastating power struggles. The artist uses traditional "feminine" techniques of crocheting, embroidery, sewing, and materials such as yarn, wool, and found fabric to construct a story known to us all. She manages to translate the perils of the everyday practice of lying to the significant other, of the perpetual struggles that couples face each day, of the traditional oppressive roles of women bestowed upon them against their will. She captures the essence of relationships and offers their raw, unedited, real-life problems that we try to conceal from others.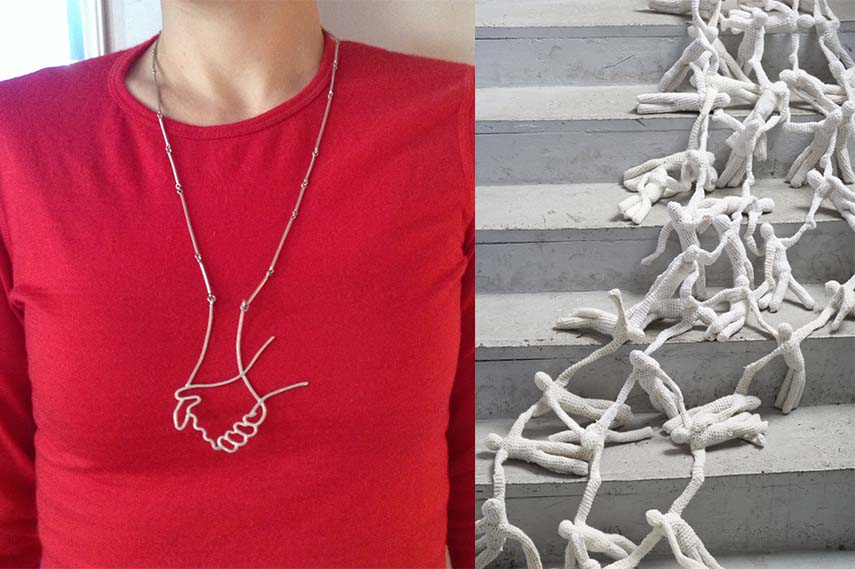 Małgorzata Markiewicz Exhibition
Małgorzata Markiewicz is an artist whose works have been exhibited internationally a number of times. Amongst her solo exhibitions were those in Sweden, her home country – Poland, and she has had numerous group exhibitions in Madrid, Berlin, Rome, Lisbon, Sweden, Poland, and Finland, among others. Her works are a part of several private and museum collections including those in MOCAK, Krakow, Galeria Arsenal, Białystok, BWA, Bielsko Biała in Poland, and Berardo Muzeum Lizbona in Portugal. Małgorzata Markiewicz's latest solo exhibition titled Can I Make You Feel Bad? will be on display at the l'étrangère gallery from April 21st to May 28th, 2016. The private view is scheduled for Wednesday, April 20th, from 6:30 to 8:30 PM. The gallery is located at 44a Charlotte Road, London.
All images are reproduced courtesy of l'étrangère London and copyright Małgorzata Markiewicz Featured images: Małgorzata Markiewicz – Couples? They 8 | Małgorzata Markiewicz – Pinafores 1 | Małgorzata Markiewicz – Pinafores 4 | Małgorzata Markiewicz – Pinafores 15 | Małgorzata Markiewicz – Ugly House 1 | Małgorzata Markiewicz – Ugly House 4