Marcel Dzama and Raymond Pettibon Collaborative Works in Exhibition at David Zwirner
Who is to say that work cannot be fun? When it comes to art, the empty canvas is practically a call-out for excitement, as its surface can take you literally anywhere. And if that weren't enough, a technique invented by surrealists at the start of the 20th century that resembles an old parlor game called Consequences has the artists collectively assemble an art piece by completing each other's work in a sequence, while either following a rule or being able to see only the end of what the previous person contributed. Using a variation of this method otherwise known as "exquisite corpse," Marcel Dzama and Raymond Pettibon manage to develop each other's compositions through illustrations, collage and writing, and though the process must have been all but fun, the results are truly astonishing. The drawings that were originally created for a zine published by David Zwirner Books, as well further works that have been jointly produced by the artists will be on view in the 2016 exhibition called "Forgetting the Hand".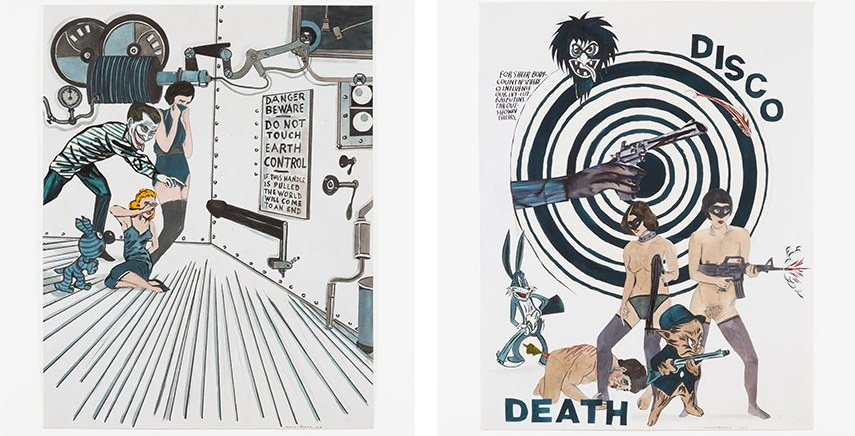 Junction of Not Just Composition Pieces
The collaboration between Marcel Dzama and Raymond Pettibon began in summer of 2015, as the artists exchanged the first of a series of drawings to be completed by the other. With the completion of the zine and its publication coinciding with Printed Matter's New York Art Book Fair in September 2015, the pair continued to create other pieces, and Marcel Dzama was even inspired by the venture to make a video, naming it An Evil Flower. Both artists have created a distinct trail in the art world. Marcel Dzama has exhibited widely both in the United States and internationally, with a history of solo exhibitions that include the World Chess Hall of Fame and Museum in St. Luis (2015), Kunstmuseum Thun in Switzerland (2014), Galeria Helga de Alvear in Madrid (2013), and others.Raymond Pettibon, who graduated with a degree in economics from the University of California, has made no less of a mark. His work has been exhibited throughout the United States and abroad, and some of his recent venues include Kunstmuseum Lucern in Lucerne, Switzerland (2012), Kestenergesellschaft in Hanover (2007), Kunsthalle Wien in Vienna, and others.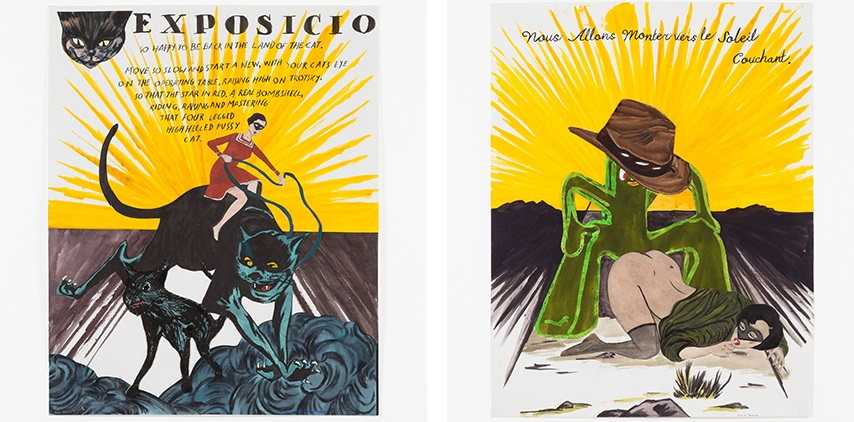 More Than the Sum of its Parts
In their joint work that is to be displayed in the "Forgetting the Hand" exhibition, the artists instill an added allure to the artwork by working individually on its pieces, proving that one plus one can indeed equal to more than two. Much like their coming together in order to complete the zine, the drawings themselves often combine their very distinct styles in a seamless fashion, showing the strive of both artists to anticipate the other's vision. Proving how well they've managed to predict each other's responses to a given composition piece, several works showcase such fluidity within their framework that it's almost impossible to determine which artist made which part.
Marcel Dzama and Raymond Pettibon Exhibition at David Zwirner
With both Marcel Dzama's and Raymond Pettibon's previous work being held in museum collections worldwide, the Consequences of their join work done in 2015 are sure to be impactful. Including a preview of Marcel Dzama's new video featuring the actress, author and comedian Amy Sedaris as the artist himself, and a revised edition of the original zine expanded with additional works and a new text by the poet Andrew Durbin, this exhibition is not to be missed. "Forgetting the Hand" exhibition will be hosted by David Zwirner gallery in New York, from January 14th to February 20th, 2016.
All images courtesy of David Zwirner gallery.