Fighting for Women's Rights - Meet Marilyn Minter Our Artist of the Month
January has been an eventful month when art and politics are considered. The world has seen the inauguration of the 45th President of the United States, Donald Trump, while his first executive orders as a president were greeted with disbelief and shock worldwide. Marilyn Minter, the most popular artist of the moment, actively protested against these events. Art and politics are almost inseparable today – we could even say that their relationship was always tight – and Minter used her artistic skills, fame, and influence to foreground some of the pressing issues, especially those concerning feminist causes and human rights. Her recent talk in the Brooklyn Museum with Madonna is just one of the events that caught public attention, along with her big retrospective exhibition in the same museum, which opened in November 2016. Ever since the world learned that Trump will be the next President, rallies against his election and politics have been staged not just in America, but also in many countries worldwide. Artists actively participated in these events and deployed their skills to create activist art in form of posters that protesters could carry with them, or they manifested they dissatisfaction with the election results by going on strike. [1]
For Minter, activism and creation of socially engaged art are not something new. Her artistic practice and public appearances always addressed social issues that are troubling contemporary world. In the light of current events, it seems only logical that we choose Marilyn Minter as our artist of the month.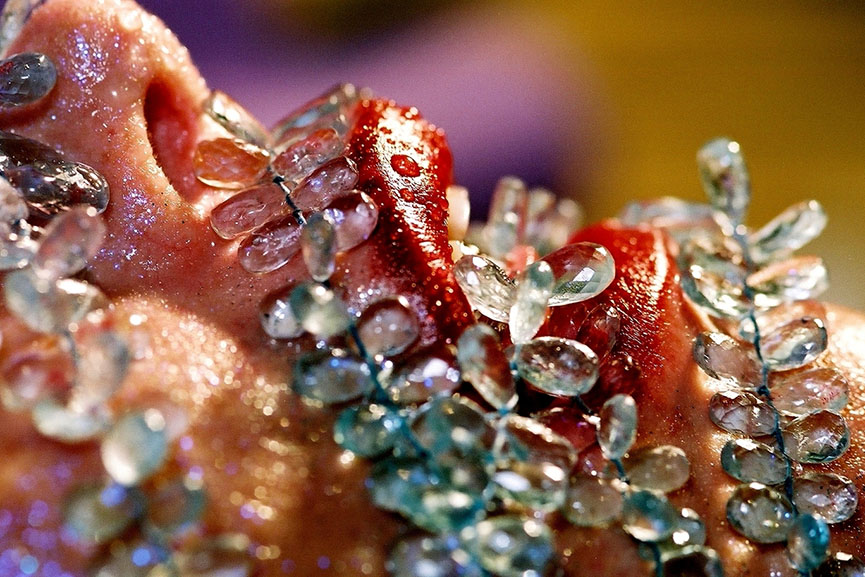 Brooklyn Exhibition of the Most Popular Artist of the Moment
Under the title Marilyn Minter: Pretty/Dirty the Brooklyn Museum staged the first retrospective exhibition of the artist present on the art scene from the late 1960s. Opened on November 4, 2016, the exhibition will be on view until April 2, 2017. Minter is known for her paintings and photographs that engage with multiple issues related to gender and sexuality such as the power of desire, fashion industry, often opposing emotions that surround contemporary notions of beauty, as well as commercialization of body and sex. The works at display span more than four decades, starting from the early works Minter created in 1969. Over the decades she shifted her focus and changed her style. By the middle of 1980s she explored Pop art techniques and photorealism, while in the late 1980s and 1990s her visual imagery took a 'visceral' turn in explorations of food and sex. Her newest production continues to focus on desire but this time Minter takes the aim at beauty industry. Her retrospective is a part of A Year of Yes: Reimagining Feminism at the Brooklyn Museum program that explores the history of feminism and feminist art as the forces of progressive change.
Marilyn Minter: I'm Not Much But I'm All I Think About, 2011/16
Rolling in the Dark Matter
I'm Not Much But I'm All I Think About is a video work by Minter that is displayed at her current retrospective. [2] Conceptual in its nature, the video is nonetheless focused on the subjects she explored throughout her career. The viscous, metallic liquid that is considered Minter's signature, resembling the collusion of makeup and paint, flows and rolls before our eyes in an endless loop. The liquid universe from time to time unravels the letters M and E, which could be also read as the artist's initials MM. Or do they form ME? The ambiguity of meaning coming from the silver ooze adds to the strong message of the work. The 21st century narcissism, self-promotion of the artist, or a simple expression of disgust with the world with EW, are all possible readings of the work. Not so dissimilar, such explanations fit into the present frenzy surrounding Trump and his election. Aiming at his self-centeredness and general narrow-mindedness of the political elites, the reappearance of ME, MM, or EW in a sliver slime possess general pessimistic tone, underscored with dark, and almost menacing rolling of the thick matter. An individual cannot escape it, but can just appear from time to time in his or her most negative self, disconnected from everyone and everything.
Madonna and Marilyn Minter Talk at the Brooklyn Museum
Madonna X Marilyn Minter
Titled Madonna X Marilyn Minter, the talk between two creatives hosted by the Brooklyn Museum started with the footage of the African American author and social critic James Baldwin. It set the tone for the discussion which was moderated by Elizabeth Alexander, a poet and playwright, and Anne Pasternak, the museum's director. Focusing on pressing issues, but not neglecting the other, more general ones, two creatives addressed religious, racial, gender and other forms of discrimination, with Minter urging everyone to "fight back." [3] The talk at one point moved to more personal topics of motherhood, with Madonna stating that her kids are not impressed with her accomplishments, and both women agreeing how difficult it could be to deal with rejection, but how rejection ultimately makes you stronger.
Dealing with sexuality in their works, Minter and Madonna insisted that women need to continue to fight against the increased misogyny, and prompted to talk about aging, Minter explained that in art world you can grow old, people will let you be old, but ultimately you are not allowed to have your sexuality. Solidarity among women and acting together for a cause was also analyzed, but unquestionably the most attention was given to the present moment and situation in America. [4] Minter admitted that she was never scared of her government as she is now, and that elections were steeped in misogyny. At the end, the creatives asserted that the only paths before them are those of destruction and creation, and Madonna prompted public to join her on the path of creation. Only with the positive and creative acts we can productively fight the injustices.
"Love trumps hate. Always does" – concluded Minter.
References:
Chaw A.R, (2017), Artists and Critics Call for Culture 'Strike' on Inauguration Day, www.nytimes.com [January 30, 2017]
Anonymous,

I'm Not Much But I'm All I Think About

, www.marilynminter.net [January 30, 2017]
 Bernstein J., (2017), Madonna and Marilyn Minter Discuss Art and Protest, www.nytimes.com [January 30, 2017]
Ibid.
Featured image: Marilyn Minter. Image via westworld.com; Marilyn Minter – Pop Rocks, 2009. Image via Widewalls archive. All images used for illustrative purposes.