The Most Iconic Marilyn Monroe Nude Photos
Back in the day when no digital enhancement nor photographic manipulation were available, the term ''true beauty'' had some weight to it. Nowadays, it is really hard to discern something natural and real from the edited, altered and photoshopped. This is why Marilyn Monroe's name still bares an echo of awe even today, among all the celebrities, starlets and ''sex symbols'', few are the ones who can even try to compare with Monroe's well-deserved status.
She defined the origins of erotic photography and remains a legendary name even 60+ years after her initial appearance. It has been speculated that the famous actress did have some plastic surgery performed on her chin and possibly her nose, despite popular belief. At least that is what the medical records sold for $25,600 at an auction indicate. Either way, every talk of her photos stirs up controversy and much attention to this day, proving that some stars shine bright even long after they are gone.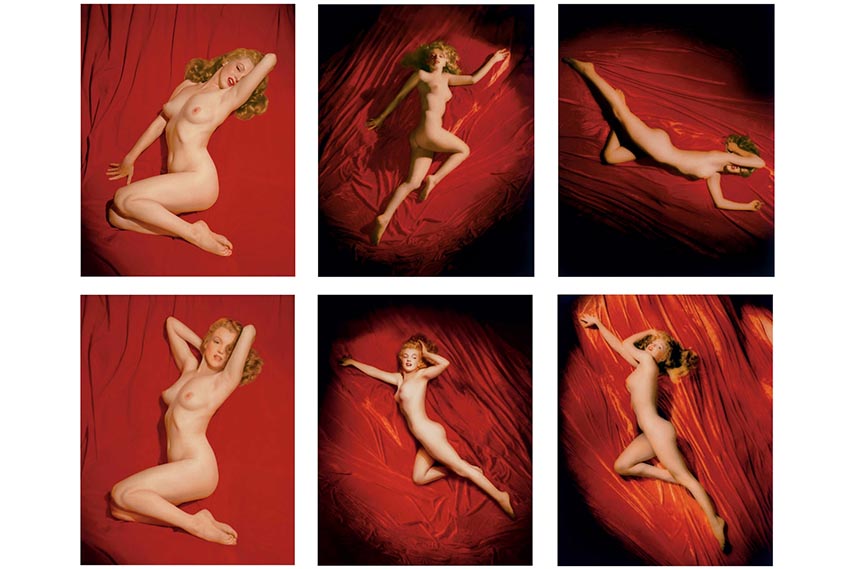 The Story Behind the Most Iconic Nude Photos of Marilyn Monroe
As difficult as it may seem to fathom, regarding the modern trends, sex used to be considered quite a taboo subject in Los Angeles. Nudity wasn't glorified and sought to fill the headlines, it wasn't accessible and as close-at-hand as it is today. During the 1940s and '50s, LA actors used to sign morality agreements, and nude imagery could majorly harm their career. Young Marilyn feared the risk of such backlash, so she decided to sign the model release form with "Mona Monroe" in order to conceal her identity. When Monroe met the photographer responsible for the iconic pictures, Tom Kelley, she was reportedly late with her rent payments and had her car in repossession. According to the story, the actress didn't agree to do the photos instantly, she mulled over the idea of posing nude for two days before she finally agreed to go through with it. May 27, 1949, two hours session with the photographer Tom Kelley, and one of the most important images of modern culture were made. The stunning Marilyn Monroe nudes would also be featured on the premier issue of Playboy, which launched the franchise to worldwide success. The stellar career of the beautiful actress was born, and the rest is history.
Editors' Tip: Marilyn Monroe: A Life From Beginning to End
She vigorously played the dumb-blonde stereotype in her movie roles, but there is nothing at all dumb about Marilyn Monroe. Born to a single mother who suffered from severe mental illness, the odds were stacked against the girl originally named Norma Jeane from the very beginning. She became a ward of the state and bounced around from foster home to foster home. The fact that she rose from such impoverished beginnings to become one of the top-billed acts in Hollywood speaks for itself.
The Painstaking Process Resulted with Insight into Rarity of the Photos
Preservation of the precious photographs was not an easy process. The organizers of the display claim that the Marilyn Monroe's nude photos were to be destroyed on several occasions in the past, including the original separations that provide insight into the painstaking process of developing images for calendars, magazines and other mediums. The multiple layers of film were hand-corrected for the full color printing, resulting in a masterpiece of printer's art. It may be difficult to imagine the complicated and quite fragile processes that used to be involved with photography, since nowadays everything is as easy as a simple click of a button. However, photography went through a long process of development before it became what it is today…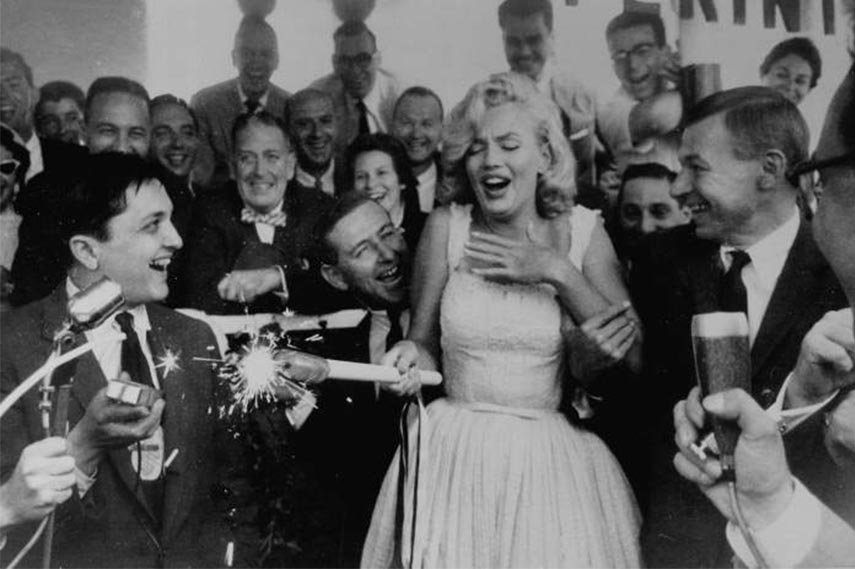 Marilyn Monroe Nudes that Redefined Perceptions of Sex
Once the pictures were leaked, they sparked a lot of comments and film studios required Marilyn to deny it was her in the images, fearing it would sentence her career to failure. Little did they all know, the reaction to the controversial Marilyn Monroe nude photos was almost absolutely positive, which propelled the actress into an overnight Hollywood sensation. This bold act of a rising star defined the western society's perception of sex and nudity in the decades to come. Breaking the barriers and redefining the social norms, her name lives on and remains significant, for the beauty of Marilyn Monroe is timeless, universal and true. It would be interesting to compare the development of Marilyn's career to modern times and how things are handled nowadays. Monroe was relatively underpaid compared to her colleagues, for instance Jane Russell was paid around 10 times as much as Marilyn when they co-starred in Gentlemen Prefer Blondes. Not to mention other worldwide beauties like Elizabeth Taylor who got a million dollars for her role as Cleopatra, while Marylin's final unfinished movie brought her a salary of 100,000 dollars. She was paid only $50 for her ground-breaking nude pictures, can you imagine the amount of money that would be exchanged if a star of such quality would get involved in a nude photo-session today? Still, the blonde beauty did get to enjoy at least a small portion of her revenue. She died having become a million dollar movie star. Even though she was fired from the production of Something's Got to Give because of her chronic lateness and no-shows, Marilyn got rehired on a $1 million, two-picture deal, only days before her death.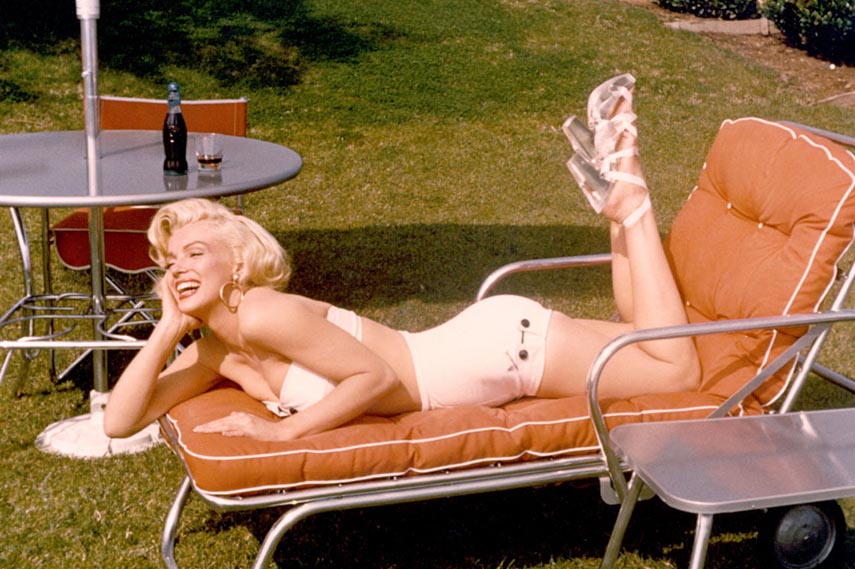 Marilyn Monroe – More than Meets the Eye
As much as the audiences loved the popular role of a "dumb blonde", Marilyn Monroe actually hated it. She tried desperately to distance herself from the stereotype that was pushed onto her. And why wouldn't she when there was so much more to her character than what the movie roles portrayed. Examining the superstar's private collection of personal belongings, memorabilia and other miscellaneous trinkets, one cannot but stop for a second and reconsider the image most of us have in our minds of Marilyn Monroe. Did you know that she was a voracious reader? Or that she wrote her own poetry? Or that the "dumb blonde" was, in fact, intellectually gifted, very well-informed about the issues of the world around her, and so much invested in the written word that she went through great pains to be photographed reading or at least holding a book, all because of her deep love of literature? Furthermore, Monroe was taking literature and history night classes at UCLA in between her shootings.
Once you let go of the popularized image of a bubbly blonde with her skirt carelessly flying on top of a subway grate or the Marilyn Monroe Playboy pictures that were radiating from magazines' pages, you can begin picturing a deeply emotional, intelligent, troubled and ambitious young woman whose interests went much farther than what other people had in mind. Marilyn Monroe was, among other things, a passionate collector and creator of visual art. Records even show that the young star looked into furthering her arts education with painting classes, namely Renaissance literature and art extension course at the University of California. Referring to Monroe as just a starlet doesn't really feel right, does it?
Recently, rare photographic color slides were discovered, belonging to Louis Larue who passed away earlier this year. A portion of these slides were taken during his time as an Army pilot in the 3rd Infantry Division in Korea, back in 1954. Among various militaristic and personal events captured, our little blonde minx popped up in several of the slides. Marilyn Monroe visited the troops during a Korean USO tour and the images reveal more than just the entertainment aspect, they show the approachable, down to earth and friendly superstar who can be seen joking around with the soldiers, riding alongside them in cars and enjoying coffee together with the troops. The famous actress did perform 10 shows in just 4 days during the Korean tour, but in between the sets, she made a genuine connection with the troops and did not act as a diva.
To this day, the mere mention of her name makes the sparks fly and heads turn, which is why it should come as no surprise that Marilyn Monroe photographs attract wide audiences and the highest bids in exhibitions and auctions. Her beauty, style and charisma were not a fad nor a trend, they were everlasting and true, remaining as an inspiration for the generations to come. But ultimately, all that was just one side of this multifaceted superstar, one that was pushed upon the public, and one that was allowed to be seen. Marilyn! The New Musical is soon to open at Paris, Las Vegas, and this original musical is set to explore the ultimate story behind the human condition, with the director's focus on the dichotomy between Norma Jean and Marilyn.
Written at the height of her fame but not published until over a decade after her death, this autobiography of actress and sex symbol Marilyn Monroe (1926-1962) poignantly recounts her childhood as an unwanted orphan, her early adolescence, her rise in the film industry from bit player to celebrity, and her marriage to Joe DiMaggio. In this intimate account of a very public life, she tells of her first (non-consensual) sexual experience, her romance with the Yankee Clipper, and her prescient vision of herself as "the kind of girl they found dead in the hall bedroom with an empty bottle of sleeping pills in her hand."
All images used for illustrative purposes only.