Pop Surrealism at its Best in New Works by Marion Peck at Magda Danysz Gallery
The activities of three branches of the Magda Danysz Gallery (Paris, Shanghai and London) have been always determined by what goals and aims the Gallery had set. Promote, support emerging artists and favor a larger access to contemporary art on an international level are Magda Danysz Gallery's goals. In order to achieve these goals, the Gallery actively works to offer an always original program, mixing visual art, digital art, urban art. But, that's not all. In December and January, we enjoy beautiful artworks in exhibition at the Paris space showcasing drawings by a number of great artists (The Self-drawing hand), while in February we enjoy amazing photographs by Maleonn. Apart from all above mentioned styles, movements and techniques, Magda Danysz now demonstrates, once again, her commitment initiated many years into the low brow art and pop surrealism, with the new exhibition at the Paris space – the exhibition of Marion Peck.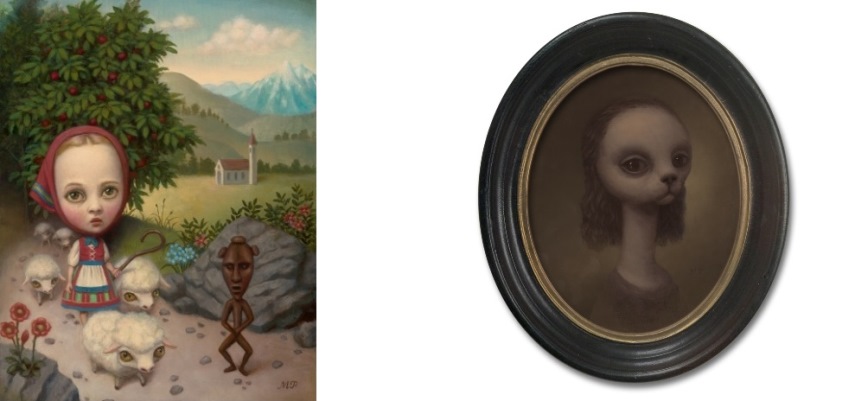 Marion Peck – The Leading Artist of the Low Brow art-Pop Surrealism
Marion Peck is the leading artist of the Low Brow art / Pop surrealism. Therefore, she has been frequently invited to present her artwork by renowned museums and galleries. Recently, Marion Peck was the headliner of the HEY show curated by Anne & Julien at the Halle Saint Pierre. With her brightening palette, associated to her perfect technics, Marion's oils artworks seem to be the heiresses of Italian Renaissance paintings. Sharing her life, style and inspiration with Mark Ryden, one can see the influence on their respective work they have had on each other while preserving their own identity (Peck is actually married to Ryden). Born in 1963, she received a BFA from The Rhode Island School of Design in 1985. Subsequently she studied in two different MFA programs, Syracuse University in New York and Temple University in Rome. Pop Surrealism was not the first choice by Peck. But, she became known when she embraced Low Brow art, and has exhibited her work in Paris, Rome, New York, Los Angeles, San Francisco, and Seattle.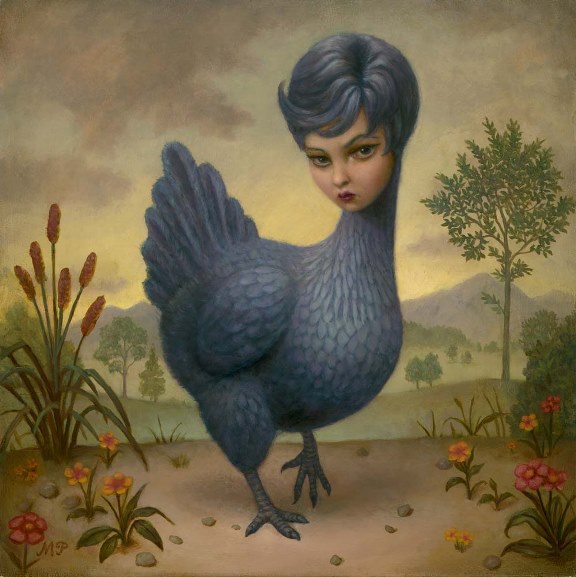 The Pop Surrealism in the Art of Marion Peck
Marion Peck's painting is an invitation to the borders of the dream which could also be described as a more grounded form of surrealism, infused with a new countercultural pop tone. Her latest artworks are full of fantasy, dreamed landscapes inhabited by circus creatures, fluffy characters or noble ladies. As Peck recently said herself: "If there is a narrative to emerge from my paintings, I hope it would be just like a very short poem. I imagine my characters as ones speaking slowly, carefully and quietly, not hiding their hesitations or even stumbling. Their awkwardness is, to me, a part of their personalities."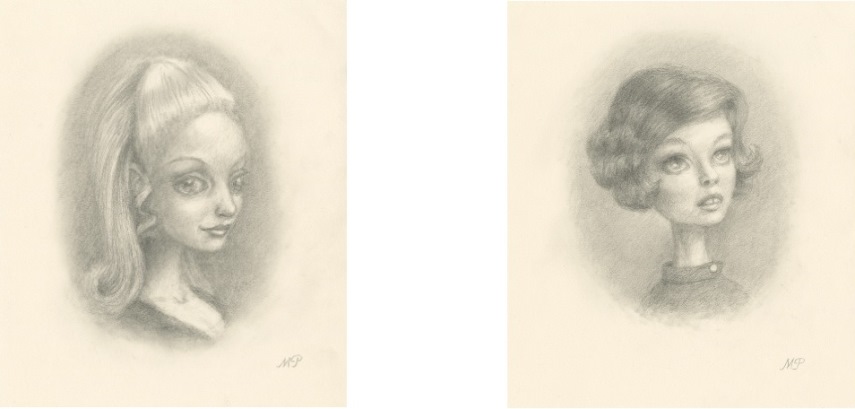 Marion Peck Exhibition at Magda Danysz Gallery in Paris
Magda Danysz has been one of the first galleries in France to present leading artists such as Ray Ceasar, Mark Ryden or Clayton Brothers, actively participating to the legitimation and full recognition of this art movement. This exhibition will be presenting exclusive and never seen artworks, providing an exceptional invitation into Marion Peck's amazingly poetic universe. The exhibition of the latest works by Marion Peck will be on view from March 15 until April 30, 2016 at Magda Danysz Gallery in Paris, France. Special preview with the artist (by invitation only) is scheduled for Tuesday, March 15, 6-9pm.
Featured Images: Marion Peck – The Nigh Fair, detail; Marion Peck – Playroom-P, detail. All Images courtesy of Magda Danysz Gallery.