Mark Whalen @ Future Perfect Gallery in Singapore
Mark Whalen's I'll Meet You in the Middle is a series of works in mixed media that represents a particular catalogue of human activity. Whalen's works are filled with all kind of characters, living, dead, human or alien, earthly or of the unknown nature, and each of them carries its own meaning, the connotation and the allusion to the world, to the rather mundane realism of everyday as well as to the desires of an archetypal human being. Indisputably personally significant for the artist, these numerous images, signs or symbols, came from a deep pondering of the life, intertwined with strong, emotionally charged experiences of the creator – all carefully picked and placed where they belong in the imagined grid of reality.
Mark Whalen's artwork
The iconography of the series is quite consistent, as characters, patterns and particular images keep appearing repeatedly throughout the works in different situations. Being rather small in scale, Whalen's works are distinguished by an abundance of details meticulously lined up in the premeditated setting. The numerous humanoid figures, at times placed in a hieroglyphic order,  are ambiguous in gender, they represent general people as the artists calls them, and are used as a study rather than a realistic depiction. The intense symbolism of the works cannot be overlooked – works overflow with emblems borrowed from various societies. There are leaves, threads, masks, globes, references to water and religion, elements of primitive art, that along with the mystical connotations of different geometrical shapes, create a contemplated Whalen's simulacrum of human state. Grid is there as a base, alluding to the space that should be filled, the skeleton of the work and the platform for the ideas of the artist.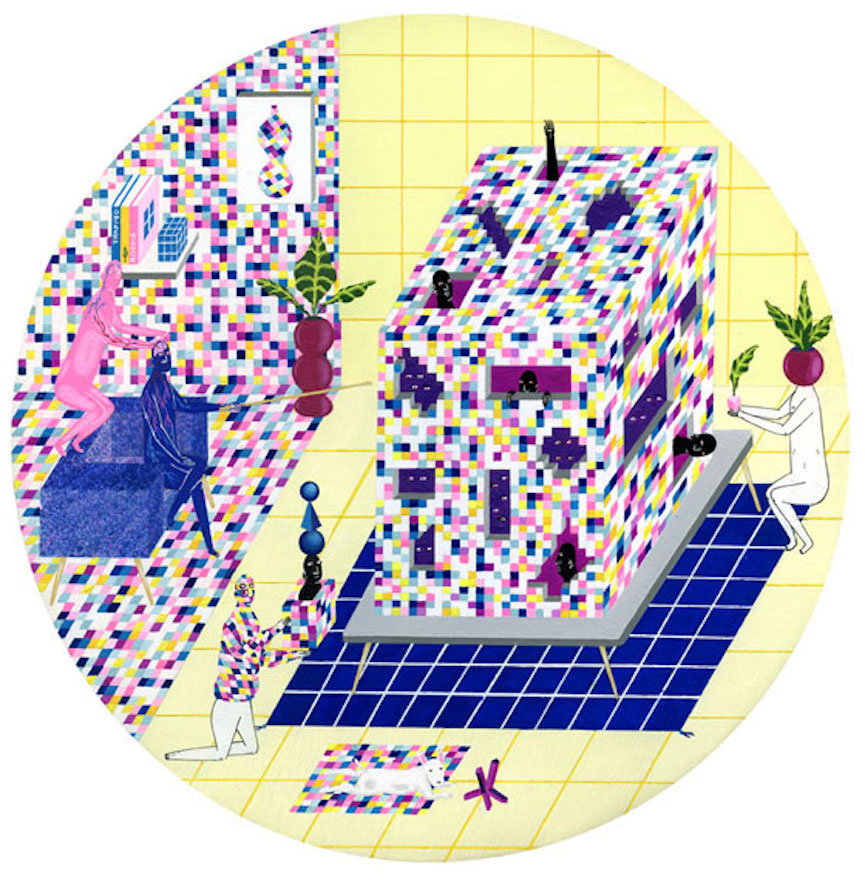 Mark Whalen – Background
From his beginnings in Sydney, Australia, Mark Whalen has evolved into an artist whose meticulously crafted paintings and sculptures examine the human experience by exploring communication, emotion, sexuality, invention, interaction, and ritual – all with an undercurrent of quiet absurdity. Whalen's line precision and glowing color palette is enhanced by the introduction of colors of light, caution and arousal, making the interaction of his subjects more accentuated and accessible. Thick, seductive layers of clear glossy resin create a post-modern plane for the artist to explore spatial possibilities and relativity within the narrative. As a graphic artist who turned to street art and then returned to the studio, Mark Whalen created this series using a mix of cultural references and symbolic meanings from around the globe, filtered through his own experiences.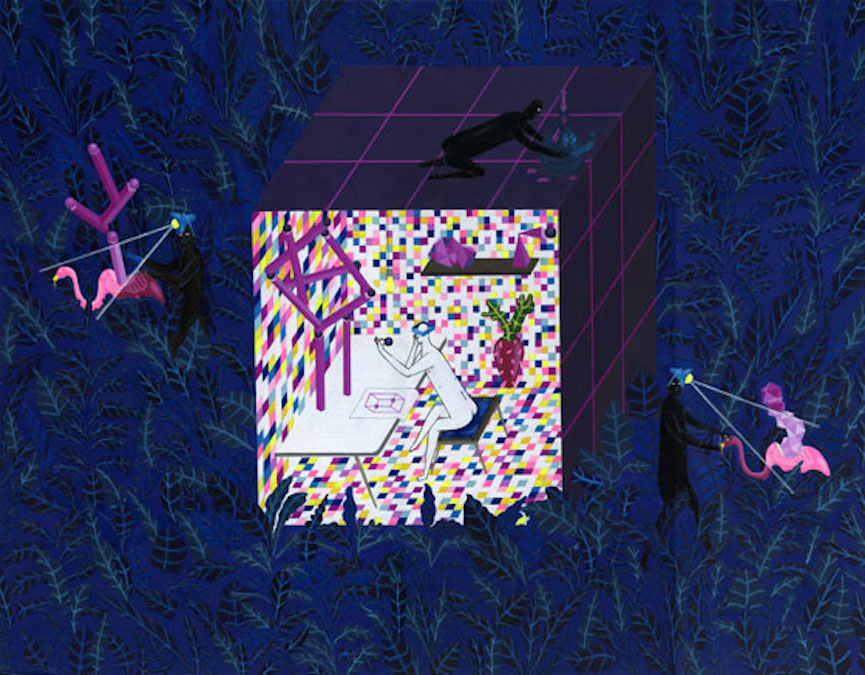 Blackartprojects
Blackartprojects is an integrative platform intended for promoting and exhibiting visual arts internationally. It supports contemporary artists by providing them a complete authority over conditions for displaying their work through the facilitation of projects separated form a standardised exhibition program. Blackartprojects advocates the evolution of important dialogue between art professionals through cultural events of diverse nature. Blackartprojects is a Table patron for Gerturde Contemporary.
Pictures retrieved from: Arrested Motion & Juxtapoz