Max Zorn at MUCA
As we all know, art is a perfect blend of talent, knowledge and craftsmanship. Some artists use brushes and palettes, others their bare hands; photographers use cameras, musicians their voices and instruments and writers have pens. But Max Zorn? He uses packing tape and a scalpel. What he's packin' with it will definitely amaze you.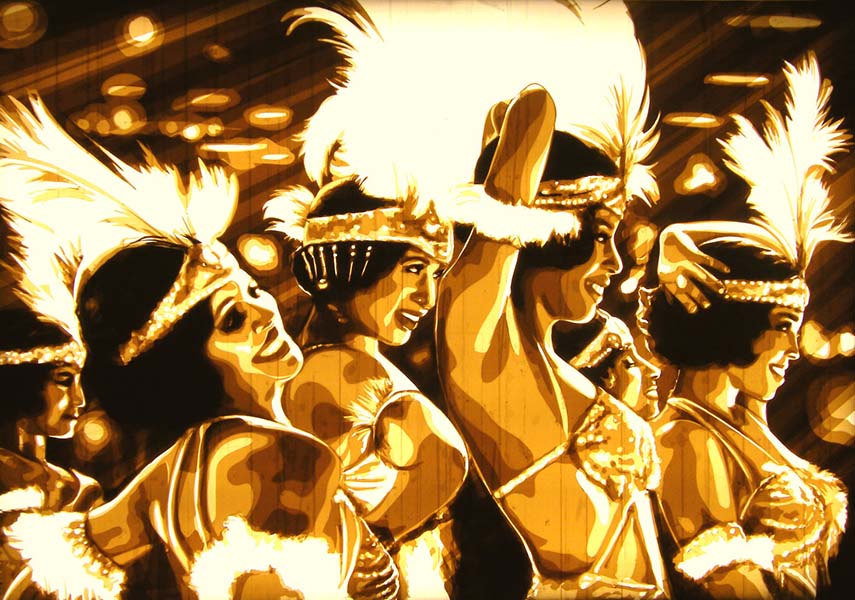 Tape Art of Max Zorn
Munich's MUCA Gallery is hosting the first German show by Max Zorn, an Amsterdam tape artist whose work goes both on the streets and in galleries. By cutting, pasting and removing layers of the infamous brown packing tape, Max Zorn creates dreamy scenery in his own pictorial language. Placed on acrylic glass, which has been appointed as a canvas, his work is then illuminated by the light placed behind it, turning it into a sort of glass painting and a flat version of a lightbox. The tape's glossy surface gives his art a shiny and reflective aesthetic value, emphasizing his amazing skills. Max Zorn puts hours of creativity and effort into his work that results in true unique masterpieces.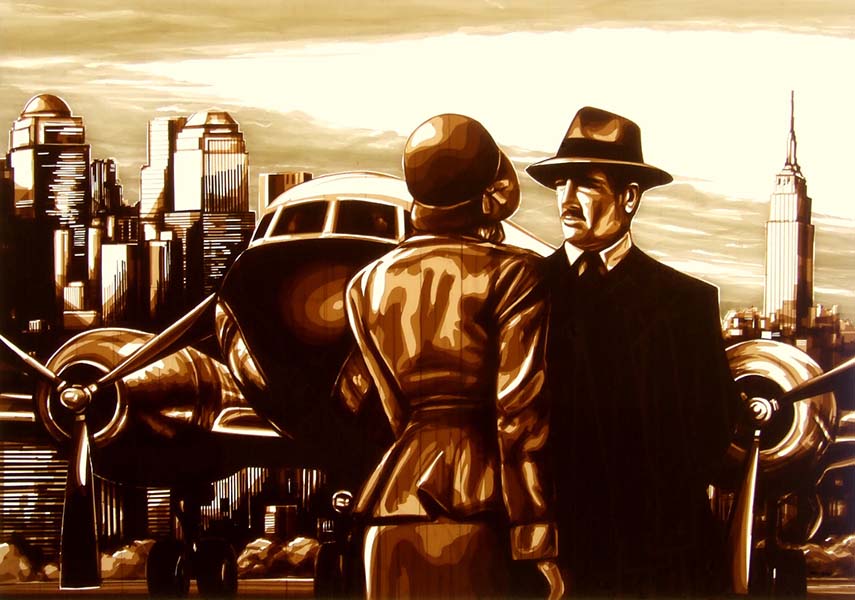 Max Zorn's Roaring Twenties
In the art of Max Zorn, we see scenery of a society belonging to the 1920s, through instantly recognizable ways of dressing, burlesque and glamour. A recurring topic of his work is the city landscape, with its characters inserted into them and a story left for the viewers to imagine. His portraits depict loneliness, sadness, people trapped in deep thoughts on the streets, between buildings. In the manner of film noir, his theatre of shadows is formed in great contrast, using multiple layers of tape in different shapes and sizes. Inspired by the authors of the "lost generation" and the cultural freedom of the period, Max Zorn tells us the tales of another time in an innovative and distinctly artistic way.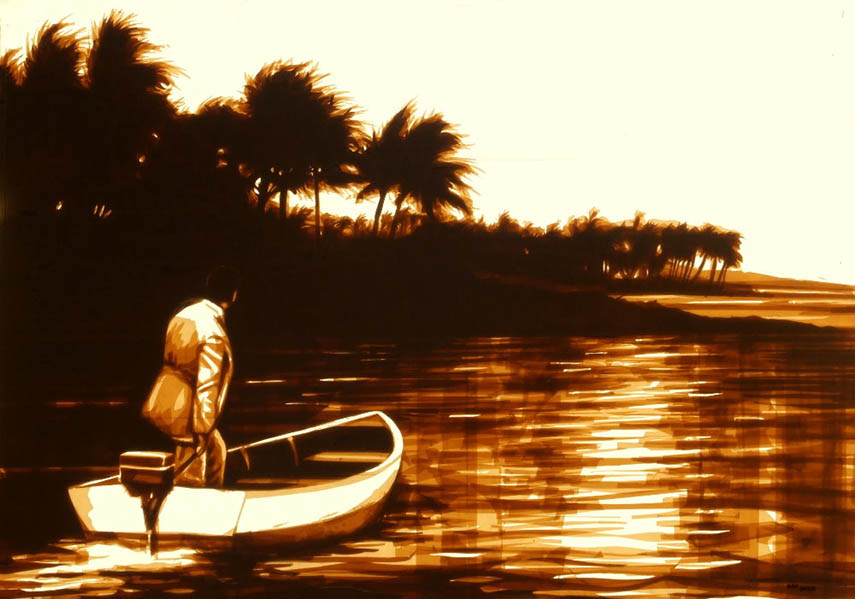 Max Zorn exhibition at MUCA Gallery
Max Zorn also hangs tape art on street lamps, which inspired and brought together many other street artists to do the same. His Stick Together project started in 2012, leading to numerous live painting events across Europe and to the establishment of an art gallery. Max Zorn has participated in many exhibitions and art fairs in the last three years, including the Hong Kong International Art Fair, Art Stage Singapore, Amsterdam Light Festival and Scope Miami Beach. His last show in Miami during the Art Basel week was completely sold out. With MUCA gallery, he participated in ArtMuc in 2014.
Tales of another time – Tape Art by Max Zorn exhibition opens on March 6th at MUCA Gallery in Munich, Germany, with a live taping event by the artist. The show runs from March 7th until April 2nd, 2015.
For more exciting artists sign up for My Widewalls!
Featured image: Max Zorn – Burlesque III
Images and video courtesy of the artist and MUCA Gallery.
[mc4wp_form]