May Exhibitions at Jonathan LeVine Gallery
Jonathan LeVine Gallery announces some very interesting events that will take place in the gallery this May. It is the US premiere of Spaniard Eloy Morales titled About Head and a third time returnee to the Jonathan LeVine Gallery Scott Musgrove, this time with the show Wilder. Eloy Morales will present himself with his large scale paintings and Scott Musgrove will exhibit his works that depict a cross between extinct animals and Musgrove's imagination.
Eloy Morales talking about his portraits and explaining his creative process
About Head by Eloy Morales
In his first solo show in the United States Madrid born Eloy Morales will represent his hyper-realistic large-scale portraits. The show is titled About Head and represents continuation of his long term theme of portraiture. The series on view this May at the Jonathan LeVine Gallery consists of fourteen hyper-realistic large format portraits. Morale's goal is not to become a hyper-realistic painter he merely uses this technique as a tool to express his ideas. Although Eloy Morales's process relies much on the photography his ultimate goal is not to duplicate images rather use them in documentary and exploratory purposes. Eloy Morales aims to exploits the relationship of their existence in the reality of the natural world to the one in his inner world. Using characteristically cropped compositions of human faces Eloy Morales gains access to more engagement on psychological level. Absence of the background and distracting elements of color and texture gives way to the utmost focus on the communication with the model. Eloy Morales mostly uses his friends and family because that aids him in penetrating into the psychological aspects of the models and to show the state they are in at the given moment.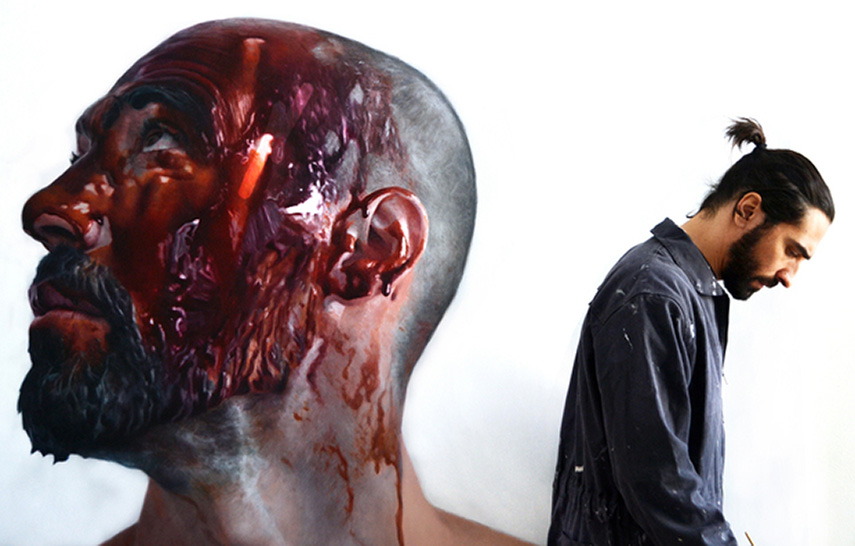 Scott Musgrove's Wilder in Jonathan LeVine Gallery this May
Another exciting exhibition to take place at the Jonathan LeVine Gallery this May is Wilder from Scott Musgrove, artist already familiar to the Jonathan LeVine's viewers for this is his third time to showcase in the gallery. Seattle based artist will show his new drawings, paintings and sculptures that deal with the subject of natural world and extinct animals that may have existed or not. Scott Musgrove uses figurative surrealism to depict his creatures in their ancient environment fantasizing how they might have looked simultaneously tackling the theme of the role of human race in the extinction and rise in the number of the endangered species. In his exploration of the natural world Scott Musgrove combines anatomical precision and imagination to create his own vision of the possibilities of evolution and natural selection. Musgrove's imagined creatures done in great detail resemble scientific portraits of animals possessed and tamed by human. Even though Scott Musgrove's works are rich in humor they do not fail to address this ever so important matter of preservation of endangered species. Take a look at the works of Walton Ford, Nychos, Borondo or Damien Hirst who have used animals in their work.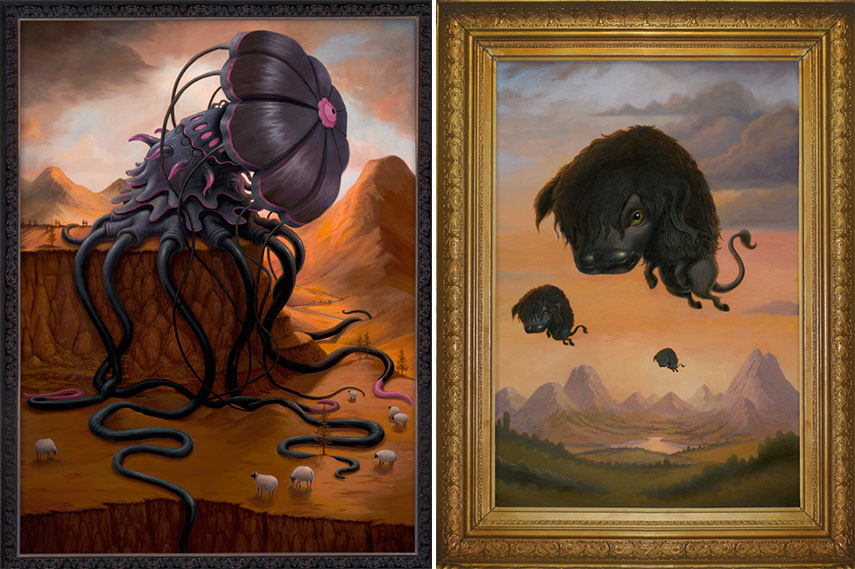 May Exhibitions at Jonathan LeVine Gallery
With Eloy Morales's portraits that go beyond mere physical depiction to explore depths of human soul to the Scott Musgrove's half imaginary half realistic worlds of extinct animals that urge us to preserve endangered species seems that Jonathan LeVine Gallery has prepared exceptional art for this May. Make sure not to miss this exciting double exhibition on view from May 16th until June 13th in Jonathan LeVine Gallery in New York.
If you want to stay informed on current events in the art world sign up for My Widewalls!
Featured Images are Courtesy of the Jonathan LeVine Gallery.
Follow These Galleries
Jersey City, United States