Merry Karnowsky Presents: Greg Simkins aka Craola
The Merry Karnowsky Gallery in Los Angeles is inviting you into an alternate reality with the forthcoming exhibition by Greg Simkins aka Craola. The Californian born artist, who started out painting graffiti under the name Craola aged 18, will be presenting his fourth solo exhibition of paintings under the title Where Am I? The new solo exhibition by Greg Simkins continues his obsession with exploring the childhood fascination for excitement and curiosities, of strange worlds lurking beyond the bedroom door and weird creatures scratching below the window. Simkins takes us into the worlds that we unfortunately lose when growing into adulthood, when responsibility takes over, forgetting the wonderful places we visited in our imagination. The title of the exhibition, Where Am I? are the first words one would utter if confronted with the landscapes created by Greg Simkins, surreal and fantastical worlds. Previous exhibitions at Merry Karnowsky Gallery include the excellent Pure Pleasure by Victor Castillo and The Sky Still Breaks by Julian Meagher.
Alternate Reality at Merry Karnowsky Gallery
Greg Simkins aka Craola, will be taking the viewer down a rabbit hole at Merry Karnowsky Gallery, emerging into his alternate reality. Very much inspired by books such as The Chronicles of Narnia, Watership Down and The Phantom Tollbooth, Simkins paints wonderful mythical landscapes, full of weird creatures which occupy those long forgotten dark corners of the mind. Where Am I? is very much about not letting that youthful spirit vanish as we get sucked into growing older, about keeping those adventures alive within our imaginations, with Greg Simkins weaving together fantastical landscapes that take elements from pop culture, old masters, carnival kitsch, nature and his own warped and over active imagination. The new solo exhibition continues the exploration of the world that Greg Simpkins has termed The Outside, a homage to other worlds we have had glimpses of such as Narnia, Neverland and Middle Earth, a place to inhabit, escape to and daydream about. Read about the previous Greg Simkins aka Craola exhibition at Merry Karnowsky Gallery, Good Knight.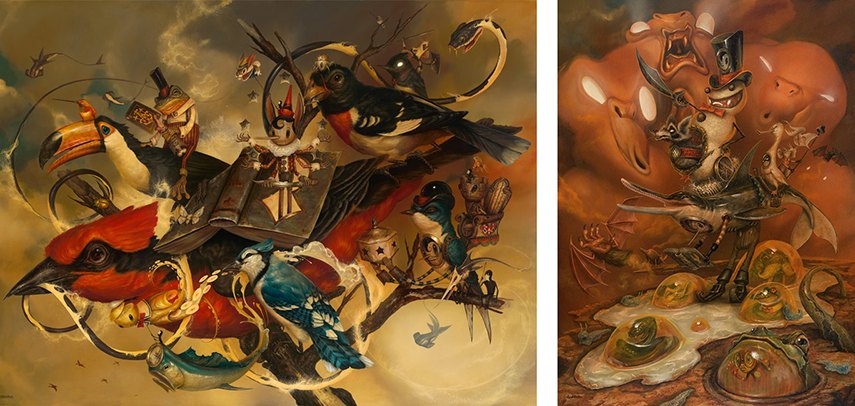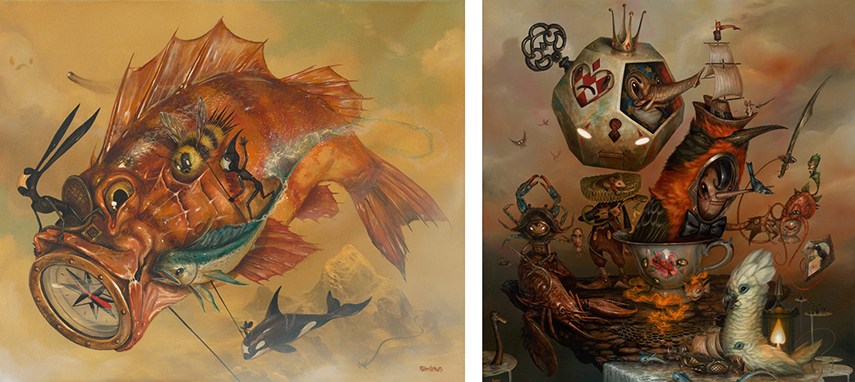 Into The Outside with Greg Simkins
Going into The Outside with Greg Simkins is a truly remarkable experience; one can sit and look at his imaginary landscapes for hours, constantly discovering new small details as you become more absorbed into his world. His work is a culmination of childhood drawing inspired by various cartons and books, the menagerie of animals he grew up with as a youngster, his progress into large scale works via graffiti and murals as Craola, gaining a degree in studio art before becoming an illustrator and also working on video games. Simkins seems to have soaked up these experiences and used all of them to create the imaginary landscapes to be found in his new solo exhibition, fantastical lands that are both bewildering and awe inspiring at the same time. The artist invites you to cross over into The Outside with him and explore the alternate reality where weird creatures will greet you and take you off into a magical world.Where Am I? by Greg Simkins aka Craola, opens at KP Projects/ Merry Karnowsky Gallery, Los Angeles on 23rd May, 2015 and runs through until 20th June, 2015. Opening reception is on Saturday 23rd May, 2015 7-10pm.
For all the latest exhibition news sign up to My Widewalls today!
Images courtesy of Merry Karnowsky Gallery