Michaël Borremans: Black Mould at David Zwirner
At a time when the artistic career of Michaël Borremans is quite at its peek, the artist returns to London for the first time in ten years. It will also be the first time that his gallery, David Zwirner, will host his works at their Mayfair space. Black Mould will show new paintings by the well-known Belgian artist, that way extending the amazing exhibition strike which previously started at the Palais des Beaux-Arts in Brussels and continued at the Dallas Museum of Art, the Tel Aviv Museum of Art and the Hara Museum of Contemporary Art in Tokyo.
Black Mould
In his latest body of work, Michaël Borremans depicts rather plain, surreal scenery inhabited with anonymous characters wearing little revealing black robes. Under a veil of mystery, these figures perform symbolic rituals and communicate in an unknown language, perform traditional dances and follow certain rules of a community. Apart from the human presence, a recurring totem-like significance is given to a bear, which is often seen as the element around which most of these rites revolve. The Black Mould paintings take us back to primitivism, where not much was needed to lead a decent life, but it also calls to mind cults and sects with their strict rules and a strong sense of belonging and devotion.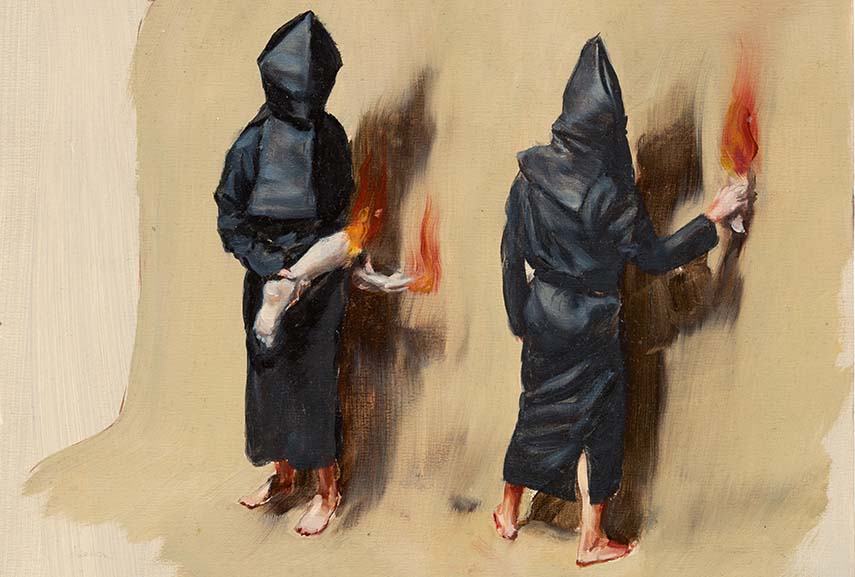 Between the Real and the Imaginary
The painting technique that Michaël Borremans used for these works reminds us of and takes us to the times of the Old Masters, being soaked in dramatic contrasts and a divine color palette. His traditional compositions draw the viewer inside a story which is completely open for interpretation and where the anonymous characters can take the shape of any man, any meaning, any representation. The mystic atmosphere of these paintings can apply to whichever period of humanity and talk about topics like faith, the human relationships, morality or devotion – because it's the things that could never be affected by the passage of time. It is the subtle details in the paintings of Michaël Borremans that can shift the narrative in different directions and adjust its meaning to whichever translation there is.
Michaël Borremans at David Zwirner London
Michaël Borremans was born in Geraardsbergen, Belgium in 1963. In 1996, he received his MFA from Hogeschool voor Wetenschap en Kunst in Ghent, and has started painting professionally shortly after. His works have been featured in countless solo exhibitions and public collections at the world's most important institutions around the world. Catch Michaël Borremans: Black Mould at David Zwirner's London space at 24 Grafton Street from June 13th until August 14th, 2015. On June 12th, there will be a press preview with the artist at 10am, while a private view is from 6pm to 8pm.
Don't miss out on great stuff – sign up for My Widewalls!
Featured images in slider: Michaël Borremans – The Dance, 2015. Michaël Borremans – The Badger's Song, 2015. All images copyright of Michaël Borremans and courtesy of David Zwirner New York/London and Zeno X, Antwerp.