Michael Grudziecki Exhibition in Cologne Introduces Geometry and Architecture in a Different Kind of Realism
After a rather successful 2015, in which we were treated with exhibitions like the Christmas one in December, or Vivid Bunch, which took place during CityLeaks Festival, Cologne's Die Kunstagentin is ready to start the new year in style. To open their show program for 2016 there's Polish artist based in Munich, Michael Grudziecki, a talented painter whose photorealistic works often explore social and political issues through urban landscapes and its elements. His latest body of works, entitled Geometry of Physics, will soon be presented in the gallery's upcoming exhibition of the same name, giving the viewers and insight into a meticulous exploration of one's surroundings.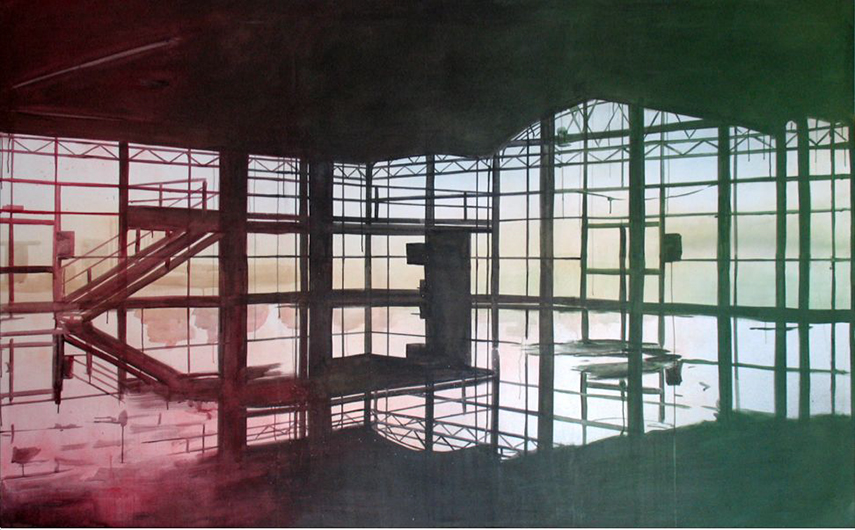 Geometry of Physics
Throughout his entire artistic oeuvre, Michael Grudziecki seems to have been depicting buildings, protagonists of any metropolis, that way addressing issues such as migrations, surveillance, the position of man within his society. Many of his projects are dedicated to such themes: Take Away represents a set of two canvases showing patterns of building windows that could be folded, "ready for transport and installation", just like the ones that the artworks were subtly referencing. In Per Aspera Ad Astra, Michael Grudziecki depicts residential towers and the horror of the modern and postmodern urbanism, inspired by the language of comics. But in his latest paintings, the Polish artist goes out to examine architectural constructions and their pure form, as well as their formation in space – something he had already started working on in his Sea Forts series.
The Relations of Chaos and Order
As part of Michael Grudziecki's larger artistic concept, the Geometry of Physics series consists of large-size paintings, in which an interaction between lights and shadows happens. The artist is fascinated by the relationship between order and chaos, individual yet completely dependable on each other from the get-go. His geometrical compositions emerge through physical laws of nature, and the phenomenon of their almost exact reflection on the surface of a body of water. Thus, Michael Grudziecki paints fictional spaces, "filling" half his frame with water and creating an illusion, a blurred line which separates reality from fantasy. These paintings, according to the artist, represent mystical realities that go beyond the concepts of time and space, suggesting an idea of infinity.

Michael Grudziecki Exhibition at Die Kunstagentin
Geometry of Physics, an exhibition of works by Michael Grudziecki, will be on view from January 15th through February 27th 2016 at Die Kunstagentin in Cologne, Germany. The opening is scheduled for January 14th from 7pm to 10pm. In addition to the latest set of paintings, the gallery will showcase the artist's earlier works, which includes installations and sculptures. Currently, Michael Grudziecki's works from previous series can be seen as part of the Global Control and Censorship exhibition at Zentrum für Kunst und Medientechnologie (ZKM) in Karlsruhe, Germany.Featured image: Geometry of physics 8, 2015. Acrylic on canvas, 175×280 cm. All images courtesy of Die Kunstagentin.