Thunder in the Distance
"Man is an artifact designed for space travel. But being so far away and so very different from what we are used to, the space is one big mystery for most of us. As such, it fascinates us immensely."  – William S. Burroughs.
Thunder in the Distance is the title of the exhibition of new work inspired by space travel imagery from New York-based artist Michael Kagan at Joshua Liner Gallery. The new paintings will be exhibited from April 3 to May 3. The title is a description of sonic boom by the first person that officially broke the sound barrier – Chuck Yeager – as reported by the ground control operators. Michael Kagan chose this title to represent humankind's ability to achieve something outside of their physical means, like traveling faster than sound. Interest in this particular
subject matter comes from Kagan's childhood fascination with space travel.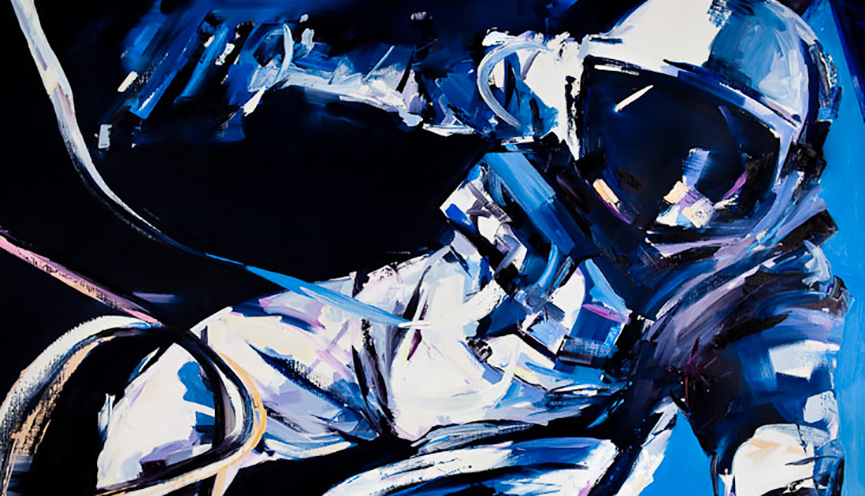 Space Shuttles, Rocket Launches and Astronauts
Kagan's interpretations of space shuttles, rocket launches and astronauts are striking and eye-catching.  By using impasto technique, a manner that involves painting with wide, thick and pasty brushstrokes, Kagan masterfully succeeds to conjure up the whole excitement. The paintings are snapshots that capture fast, flash moments. The vigor, nervous anticipation on the face of astronauts, movement, launch, that's all depicted through Kagan's forceful brushstrokes. His paintings oscillate between abstraction and representation depending on whether you look at them up close or from afar. In his expression we see some of the influences of the work of Gerhard Richter and Oskar Kokoschka. The overall impression of the excitement is supported by vibrant colors of blue, red, orange, and green.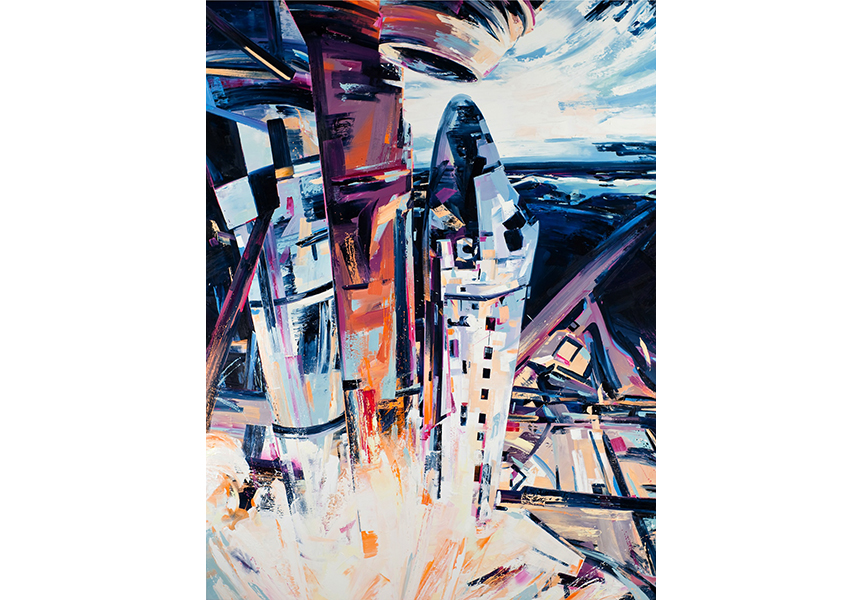 About Michael Kagan
Michael Kagan lives and works in Brooklyn. He holds an MFA from New York Academy of Art. He has done multiple collaborative projects with musician Pharrell Williams on his clothing brand as well as lending his imagery for album cover artwork to the band White Lies for their album Big TV—eventually garnering the distinction as Best Art Vinyl 2013. The Smithsonian recently commissioned three large canvases from Michael Kagan, giving the artist access to their vast air and space-related archives. Despite the many projects that have come his way, Kagan's main focus is his studio practice, creating a body of work inspired by iconic, man-made machinery.
About Joshua Liner Gallery
In an eclectic range of mediums and approaches, Joshua Liner Gallery presents an exciting roster of established and emerging artists from the U.S and abroad. Founded in 2008 in New York City's Chelsea Arts District, gallery artists reveal disparate influences but all share an affinity for pushing the boundaries of discipline and presentation.