Modern Hieroglyphics
Mike Giant's newest show Modern Hieroglyphics currently runs at FFDG and will be on view till March 8th. Acclaimed graffiti artist, illustrator, tattooist and Rebel 8 fashion designer made a lot of drawings on 11×14 inches sheets of drawing paper for this exhibition. The subject matter is mostly tattoo designs with some corporate and band logos.  Giant's words on the show: I started to look at modern tattoo designs as well as corporate and band logos as "modern hieroglyphics". I thought a lot about how the symbols of our time would be objectively translated by future generations. And instead of trying to explain it, I made drawings to codify the symbolic language of our time for future observers to translate for themselves.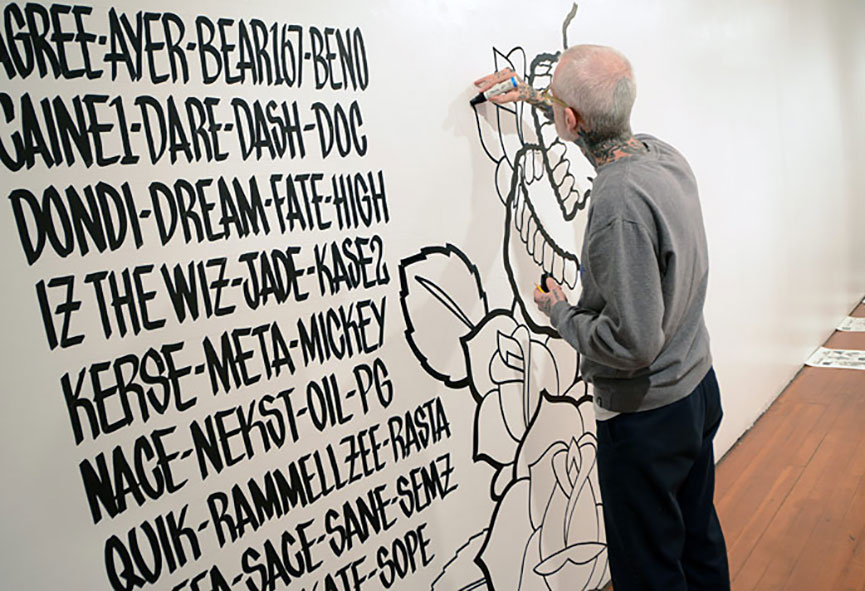 About Mike Giant
Mike Giant grew up in 80s under the influences of both punk rock and hip-hop. After four years of studying architecture, Mike Giant started drawing graphics for Think Skateboard in San Francisco. In 1998, he began his inking career.  He himself has been getting tattooed since 1993. This multitalented San Francisco based artist has worked in media covering, graffiti, design, fine art, photography and tattooing for years, securing his place in the art world. His art is deeply rooted in skateboard and graffiti cultures which he popularized through his fruitful work. In 2012, Giant also had a very successful solo show of his drawings at FFDG titled "Confessions of an Old Dirty Skateboarder". All those who had the opportunity to visit this amazing exhibition had a lucky chance to see Giant's personal collection of skateboards he illustrated.
Black Ink
Giant approaches illustration and tattoo design in the same way. He is famous for working exclusively in black and white. Black ink is Giant's specialty whether he uses it on paper or skin to create his distinctive artwork.  Interestingly, he is red and green color-blind and he isn't able to see fineness in tones and shades. In Giant's case, this simplistic sense of color has worked to his advantage in the contemporary commercial art market.
About FFDG
FFDG is the physical destination for fecalface.com, the content-rich multidisciplinary art and culture website supporting the art scene in San Francisco and beyond since 2000, offering visitors the opportunity to experience, in person, the work they enjoy showcased online.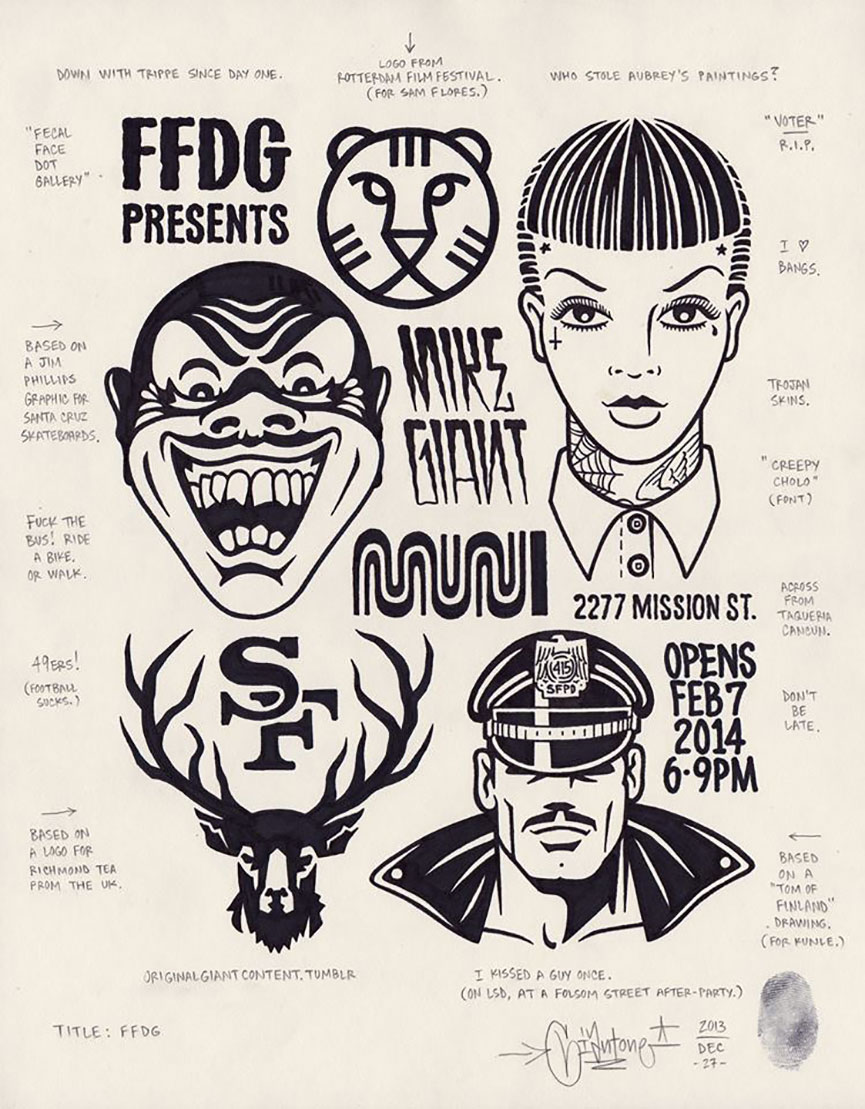 Follow These Galleries
Shanghai, China

Paris, France