Mike Kelley on Screen at the 21-er Haus, Vienna
In 1998, Franz West wrote a letter to the French artist Fabrice Hybert, expressing his wish to make collaborative and interdisciplinary work with artists living outside of Austria that would operate under the concept of an "artist club". At this point in time, West was already well established on the international art scene. For example, he had already exhibited with Mike Kelley in a group show at David Zwirner in New York in 1995, and the year after he showed works with Kelley in Brussels at the Hôtel Empain.
Drawing on West's and Kelley's close working relationship in the spirit of the ARTISTCLUB, the 21-er Haus organised the first screening of two of Kelley's latest video works in Austria, at the exhibition entitled Franz West – ARTISTCLUB, and invited the artist/professor John Miller, who was a close friend of Kelley's, and Dr. Laura López Paniagua, who wrote her doctoral study on his work, to introduce Kelley's multilayered body of work to the Austrian audience.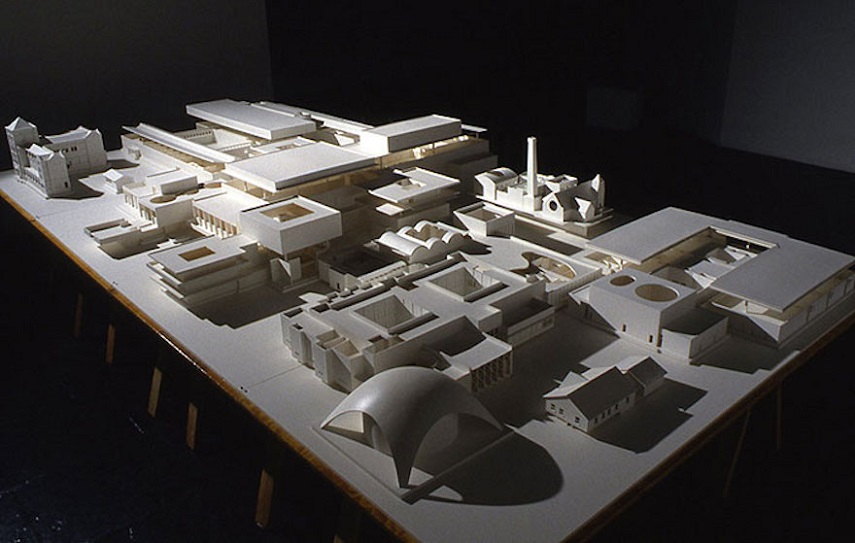 The Horse Dance
First, they projected a selection of images of his earlier work onto a black cinema screen. One of them was Educational Complex (1995). In this piece, Kelley produced, together with his assistants, a blank architectural maquette of all the educational institutions that he attended from kindergarten to his graduate school CalArts.
Miller and López Paniagua also showed images from Kelley's fractured feature-length musical Extracurricular Activity Projective Reconstruction. Among these was a photograph showing the Horse Dance of the False Virgin #32 (2004-5), which Kate Foley, a fellow CalArts student and dancer, choreographed. This dance was, like all the other numbers of this musical, based on a selection of black-and-white images Kelley found in an old high-school yearbook, which, notably, did not belong to Kelley.
The videotape of this dance piece was exhibited together with the other 31 performances, reproductions of Kelley's found black-and-white photographs, and the costumes that his performers wore at his show at the Gagosian Gallery in New York that same year.
In order to understand Kelley's deep interest in psychoanalysis – especially in what Sigmund Freud calls "screen memory" and partly develops from the repressed memory syndrome – the two experts briefly pointed out that the choreographed video works were an attempt to restore to the conscious mind the now-missing memories of what the buildings of his childhood and adolescence looked like, through a narrative, or a musical-like Gesamtkunstwerk.
Horse Dance of the False Virgin
Dark Humor Short Films
Delving further into his long-term occupation with psychoanalysis, performance, and film-making, Kelley made more dark humor short films as part of his Extracurricular Activity Projective Reconstruction project. Two of these late works were shown at the 21-er Haus on the occasion of the ARTISTCLUB.
One of them was the 24-minute work #36 (Vice Anglais) from 2011, in which Kelley continues his investigation into the unconscious workings of the human mind. In reference to the popular American myth around Superman and the novel The Bell Jar (1963, written by Sylvia Plath, who committed suicide shortly after the book's publication), Kelley again constructed a carnivalesque, troubling narrative inside a dark cave. It featured the ambiguous character of a clown, two supporting actors, and a capricious white male sadist, who whips the naked butt of a beautiful woman wearing a white weddings dress, until the blood runs down her slender legs. It drips into the metal bowl that one of the sadist's adherents, who investigated the taste of her blood, puts in-between her legs.
As Miller emphasized, these two late Kelley's works go back to his preoccupation with the British Pre-Raphaelite Brotherhood. The writings of Dante Gabriel Rossetti, a member of the group who kept a llama in his garden in London, served Kelley as an anchor point. For one part, Kelley was fascinated by the writer's decadent attitude, and for the other, by the myth that has circulated around, that Rossetti dug up his poems, which he buried together with the corpse of his wife when she died. The latter remained present in Kelley's mind as a metaphor for one's continuous involvement with the past.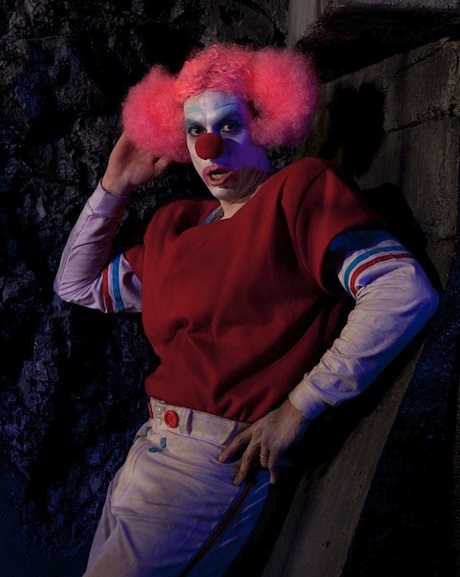 Fetish-like Objects and Shakespearean English
Working again from these source materials, Extracurricular Activity Projective Reconstruction ##36B [Made in England] consists of a still image that features five English ceramic objects that are in conversation with one another in a black box. Attempting to mediate an insight into the inner word of these still objects, the camera zooms in on each fetish-like object when they speak. But the inanimate glossy objects speak in such a heavy Shakespearean English that makes it all the more difficult to follow their artificial, emotionally charged conversation. In this way, the objects still remain rather abstract and deadpan characters to us. Yet, these two late works of Kelley make it clear with what the visual artist had nurtured his intellect throughout his life: language and literature. In fact, before Kelley entered his institutional training as an artist, he aspired to become a writer.
It appears to me that these two extremely eclectic video works demonstrate Kelley's desire to re-animate his Irish heritage and his affinity for words to such an extent as if they had been trapped under a bell jar – just before he committed suicide in January 2012. In this sense, although the evening was meant to serve as part of the museum's homage to Franz West's ARISTCLUB, the 21-er Haus paid tribute to his collaborator Mike Kelley.
Featured image: Mike Kelley -Extracurricular Activity Projective Reconstruction #32 (Horse Dance of the False Virgin), choreography: Kate Foley, 2004-2005, from Day Is Done, 2005. All images courtesy of the author.