Announcing The Millerntor Gallery #7 - In Conversation with Anna Lafrentz
Every year, the stadium of FC Sankt Pauli in Hamburg, Germany becomes an open platform for dialogue and exchange on a local, international and intercultural level. There, one can find Millerntor Gallery, an art, music and culture event whose aim is to support the work and water projects of Viva con Agua. Sticking to the "Art Creates Water" motto, their initiatives have helped bring clean water to countries, areas and regions around the world, through numerous socially active volunteers, supporters and visitors – all of this by using the universal languages of art, sport and music. Changing our planet one festival at a time, Millerntor Gallery presents educational programs and artworks of various genres and celebrates creativity.
Millerntor Gallery Hamburg – Run-Through
YOUTOPIC at Millerntor
After six very successful editions, The Millerntor Gallery #7 will once again take place at the stadium. The 2017 motto is "YOUTOPIC", chosen to shine a light on the individual and social will to change for the better, a world without social injustice. Taking place between June 29th and July 2nd, YOUTOPIC will become an occasion of social responsibility, bringing together people and initiatives with a vision. But how did such a project come to be? What are the challenges of organizing a cultural event at a stadium? What can we expect from YOUTOPIC? About this and more, we talked to Anna Lafrentz of Millerntor Gallery. Have a read below!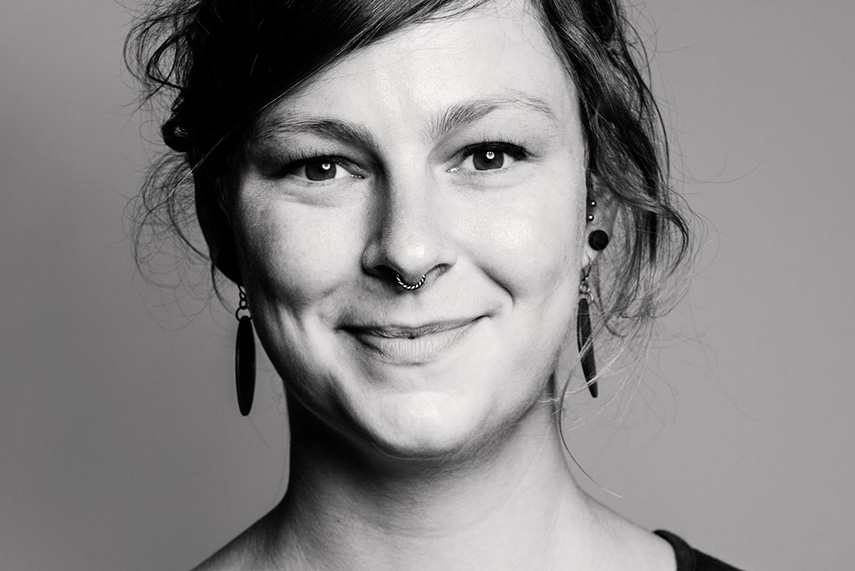 Art Creates Water
Widewalls: How did the idea of "art creates water" come to be? What did the making of the first such project look like?
Anna Lafrentz: Viva con Agua always puts joy first and combines it with social commitment. We use the universal languages of art, music and sports. With these fundamental pillars, the idea of putting art on the stadium walls came up and since our aim is to raise funds and awareness for water projects it was the logical conclusion to transform art into water. The first time, the participating artists were basically friends from Hamburg and there weren't even price tags, but it still was a blast and we're a learning and developing system, so the founder Michael Fritz decided to continue the idea.
Widewalls: Can you tell our readers about the projects you've done so far? How did they include arts and culture?
AL: We work with artists and musicians in almost all of our projects. Through art, it is easy to communicate and break with borders and boundaries. Especially in the context of development cooperation, art is a medium that helps to override stereotypes. Art pushes societal dialogues and serves as a corrective. And let's not forget: people usually enjoy it. The biggest art projects so far are our art, music, and culture festivals. The oldest is "Millerntor Gallery" in Hamburg, the Swiss version of it is called "Neusicht" taking place in Lucerne, then we started our Berlin offshoot "Widerkunst" last year and this year we're taking Millerntor Gallery to Maastricht, Netherlands and Kampala, Uganda.
Taking the idea of ART CREATES WATER to one of our project countries will mark a milestone in our vision. The important fact is that the Hamburg base functions as a mentor and the implementing actors will be the Viva con Agua Uganda crew. Apart from the festivals we do some other projects like a limited edition of screen prints for every home match of our football club FC Sankt Pauli. Also, we combined the release of music albums (like Milky Chance's) with a visual release of screen prints from international artists. If you have a hotel, we gladly organize artists to design it in a unique way or if you have a big wall in town that could need some color we'll make it a piece of art! We share the proceeds with the artists and Viva con Agua to support the art sector and the water projects at the same time.
Widewalls: What was the response you got from your gallery audience? What does it say about the initiative itself?
AL: The audience loves the Millerntor Gallery, because it's unique. Not only because it is inside a stadium and mixes all kind of genres, but also because the whole event is realized with the incredible commitment of our volunteers, which adds the very special vibe. We create our own world and welcome everybody to join it, whether as a participant or a visitor. That fact that we're non-profit and use the proceeds for a social cause is a bonus that makes the visitors like us even more.
Widewalls: Which direction will the projects take in the future? How do you envision them grow?
AL: As mentioned before, we're expanding with Viva con Agua Nederland and Viva con Agua Uganda. There are also ambitions to take it to Nairobi, Kenya as the next step. Also we're working on extending the Art Rooms and murals. I personally envision them grow in a natural way with local crews and some day there is a worldwide network of activists, artists and musicians pushing forward the positive change in the world.
Millerntor Hamburg – An Unconventional Space for Art and Culture
Widewalls: The thing which makes Millerntor Gallery particular is the fact it is located in a stadium. What can you tell us about the space? Why a stadium?
AL: Where else have you seen a gallery in a football stadium? The space is energetically charged, filled with stories and drive. The idea to found Viva con Agua is anchored in the FC Sankt Pauli. The former player Benjamin Adrion came up with the idea to do something about the water situation in the world, when he noticed that 1,2 billion people didn't have access to fresh water (now we reached the number of 663 million). The first supporters of the vision "all for water – water for all" have been the people of St. Pauli, so there is a strong connection to the club and the stadium. The FC Sankt Pauli is internationally well-known for its social commitment, it is adorned with slogans like "No Human Is Illegal" and "No Football For Fascists" and on the rooftop you can see the rainbow flag which is a statement against homophobia. The fans are organizing regular demonstrations and are very engaged in political discussions, always promoting social justice. Can you imagine a better place for a social art, music and culture festival?
Widewalls: What are the challenges of having such space? What are the advantages?
AL: The challenge is, that it is not a white cube. And the advantage is, that it is not a white cube.
If you have a simple problem, be sure that it's going to bring you a lot of trouble. Where in a classic room or gallery you can just drill a hole, in the stadium you can't. And that is exactly what adds the special flavor, because it makes you creative. There is not one single white and clean wall, everywhere are doors, signs, pipes, wires and so on. Perfect to come up with new ideas! 
And the ways are really long. The first five years we didn't even have walkie-talkies and there is hardly any mobile coverage. A lot of kilometers! But when you then take a break and sit on the stand to watch the grass grow, the world is just fine.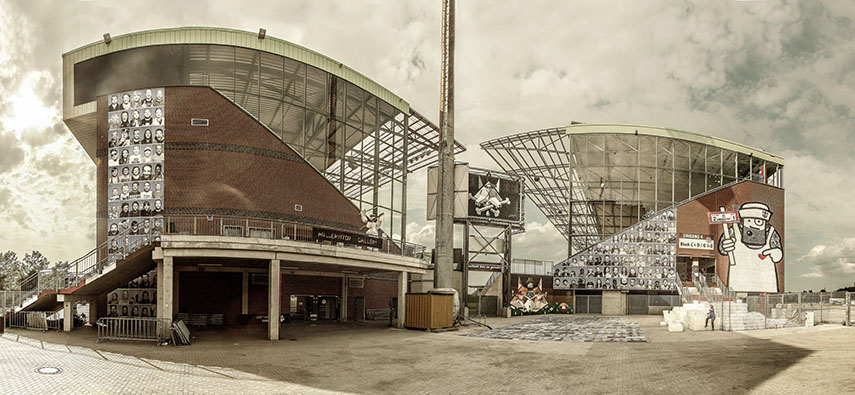 The Millerntor Gallery #7 Hamburg
Widewalls: What can you tell us about the artists of the Millerntor Gallery? Who have you collaborated with already?
AL: One of my favorite projects was the "Inside Out" project of the artist JR. We stuck big posters all over one side of the stadium with portraits of the people around (artists, crew, visitors, etc.). This year we're very happy that Okuda will be part of our festival, with a big outdoor sculpture and a side project in the harbor area of Hamburg. Other well-known artists were 1010, Alice Pasquini, Boxi, Case Maclaim, Felipe Pantone, Herakut, Low Bros, Shepard Fairey, and many more. Our aim is to be a platform where people from all genres and all places in the world meet and discuss and inspire each other, so we're not always hunting after headliners but we try to get a good mix of established and unknown artists.
Widewalls: How do you choose them? What are the criteria for their acceptance?
AL: Viva con Agua, like Millerntor Gallery, is an open network. This is also how artists find their way to us or we find our way to them. We started with friends from Hamburg, they brought other friends and so on. Also we usually meet artists on our project visits with Viva con Agua, so we widen the network in the countries of the Global South as well. We see ourself as a collective, so everybody in our team is invited to make suggestions.
Over the years we received more and more applications and the criteria is basically: how does the artist fit our context? Does his style fit in the stadium, is the artist committed, does he or she understand the cause, etc. Often it's a feeling and we learned to follow our intuition.
Widewalls: The Millerntor Gallery #7 is coming up this June/July. What can we expect from it?
AL: Yes, it's coming and we can't wait! This year's topic is YOUTOPIC, so we ask for people's personal utopias. With this festival, we want to give impulses and inspiration for people to get socially committed, to make a positive change in the world. We invite initiatives, organizations, collectives and of course our artists to share their visions. We offer as many opportunities to interact as possible and the visitors can participate in workshops and so on.
We'll have 100 artists in the exhibition, 3 music stages, an academy program which deals with social startups, speeches, lectures, films, workshops and a lot of good vibes!
Featured images: Millerntor Gallery by Sven Wiesner. All images courtesy Millerntor Hamburg