Out of the Ordinary - Mode 2 is back in Paris
The living graffiti legend Mode 2 is back in Paris for a new exhibition this February at Sergeant Paper. The exhibition, with an intriguing title "Hétéroclite", offers an heterogenous mix of Mode 2's drawings and studies in various formats. On display are his latest studies, sketches and outlines for future paintings as well as a series of more figurative or abstract spontaneous interpretations.
Dear to the Heart
The artworks have been crafted using various technics such as pecil, pastels, acrylic paint on fine art aquarelle paper. The exhibition title refers to irregular or abnormal, one that deviates from the ordinary rule or form, and it's actually a reflection of artist's life itself and all different direction it is built. Mode 2's drawings explore topics such as society, culture, politics and eroticism. In his own words, the exhibition covers a range of subjects dear to his heart, or comment on the life of every day, on socio-cultural themes, his penchant for eroticism, as well as some of his political beliefs. The texture and the various colors of the paper give great strenght and depth to Mode 2's artworks, which most of all capture his incredible energy.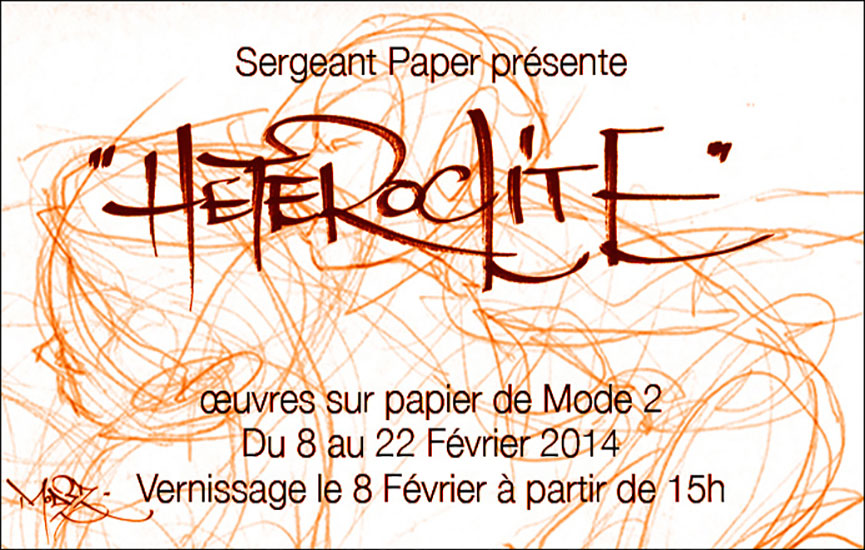 Star Wars and Hip Hop
First, Mode 2 discovered the Star Wars trilogy, then as an adolescent in the 80s, he began hanging around Covent Garden, the hip hop district of London and the heart of the street culture. The Hip Hop scene will remain his source of inspiration for good. Mode 2 always stresses the importance of music, dance and drawing or painting in his life. The notion of rhythm running through all three of these forms of expression is the same which binds them together within our culture; a vision of a world full of movement, of syncopation, off-beat and on-beat, of flow and of harmony; the sum of these elements being characterized by a driving force of positive energy, an empowering and healing force, says Mode 2.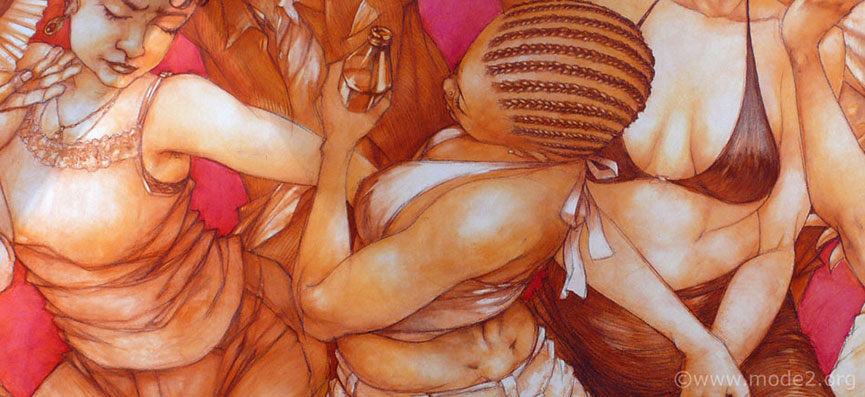 Then, he moved to Paris where he met the famous Bando, influential street artist of the 80s and 90s. At this time he becomes part of the first group of European "graffiti-writers". Fascinated by the culture and the arts, he is particularly fond of the street culture which aims to be accessible and democratic. In 1987, the cover of "Spraycan Art" exported his name and his characters to every corner of the planet where the culture had taken hold. That was the beginning of disproportional fame, which, as Mode2 explains, did not actually bring that much recognition to his work, but instead made some friends' attitudes towards him change somewhat. Mode 2 today sets in the biggest international galleries. He is known both for his figurative contribution to spray-painting and tagging.
Follow These Galleries
Amsterdam, Netherlands

London, United Kingdom