10 Highlights of the MoMA Collection, As Part of "The Long Run" Exhibition
Innovation in art is often characterized as a singular event that happens once and forever changes the course of what follows. However, the new ways of saying and doing things often arrive over years, if not decades. Sometimes, it takes a lifetime to become an artist and to have the work recognized.
The exhibition The Long Run currently on view at the Museum of Modern Art in New York taken from the MoMA collection acknowledges that artists can experience many breakthroughs in their work at any age. By chronicling the continual experimentation of artists throughout their practice, the exhibition demonstrates that invention is a result of sustained critical thinking, persistent observation, and countless hours in the studio.
Featuring works from the second half of the twentieth century, the showcase visits the later careers of artists, including familiar names such as Louise Bourgeois, Philip Guston, Jasper Johns, Georgia O'Keeffe, Andy Warhol, Lee Bontecou, Melvin Edwards, Gego, David Hammons, Joan Jonas, Helen Levitt, Elizabeth Murray, Gerhard Richter, Frank Stella, and many others. Broad-ranging in background and approach, all of these artists are united by continuously testing an expanding the boundaries of their medium.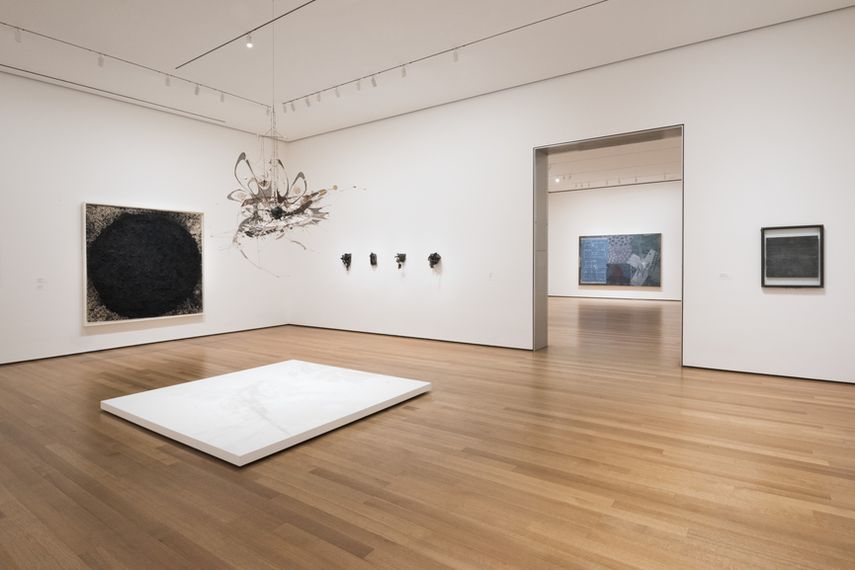 The MoMA Collection Celebrating All Facets of an Artist's Career
The exhibition features around 130 works of art spread throughout 15 galleries and hallways of museum's fourth floor. Majority of works have been made after 1970 by artists who were at least 45, and usually quite a bit older. The exhibition pays special attention to unexpected bursts of creativity towards the very ends of artists' lives, usually in their 70s and 80s.
The exposition swings between small solo exhibitions by artists that Museum collects in-depth and thematic groupings of artists usually represented in the collection by far fewer works. Offering another look at the history of art over the last half-century, the exhibition The Long Run celebrates everything that makes an artist's career – investigation, reflection, commitment, reconsideration, even the occasional about-face. It pays special attention to
Organized by Paulina Pobocha, an associate curator, and Cara Manes, an assistant curator, in consultation with their department head, Ann Temkin, chief curator of painting and sculpture, the exhibition The Long Run will be on view at MoMA until November 4th, 2018.
Let's take a look at some of the highlights of the show!
Featured images: Installation view of The Long Run, The Museum of Modern Art, New York, November 11, 2017–November 4, 2018. © 2017 The Museum of Modern Art. Photo: Martin Seck. All images courtesy of MoMA.