What is the Most Expensive Photograph in the World?
It was exactly a year ago that a largely unknown photographer from Australia announced that one of his images, entitled Phantom, became the world's most expensive photograph ever sold. Peter Lik was his name, and $6.5 million was the value of his black and white picture of a subterranean cavern in Arizona's Antelope Canyon. All of the sudden there it was, sitting on the throne of photography on the art market. But it wasn't before long that his self-proclaimed title was taken away from him, as many things about the sale didn't quite add up – such as the highest he ever went for at auctions (you'll guess, waaaay less than even one million, let alone six!), or the fact that it was a private sale and, of course, a completely anonymous buyer. And so, the guy who called himself "the world's most famous photographer, most sought-after photographer, most awarded photographer" is thankfully only a part of a failed rags to riches scenario, and we can all go back to the real winners.
And since 2011, the real winner has been Andreas Gursky, the proud representative of the new generation of German photographers taught by the Bechers at the Dusseldorf School of Photography.
His 1999 Rhein II achieved $4,338,500 at Christie's, skyrocketing Gursky even further among the art stars. What's also interesting is that, with this sale, he did nothing else but break his own record – his 99 Cent II Diptychon print also reigned the list of most expensive photographs ever, until the great Cindy Sherman overthrew it in 2011. The success of Rhein II, in a way, stunned many at the time, as it was thought to be one of Andreas Gursky's "more boring works". He is mostly known for his detailed images of vast areas, filled with people or supermarket goods, yet the one that cashed in represents a seemingly simple view of the river Rhein, but in a soothing composition, desaturated colors and a sense of order that stereotypically gets linked to the Germans. Yes, there is a bit of a story behind this print, but I shall tell you it is nothing spectacular. For that, it should be said that, apart from its visual composition, Rhein II topped the list also because its creator in an "expensive" one at auctions, and because the print in question is quite rare.
But more about the world's most expensive photograph – and nine others that follow – after the scroll!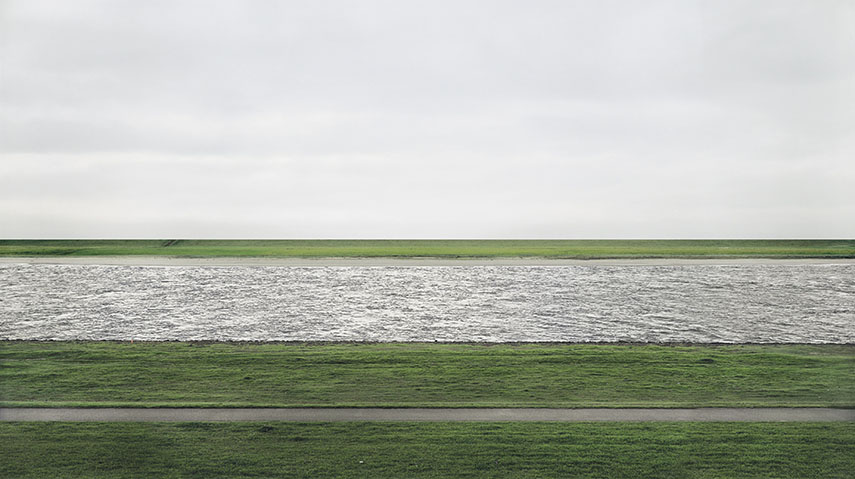 Andreas Gursky – Rhein II
The Rhein II print sold at Christie's in 2011 was the largest and the second of only six prints in total. Add that to a reputation like Andreas Gursky's and you got yourself an artwork someone was willing to pay over $4 million for. In truth, the photographer digitally removed a few elements from the photograph that were bothering him, such as some dog-walkers and an entire factory building. Andreas Gursky explained that he could have never been able to obtain such view of the river in situ, so he had to create one for himself. The result is a series of horizontal lines, green and grey, described as "a contemporary twist on the romantic landscape". And viewed in its original size: 190 cm × 360 cm (73 in × 143 in), it is indeed a stunning work of art.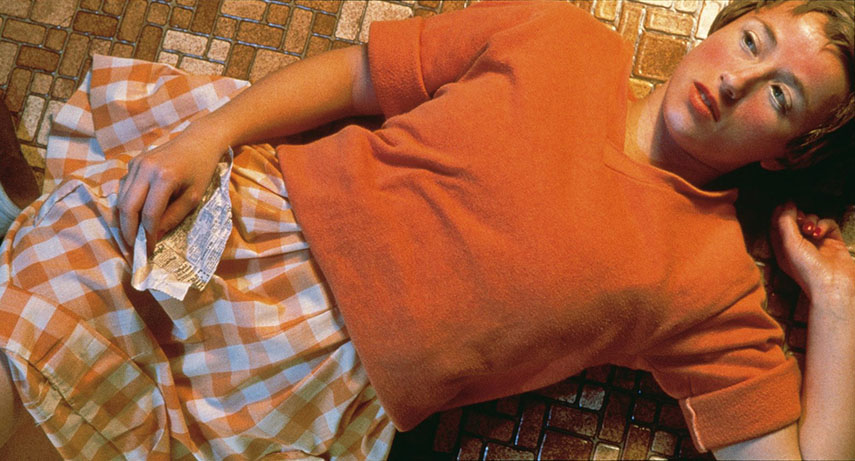 Cindy Sherman – Untitled #96
At number 2, we've got the iconic 1981 Untitled #96, from Cindy Sherman's Centerfold series, sold for $3,890,500 at Christie's New York in 2011. This body of work represented the artist's second ever to employ color, as she is widely recognized for her Untitled Film Stills black and white imagery. The image sees Cindy Sherman adopting the persona of a young teenage girl, perhaps one that has just finished cleaning her kitchen and is taking a break, immersed in the color orange, from her clothing to laminate floor. Followed by drama and cinematography, trademark in her practice, she recalls the bold centerfolds of men's erotic magazines and addresses the fetishisation of women. The photograph is a brilliant example of Cindy Sherman's incredible skill of being her own model, director, make-up artist, scenographer, costume designer…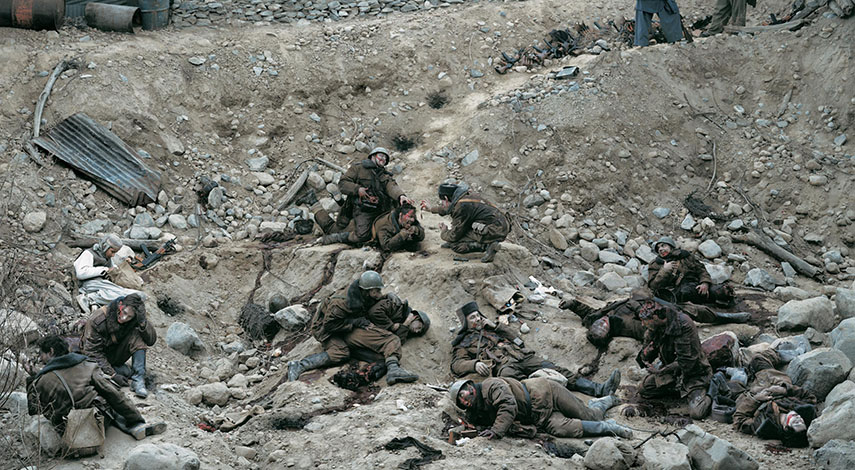 Jeff Wall – Dead Troops Talk
If you thought that Rhein II was the only digitally manipulated image among the most expensive photographs, it's time for you to meet another one. It's Dead Troops Talk, or A vision after an ambush of a Red Army patrol, near Moqor, Afghanistan, winter 1986 in full, a 1992 photograph by Canadian artist and art historian Jeff Wall. The image is just so eventful – we see a war scene full of soldiers, two of which are dying yet are in the middle of a joke.. it all looks like one of those entertaining medieval paintings. The truth is that Jeff Wall spent a lot of time staging this photograph, later using montage and post-processing to put the pieces together. He used actors and a scenery built within a studio, apparently referring to a certain war event (which Jeff Wall invented for the occasion). The photograph calls out the senselessness of war. In 2012, it went for $3,666,500 at Christie's.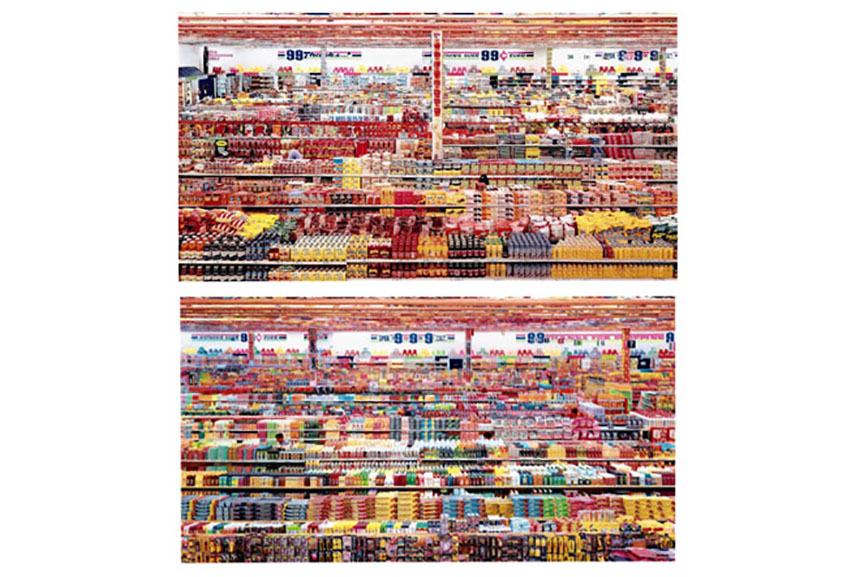 Andreas Gursky – 99 Cent II Diptychon
These are the photographs of supermarket shelves as detailed as you've never seen them before, on a surface as big as 207 cm × 307 cm (81 in × 121 in). Andreas Gursky spent some time at the 99 Cent stores, and one of the results was 99 Cent II Diptychon, a set of photographs which became the world's best selling back in 2007, when it achieved $3,346,456 at Sotheby's London. Think of a picture which joins Jackson Pollock's aggressive technique, Andy Warhol's obsession with consumerism and Donald Judd's repetitions, all in one. Digitally altered to reduce perspective, by reducing and expanding the space between the store's rows, and also color-manipulated (digitally, of course), this two-part work is one of six sets made and mounted on acrylic glass. Spectacular and mesmerising image, if you're a fan of… everything, in your face. Two prints of the work previously sold for $2,25 million and $2.48 million in 2006.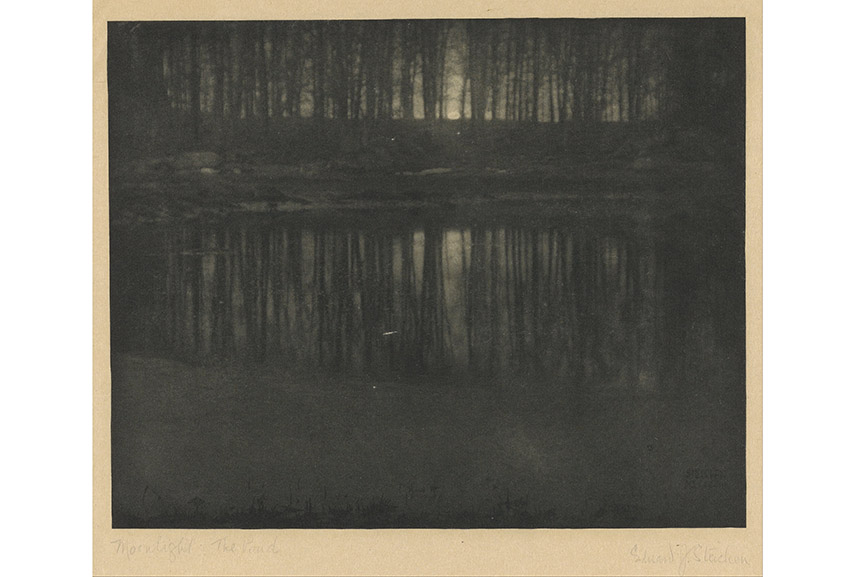 Edward Steichen – The Pond-Moonlight
Almost a century before that, in 1904, one of the most prominent photographers of his time, Edward Steichen, created The Pond – Moonlight, a pictorialist image from Mamaroneck, New York. In a very poetic landscape, we see a forest above a pond and the moon glazing through the nude branches. It represents an early image created by manually applying light-sensitive gums giving the final print more than one color. It was sold for $2,928,000 at Sotheby's in 2006, also setting the record of the most expensive photograph at the time. Extremely rare, it belongs to an edition, and two other versions are held in museum collections, of the Metropolitan Museum of Art and the Museum of Modern Art. It is because of its rarity and the fact these kind of works are usually acquired by museums only that the picture has had such great success.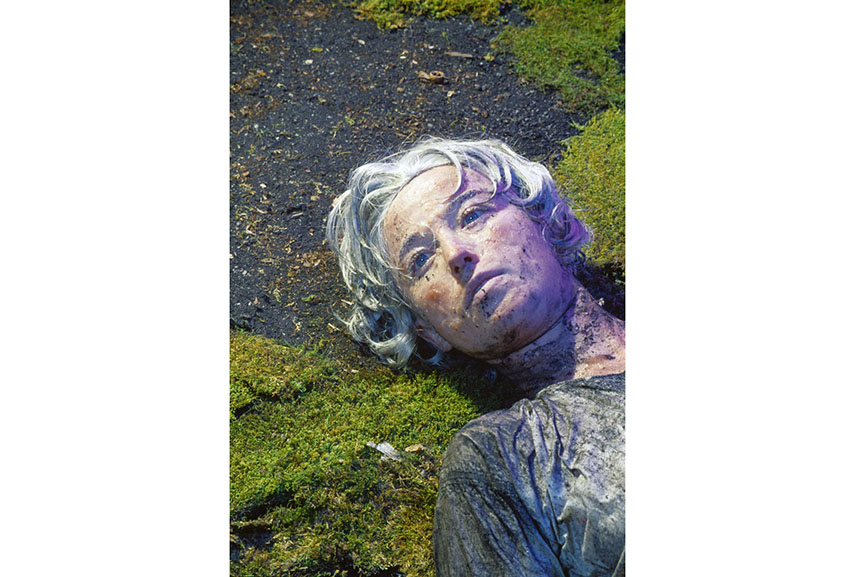 Cindy Sherman – Untitled #153
Sold for $2,700,000 in 2010 at Phillips de Pury & Co, Untitled #153 is Cindy Sherman's second most expensive picture. And speaking of her again, would you be able to recognise her on the street? Hardly, because of all the protheses and make-up she uses during her shoots. In the image you're looking at, Cindy Sherman reflects on one of her greatest fears, "a horrible, horrible death", and it is through grotesque, horror-like landscape that she prepares herself physically, but also emotionally, should an ending like that really happen to her. Here, she becomes a corpse of a haunting look through a set of open eyes and immersed in mud, yet I was rather stunned by the captivating colors, especially the one of her eyes, which seems to compliment the rest. This image too is a large one, 170 cm × 120 cm (67 in × 49 in).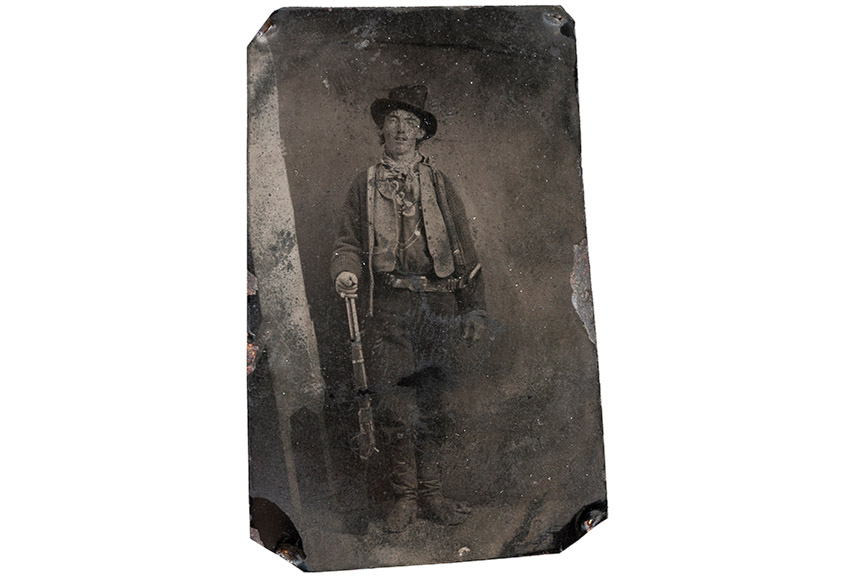 Unknown – Billy the Kid
A while ago, when I was talking about collecting vintage photography, I mentioned the tintype depicting Billy the Kid, the notorious 19th century gunman and an outlaw. A man named Randy Guijarro paid $2 for the 4×5 inch tintype in 2010, from a cardboard box in an antique shop in California. Little that he know that the image would sell for million times that only a year later. $2,300,000, to be precise. The picture represents only the second authenticated photograph ever of Billy the Kid, in a forensic process that took five whole years. It was established that the photo was taken in 1878, just a month after the brutal Lincoln County War, in which Billy the Kid participated. Looks like we all need to shuffle through our old photographs, perhaps there are millions just lying there.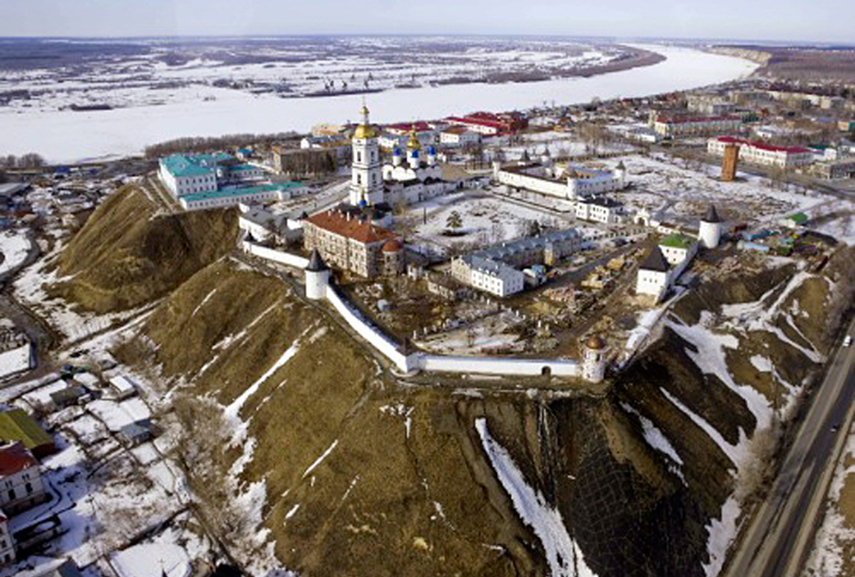 Dmitry Medvedev – Tobolsk Kremlin
We know him as the Prime minister of Russia, then its president, then its Prime Minister again, but here, we are slightly surprised to see him as the author of the 8th most expensive photograph in the world. It is, of course, Dmitry Medvedev and his 2009 image entitled Tobolsk Kremlin, an aerial shot of the sole stone Kremlin in Siberia. It sold for $1,750,000 in 2010, at a Christmas charity auction which exhibited works by well-known Russians. The photograph in question is a black and white version, and it approves Dmitry Medvedev as a photography enthusiast with a good eye. The annual fund-raising auction held at St. Petersburg usually sells paintings by politicians and celebrities, with a special requirement that each of the artworks shall be created in connection with one letter from the Russian alphabet.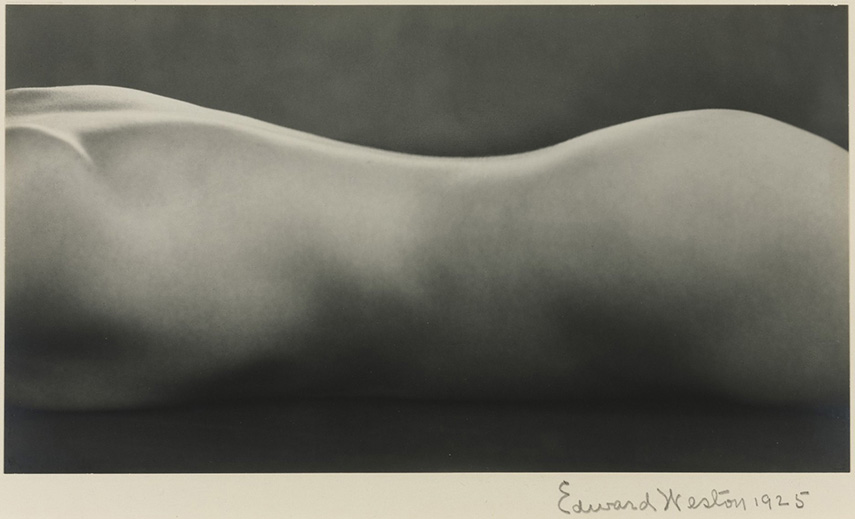 Edward Weston – Nude
When one thinks of Edward Weston photography, the first thing that comes to mind are his remarkable vegetables and his stunning nudes. All bake and white, of course. One of the fine examples of his nudes is the 1925 Nude, at number 9 on the list and a price of $1,609,000 it reached in 2008 at Sotheby's. Breaking away from pictorialism, Edward Weston spent some time in Mexico, developing his more realistic style characterised with particular angles and points of view that turn his bodies into sculptural works, openly inspired by Constantin Brancusi. The model in the picture is thought to be Miriam Lerner, who posed for the photographer at least twice during his eight-month return to California.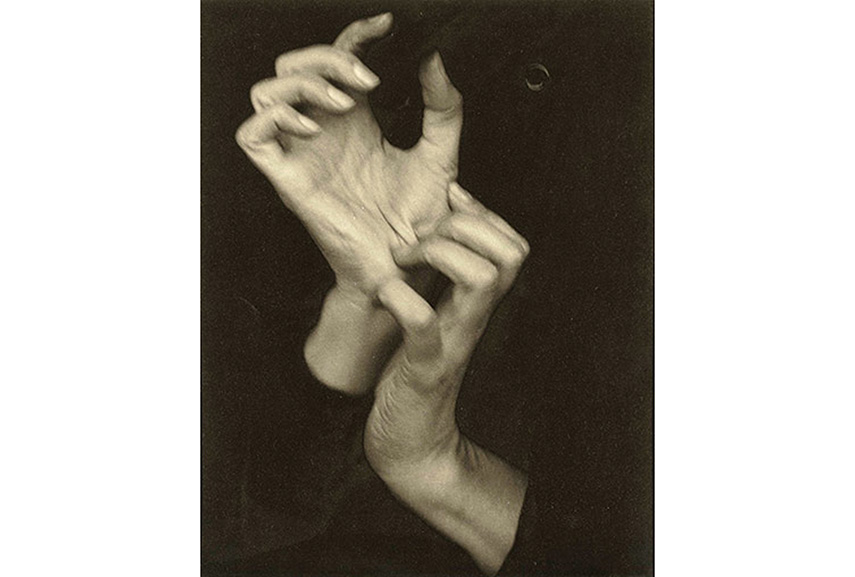 Alfred Stieglitz – Georgia O'Keeffe (Hands)
Finally, at $1,470,000 and number 10, we have the legendary Alfred Stieglitz, whose favourite muse was his wife, a famous artist of her own, Georgia O'Keeffe. The picture of her hands from 1919 follows Alfred Stieglitz's beloved pictorialist style and is only one of 300 photographs of the painter. He considers these images as "portraits", inspired too by the sculptural works of the likes of Rodin and, again, Brancusi. This way, the photography of Stieglitz became fragmented, a part of a larger picture, but also an independent and individual storyteller. Sensitive yet aggressive, the photograph shows O'Keeffe's hands clawing into each other in a slight movement, offering its viewers a representation of one side of her complex personality.
All images used for illustrative purposes only.