New Murals of Kaka'ako
One of the most exciting street art festivals this season, the big and colorful POW WOW in Hawaii is now over. Next to the fantastic exhibitions of new contemporary art movement, events, discussions and screenings, the real focus of the festival is much less ephemeral: murals have been added to Kaka'ako district and they are here to stay!
An impressive roster promised great works from the start, including some of our favorites such as Reka One, Ron English, Vhils, Nychos, Buff Monster etc. All of them have produced fantastic large scale wall pieces and set the bar high for the following bunch coming to the next POW WOW.
Here are some of the interesting vitalized walls of Honolulu.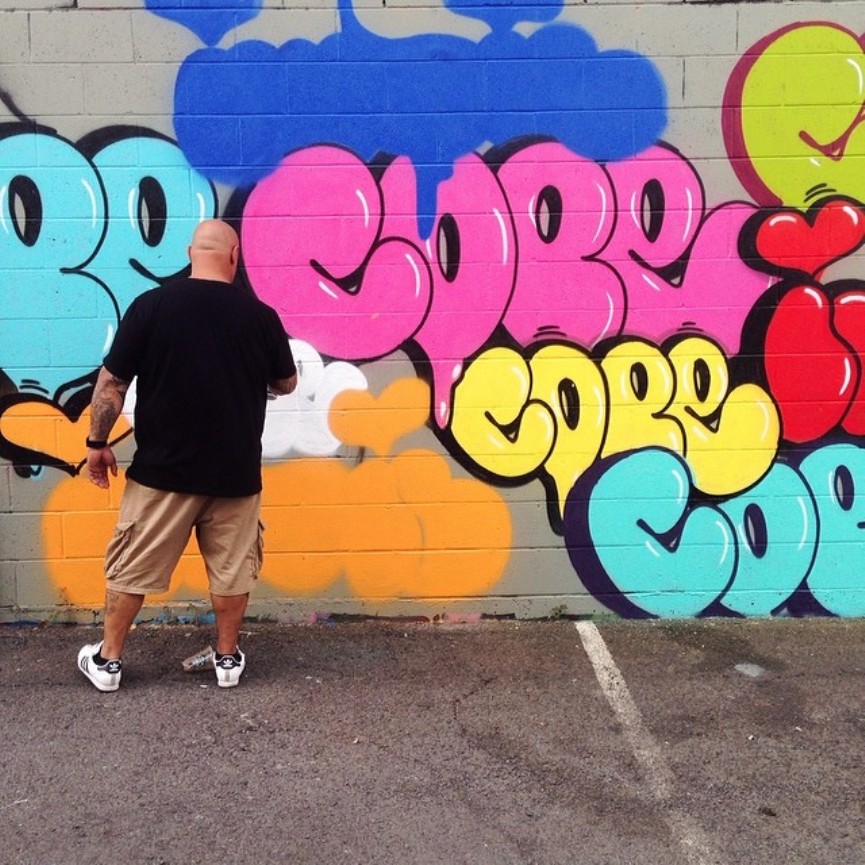 New Hawaii Murals
Portuguese street creative, Vhils, made one of the most interesting murals this year. Although it may be shy of color, the piece is amazing in execution and feel, since it was produced by Vhils' special technique of chipping a wall. A huge portrait of a man is suggestive, imposing and powerful and it looks as if is emerges from the background. We love!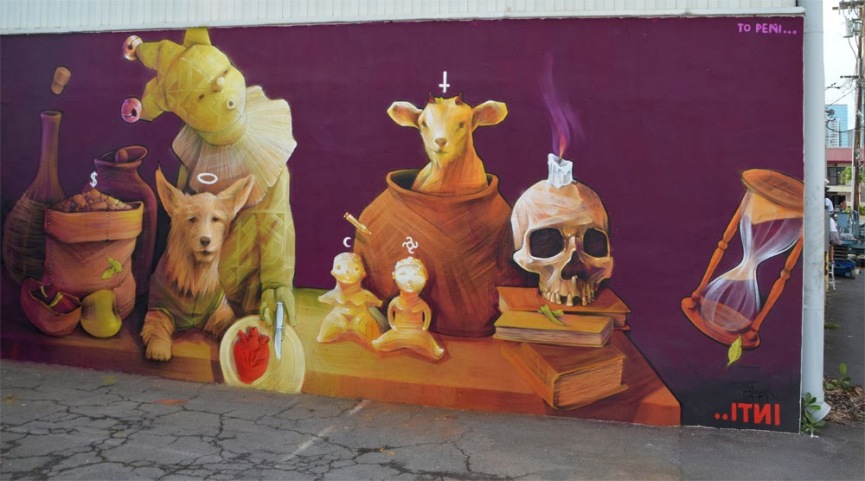 A different, but equally striking piece came from INTI, the traveling Chilean street vigilante, who painted a very imaginative composition in Kaka'ako. The mural is dedicated to his late dog, and it features much of his signature iconography. Deep colors, complementing contrasts and carefully devised figures all stand for the rich symbolism INTI employs in his work.
One of the beautifully incorporated, sea life inspired mural was created by a Puerto Rican artist Anamarietta, the rising star on the street art sky. A huge, enigmatic octopus gazes upon us from that hidden wall, lurking and waiting, excellent in execution it seems as it is taking over the building, from the bottom up.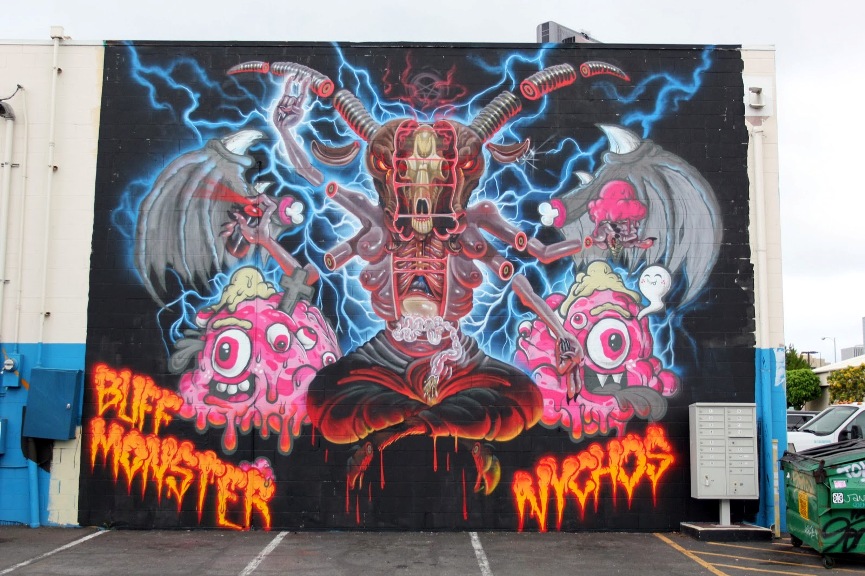 Buff Monster and Nychos paired up to create a giant vision of hell, intertwining their individual styles. This rather scary piece covers a very big wall in Kaka'ako, and it promises to frighten the nightly passers by. In the artistic sense, it is a really well accomplished combination of two distinctive iconographies, humorous at bits, but threatening overall.
One of the luminaries of street art and urban art and design, Ron English also participated at POW WOW street art festival this year. His massive new mural in Hawaii depicts an entertaining scene of sea creatures playing poker. They seem all angry and dangerous, and make a perfect addition to Honolulu's mural district.
Reka One is among the artists who created murals, and his giant piece is naturally the exemplary work of his style, but inspired with the vivid Hawaii, it oozes color and brightness, in contrast with some of his color-wise reduced artwork.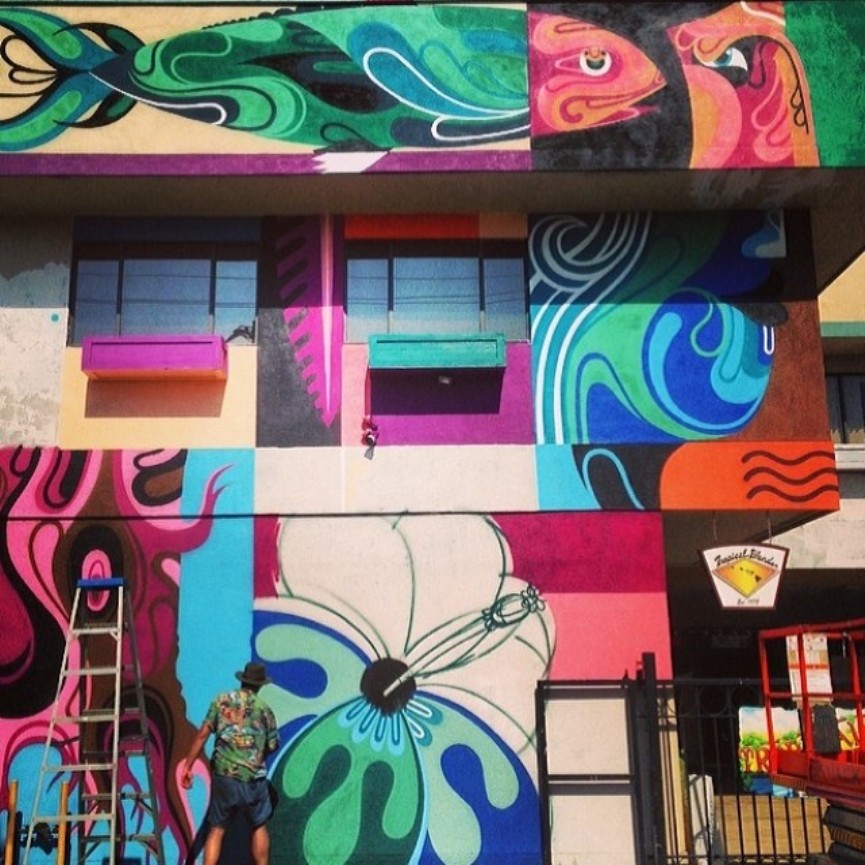 These guys are not the only ones who painted great murals in Kaka'ako. The lineup included Cope2, Dabs&Myla, Cyrcle, Seth, Augustine Kofie, Willis82 and insa_gram and many, many more. We will bring only a few pictures just to set the mood and desire to go to POW WOW next year. Enjoy!