A week after the historic demonstration of his "We the people" series, Fairey, accompanied by his daring team, arrived first on site to start the project with no vertigo in their system nor chill in their blood and went at it for six days enduring some unexpected cold weather.
"This kind of work is very physical and pretty exhausting but it's also very rewarding to see a piece on that scale come together." said Shepard Fairey.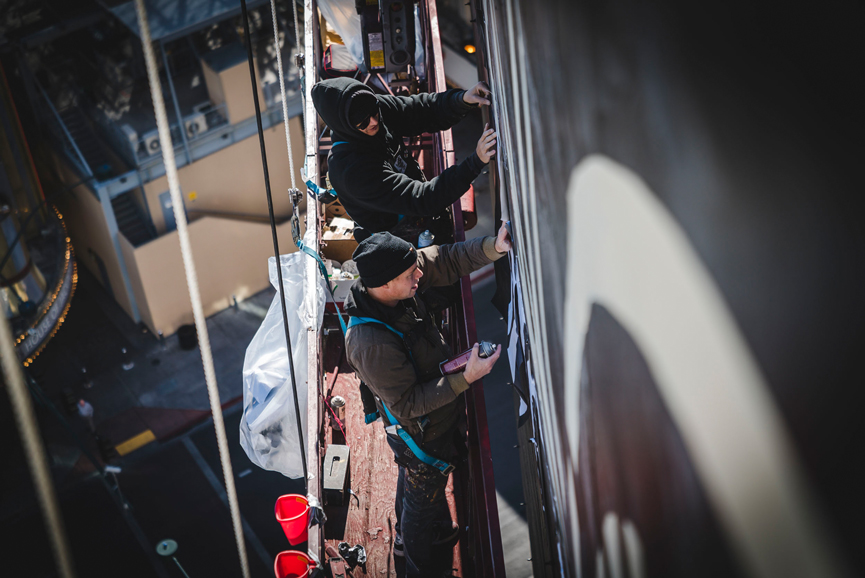 This perfectly mastered art of proportion and precision invite the viewer not only to awe at the piece but also realize the risk of its creation.Indeed the piece entitled "Cultivate Harmony" is as colossal a mural can be. However the attention to detail and colors is never compromised. The final result is a dexterous work of solid stencil technique of Shepard Fairey's signature imagery and palette. The lotus flower, the peace sign, the Obeylogo , the globe inside at eardrop remembering his latest environmental theme "Earth Crisis". Through his design Shepard conveys the idea of peace between human beings and harmony with the planet.
"These ideas are hard to argue with unless you are really just someone with a reactionary and a hostile side"
Watch the progress right here!