Myong Hi Kim: The New Four Seasons
Art Projects International have announced a new solo exhibition by Korean artist Myong Hi Kim that will focus on four large works recently created in her favourite medium of oil pastel on chalkboard. Titled The New Four Seasons, the new body of work by Myong Hi Kim reveals four large works ambitious in both scale and her commanding yet sensitive use of oil pastels. Art Project International, based in New York, was founded in 1993 by Jung Lee Sanders and was one of the first galleries in the United States to focus on contemporary artists from Asia (you can read the Widewalls selection of 10 Asian Artists to check out) and continue to bring new artists to wider audiences. The New Four Seasons will be the second solo show by Myong Hi Kim to be presented at Art Projects International.

New Body of Work by Myong Hi Kim
The four large works that make up the new body of work by Myong Hi Kim titled The New Four Seasons, sees the artist returning to use oil pastels on chalkboard while the subject of the four large works are the local area around a studio that Myong Hi Kim sometimes uses in South Korea. Although The New Four Seasons were created in her New York studio they are very much about the mountains in the north part of South Korea (you can read here about the Soey Milk – Sinavro exhibition and how her Korean roots influence her work and you can also read about how Minhwa, the Korean form of popular art or painting for the people influenced the work of Nicolas Frémion in this Frémion Presents Minhwa article). The New Four Seasons are Myong Hi Kim depicting a brief moment in time, the impression of a long distance appreciation that cannot be experienced firsthand, just an illusion of that minute moment (check out the equally sensitive paper cut out light box creations of Indian born duo Hari and Deepti in Oh, The Places You Will Go that share a similar feeling of capturing a brief beautiful moment). Myong Hi Kim describes her four large works as simulacra, meaning copies that depict things that had no reality to begin with.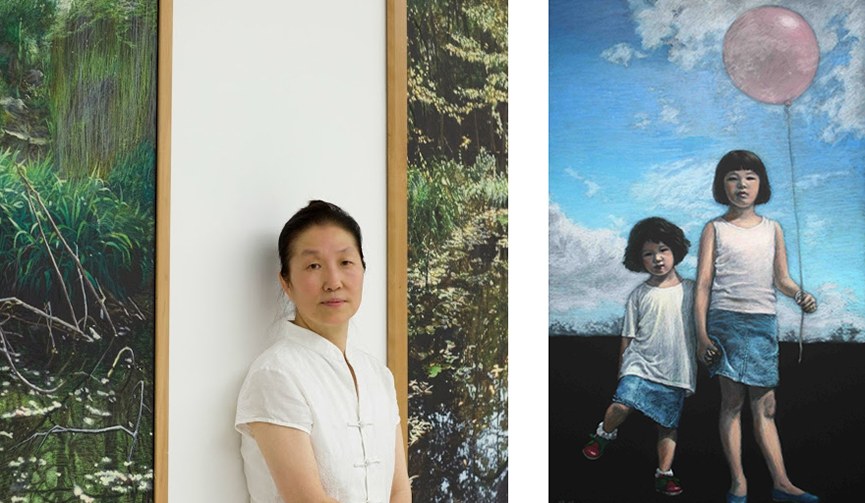 Myong Hi Kim
Myong Hi Kim was born 1949, Seoul, Korea and later went on to study at Seoul National University and the Pratt Institute in New York during the late 1970s. Now based and working in New York, Myong Hi Kim still returns to South Korea where she works in an abandoned school house in Naep'yong-ni, a mountain village in the Kangwon Province. The artist is known for her detailed and sensitive oil pastel works on chalkboard, as used for her four large works in The New Four Seasons, but her pictures are what she describes as apparitions, brief moments captured as with her new body of work, where the focus is not the trees or landscape but that moment of a leaf or insect disturbing the surface of the water. If you have an interest in Asian arts you may wish to check out the following articles about Chinese artist and poet Wang Ai:Hidden Wisdom, Korean photographer Jung Lee, The Serenade exhibition by Korean born Young Chun or the sculptural work of Korean artist Sangsik Hong.
The New Four Seasons by Myong Hi Kim will be on view at Art Projects International between January 22nd 2015 and February 28th 2015. The opening reception is on Thursday 22nd January 2015, 6-8pm.
Discover new artists and exhibitions by signing up to My Widewalls today.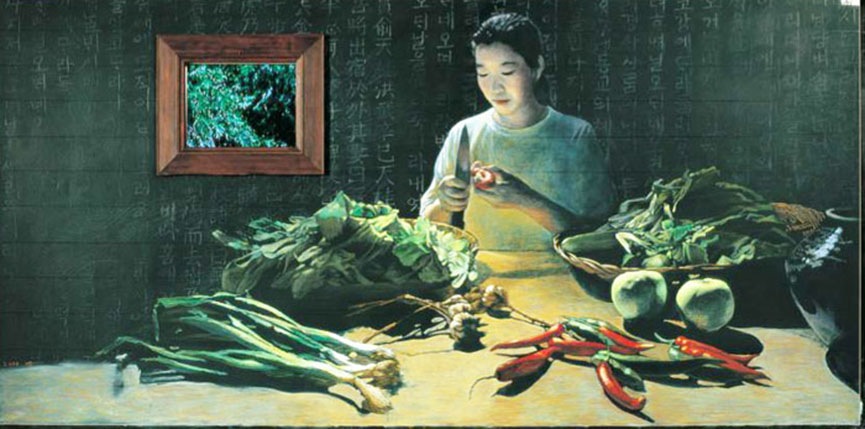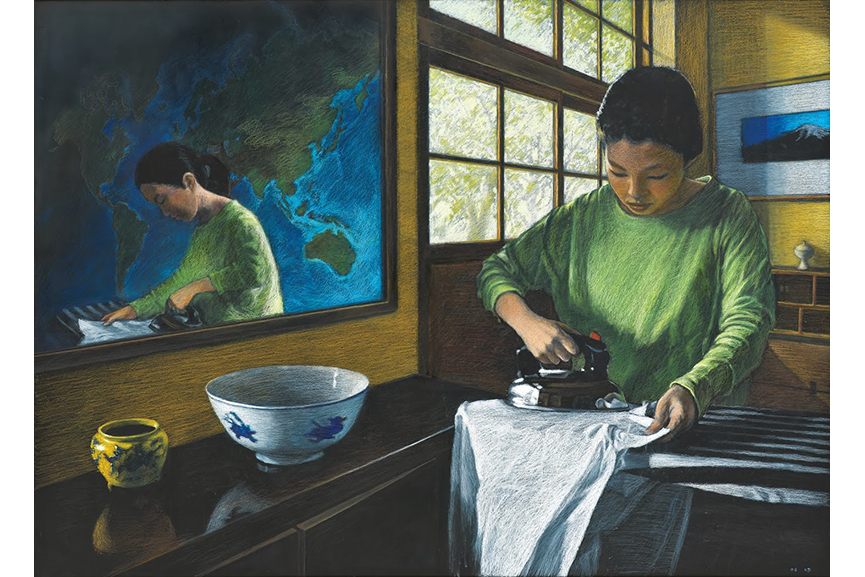 Images other than The New Four Seasons for illustrative purposes only.
All images courtesy of Art Projects International / Myong Hi Kim.
[mc4wp_form]