NADA Art Fair New York 2016 - Hosting More International Galleries Than Ever !
Back for the fifth time in New York, NADA Art Fair will take place from May 5th till May 8th. As the only art fair run by a nonprofit organization, NADA is strongly dedicated to celebration of the new and innovative international talents. This nonprofit organization entitled New Art Dealers Alliance cultivates, supports and contributes to the advancement of new voices in contemporary art creating an open flow of information, support and collaboration within the arts field. NADA hosts two fairs a year in New York and Miami Beach and organizes the COLLABORATIONS sector at Art Cologne. As this nonprofit model is flexible and adaptable, it continues to answer the needs of exhibitors, collectors and the art world in general by remodeling the art fair experience.
Recognized as the leading alternative gathering of the newest as well as the strongest art galleries in the world, this will be a great opportunity for collectors and art lovers to see some outstanding artworks and get in touch with leading galleries and trends in the world of contemporary art. This edition of the art fair will host more international exhibitors than ever. Similar to previous years, there will be a series of performances, conversations, and events held throughout the fair, but the support program is yet to be announced.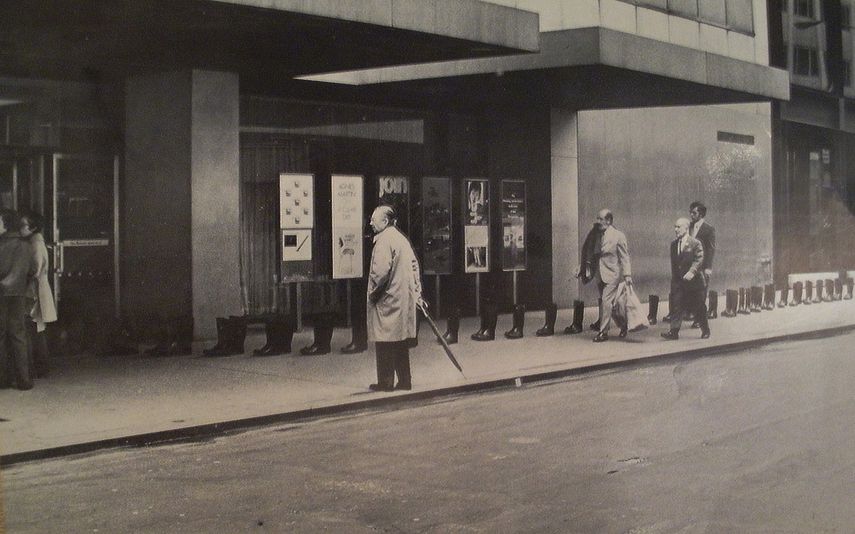 The Highlights of the NADA Art Fair 2016
Showcasing a diverse set of international galleries, dynamic public dialogue and experimental project booths, this edition will create a vibrant dialogue and expanded global perspective. With exhibitors representing 44 cities from 18 different countries, 51 first time exhibitors and 28 project spaces, NADA New York continues to present the best of emerging contemporary art. Be sure not to miss booths by Cooper Cole Gallery from Toronto exhibiting a wide range of contemporary paintings, photography and sculptures from Canadian and international artists; Soloway from Brooklyn, a space created and run by artists; Cuevas Tilleard from New York hunting to find the best and brightest young emerging artists – with a focus on process-oriented painting; The Pit from Los Angeles, a creative exhibition space focused on emerging and mid-career Los Angeles-based artists; Alden Projects from New York, an exhibition, research, and publishing enterprise dedicated to presenting compelling contemporary art along side recent, historical art and its supplements; Maki Fine Arts from Tokyo, representing emerging and established contemporary artists and Japanese contemporary photographers; Páramo from Guadalajara, presenting emerging and established artists across disciplines in order to generate work and ideas to further a global dialogue; and many more.
Adams and Ollman, Portland
ALARCON CRIADO, Sevilla
Alden Projects™, New York 
American Medium, Brooklyn
Arredondo \ Arozarena, Mexico City
Jeff Bailey Gallery, Hudson
Nicelle Beauchene Gallery, New York 
Galerie Sébastien Bertrand, Geneva
Josée Bienvenu Gallery, New York 
Bischoff Projects, Frankfurt
bitforms gallery, New York 
Bodega, New York 
Callicoon Fine Arts, New York 
Carbon 12, Dubai
Galerie Bernard Ceysson, Luxembourg/Paris
collicaligreggi, Catania
COOPER COLE, Toronto
Galerie Derouillon, Paris
Edel Assanti, London
Entrée, Bergen
Galerie Antoine Ertaskiran, Montreal
ESPACIO MINIMO, Madrid
FEUER/MESLER, New York
fiebach, minninger, Cologne
Five Car Garage, Los Angeles
FORMATO COMODO, Madrid
FRIDMAN GALLERY, New York 
Asya Geisberg Gallery, New York
Thierry Goldberg Gallery, New York 
Halsey McKay Gallery, East Hampton
Jack Hanley Gallery, New York
Hester, New York 
Eric Hussenot, Paris
ICA & Glasgow International, London/ Glasgow
Invisible-Exports, New York 
Kayne Griffin Corcoran, Los Angeles
KINMAN, London
Klaus von Nichtssagend Gallery, New York 
LAMB arts, London
LAND (Los Angeles Nomadic Division), Los Angeles
the Landing, Los Angeles
Galerie Christian Lethert, Cologne
ltd los angeles, Los Angeles
Lyles & King, New York 
Maki Fine Arts, Tokyo
Norma Mangione Gallery, Torino
Marlborough Chelsea, New York 
MIER GALLERY, Los Angeles
Minerva, Sydney
Moran Bondaroff, Los Angeles
NEOCHROME, Torino
Or Gallery, Vancouver
Páramo, Guadalajara
Parisian Laundry, Montreal
Parrasch Heijnen Gallery, Los Angeles
PATRON, Chicago
The Pit, Los Angeles
Berthold Pott, Cologne
Proyectos Ultravioleta, Guatemala City
REGINA REX, New York 
ROBERTO PARADISE, San Juan
Rod Bianco Gallery, Oslo
ROOM EAST, New York 
Samsøn, Boston
SCHMIDT & HANDRUP, Cologne
Soloway, Brooklyn
Space In Between, London
Spinello Projects, Miami
Stems Gallery, Brussels
GALERIE JOSEPH TANG, Paris
TEMPO RUBATO, Tel Aviv
Tomorrow, New York 
Zieher Smith & Horton, New York 
2016 Projects:
106 Green, Brooklyn
321 Gallery, Brooklyn
AALA Gallery, Los Angeles
Abrons Art Center, New York
albertz benda, New York 
BOYFRIENDS, Chicago
Casa Maauad, Mexico City
Cuevas Tilleard, New York 
Cultural Counsel, New York 
Daata Editions
DOCUMENT, Chicago
Ed. Varie, New York
Essex Flowers, New York 
Et al., San Francisco
Evelyn Yard, London
Good Weather, Little Rock
Hello Project, Houston
Institute 193, Lexington
Kunstraum, Brooklyn
Marginal Utility, Philadelphia
Motel, Brooklyn
Public Exhibitions, London
ROBERTA PELAN, Toronto
Safe Gallery, Brooklyn
Shoot The Lobster, New York 
SIGNAL, Brooklyn
SMART OBJECTS, Los Angeles
SPF15, San Diego
Topless, Rockaway Beach
TRANSFER, Brooklyn
Water McBeer, Brooklyn
NADA Projects
Established in 2010, NADA Projects is a unique programmatic platform for presenting new art at the art fair. Intimate and self-contained booths are specially designed to emphasize smaller installations from emerging galleries and independent organizations. This platform will provide an innovative and distinctive experience for both exhibitors and visitors of the fair. NADA Projects is an invitational section of the NADA New York and further information about the application details for projects could be found on the official website of the fair. Additionally, NADA will host various special projects and programming alongside exhibitors, but the details are yet to be announced.
The Location of the NADA Art Fair
Practical Information
The 5th NADA Art Fair will take place from May 5th till May 8th, 2016 at Pier 36 Basketball City, located at 299 South Street on the East River on the Lower East Side. The opening preview by invitation will be held on Thursday, May 5th from 12pm to 4pm. Proceeds raised from NADA New York ticket sales will partially go to the NADA International Exhibitor Prize, an initiative supporting first-time exhibitors in 2017 arriving from abroad.
Featured images: NADA New York 2015. All images courtesy of artists and NADA Art Fair.
Follow These Galleries
Toronto, Canada

Brooklyn, United States