Nano 4814 - New and Good
Chunks of figures, suggestions of things, abstracted elements and unexpected objects are all drenched in a rainbow of bright color making the artwork by Nano 4814, a Spanish contemporary artist. Delimbo gallery in Seville announced an exhibition by this vigorous creative displaying his new works under the title "Nuevas Buenas Nuevas". The exhibition will open on April 10 and it will run through July 15, 2014.
Vivid and vivacious canvases of Nano 4814 are layered with meaning and symbolism, deliberately diverting from mono-dimensionality and leaving much of the visual completely open to interpretation. They are homages to situations and things, people and beliefs, sometimes rendering and sometimes mocking the currents of contemporary consumerist and superficial culture.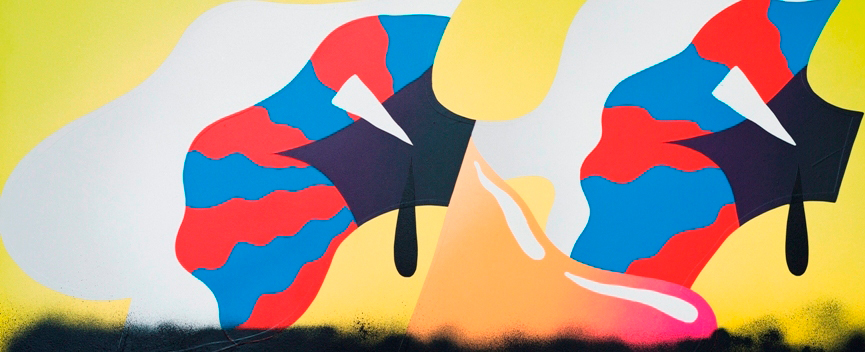 Nuevas Buenas Nuevas
Using the elements he perceives as entertaining, the artist gathers all of them into large, semi-abstract surreal balls, purposefully extracting hints and suggestions in these strange, but oddly cheerful distortions. He combines body parts with colored or patterned planes, placing the implied figures in completely contemplative spaces. Due to the use of everyday elements, be it fractions of humans or household items, Nano's illogical paintings and sculptures still detain the visual accessibility and closeness with the spectator.
The most appealing trait of Nano's art is the overwhelming humor. It oozes from every portion of a painting, from each constituent of a sculpture or an object, making the observer feel comfortable in this schizoid world. The absurdity of the nonsense is the undercurrent of all Nano's works, providing it with another, deeper contemplative and meaningful layer. Each one of us can find it where we may please, in the left arm or in the unrecognizable shape, in the odd gesture or the broken fence, as each observer will transform the meaning of the work to their needs. New works of Nano 4814 are delightful and pretty, deceptive and overt and most of all fun.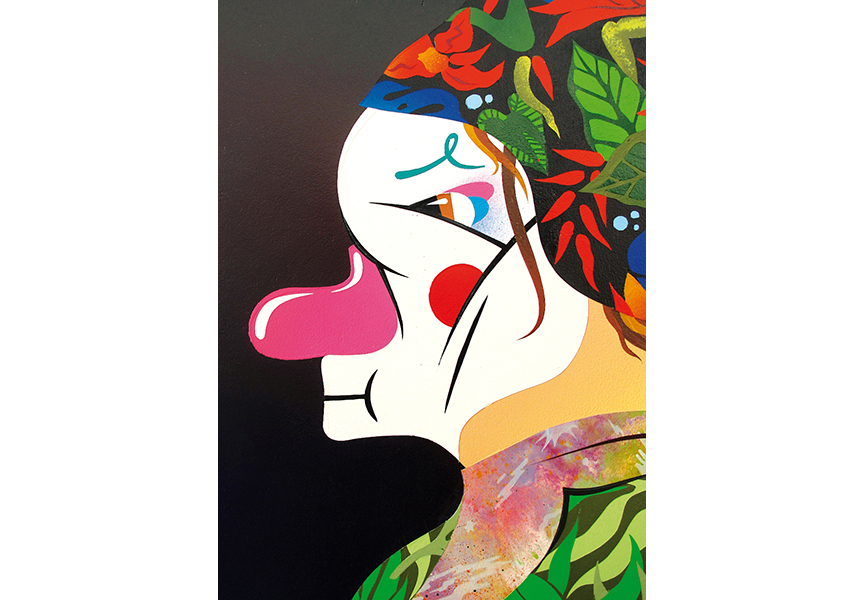 Nano 4814
Nano 4814 is a Spanish artist from a small town of Vigo in Galicia, whose first artistic steps have been taken in the streets through graffiti writing in the 1990s. His early works followed the traditional traits of graffiti, but as he was searching further through the creative realm, he began depicting narrative scenes and figures, along with the heightened use of iconic imagery. The development of his expression has been characterized with equal attention dedicated to the aesthetics of his art and to the contemplative plane from which his ideas emerge. Nano 4814 did begin as a street artist, but he got traditional education in fine arts. He lived in London for a while, attending renowned schools Saint Martins School of Arts and the London College of Printing. After his British stage, the artist moved back to Madrid in 2004, where he continued his career. Nano 4814 has been exhibiting throughout Spain and taking part in various artistic project in the country and abroad.