Through the Looking Glass
The newest star in the street art galaxy comes form Poland. Her name is Natalia Rak and she is one of the most exciting painters and street artists to emerge in Poland's contemporary art scene that increasingly enjoys international attention. Natalia Rak´s beautiful murals show up all around the world. She is probably best known to the general public by the mural she has done last year for the Folk On The Street Festival in Bialystok that shows a young girl wearing a traditional polish outfit while watering a tree. This stunning piece of art soon spread the Internet. Upcoming exhibition at Pretty Portal gallery in Düsseldorf this spring will show the works of this young and promising artist. The show is titled "Through the Looking Glass "and runs from April 11 to May 9.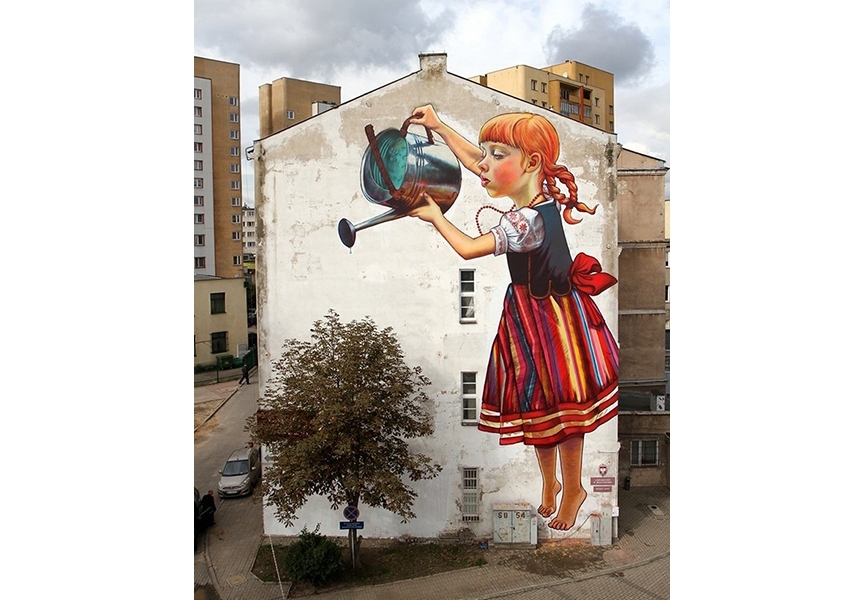 Natalia Rak
After earning her degree, Rak's been seen traveling the world and putting up exceptional murals on the walls. She studied the fine arts program at the University of Lodz, Poland, specializing in graphic arts. A longtime painter, Rak started getting into street art a couple years ago refreshing the scene with her larger than life portraits. Her style and technical skill are equally exquisite and compelling on canvas and on the surface of the building. Rak is known for her extremely vibrant large-scale murals with many taking up the entire sides of buildings. She paints with a particularly intense, brightly colored palette. Since 2009, Rak has participated in many group exhibitions and street art festivals.