Tate Modern on Fire - A New Exhibition of Nathan Coley Art
February and March 2017 at Parafin Gallery are marked with an exhibition of Nathan Coley art. The Glasgow-born and Turner Prize shortlisted artist is among the most acclaimed British creatives who is known for his sculptural and illuminated text works that deal with issues of space, built environments, and socially constructed meanings that surround them. For the Parafin show titled Tate Modern on Fire, he exhibits new sculptures and text works that are focused on public space and its revealing power regarding the people that inhabit it. The centrepiece of the exhibition is Tate Modern on Fire, which will accompany his previous piece Paul, a large-scale architectural model of St Paul's Cathedral. The two works are similar in nature and correspond with each other as "Paul ..[is] a beautifully produced and rendered architectural model but also has an open back which reveals itself to the viewer as they circle the work. The open back contains images, objects and ephemera that relate to the building and open up readings for the viewer that might propose alternative histories and possible futures for the building."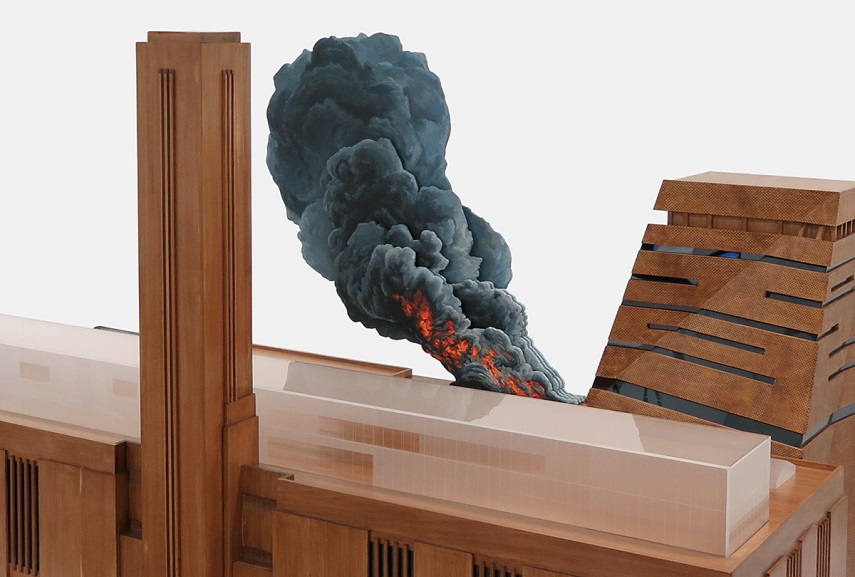 Coley's Architectural Models
Coley's model of Tate Modern with a thick black smoke coming from it is not just related to this famous institution, but also to the notion of the art institutions in general. The inspiration for this work came to Coley from Ed Ruscha's infamous painting The Los Angeles County Museum on Fire which will be shown alongside the Coley's work when the exhibition moves to the Scottish National Gallery of Modern Art at the end of March. Paul and Tate models at Parafin exhibition address the complexity of meanings behind each of the buildings. Facing each other across the Thames, St Paul Cathedral is a religious structure that stands for the London's endurance during the blitz, while Tate is by many considered a temple of modern and contemporary art. In the gallery, Tate and Paul although finished as models when observed from the front, are actually open from the back, and filled with associative objects. Resembling in this way a wunderkammer or a cabinet of curiosities, it seems that anyone can add an object to them, complicating their meaning in the system of knowledge production. Other models that are part of the show include Palace, a large scale illuminated text works, as well as a group of new sculptures which deconstruct Shaker furniture.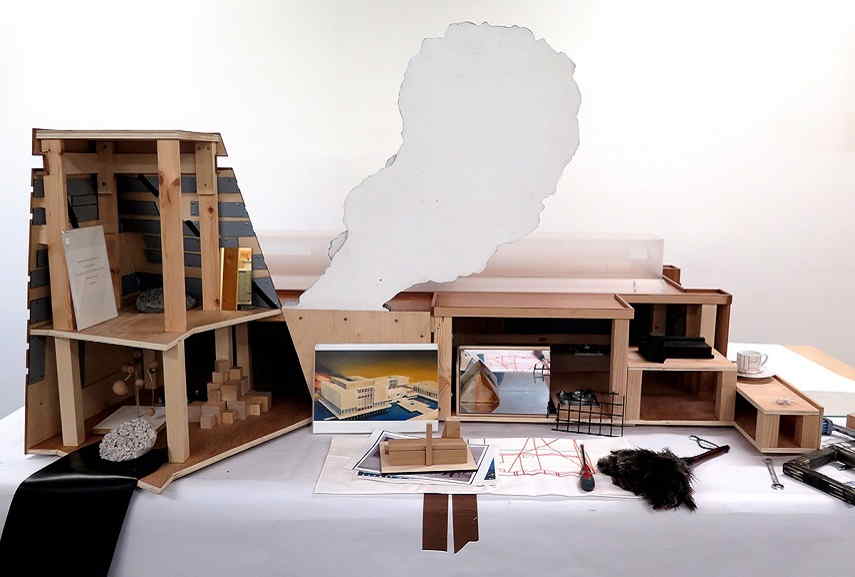 Nathan Coley Art
Interested in public space, Coley explores the ways in which this space becomes invested with meaning. Conditioned by architecture and people that move through it, public spaces are often sights of contemporary contestations and clashing narratives. How these spaces become invested or re-invested with meaning is of the primary importance to Coley, whose art examines the complexity and layers of signification selected places and buildings may possess. This is not a one way process in which built environments are just canvases on which people who created them project their beliefs and cultural positions. The inscribed meanings reveal also a great deal about the people who are not in many cases the creators of such environments, but who today inhabit them. Coley is often using readymade in his works, which has a symbolic meaning of taking something from the world, and putting it back in again, imbued with different connotations. He is also interested in general meanings and social functions specific motifs or objects may have, which he explored in his pieces on five 'rights of man' under Islam, and Shaker furniture.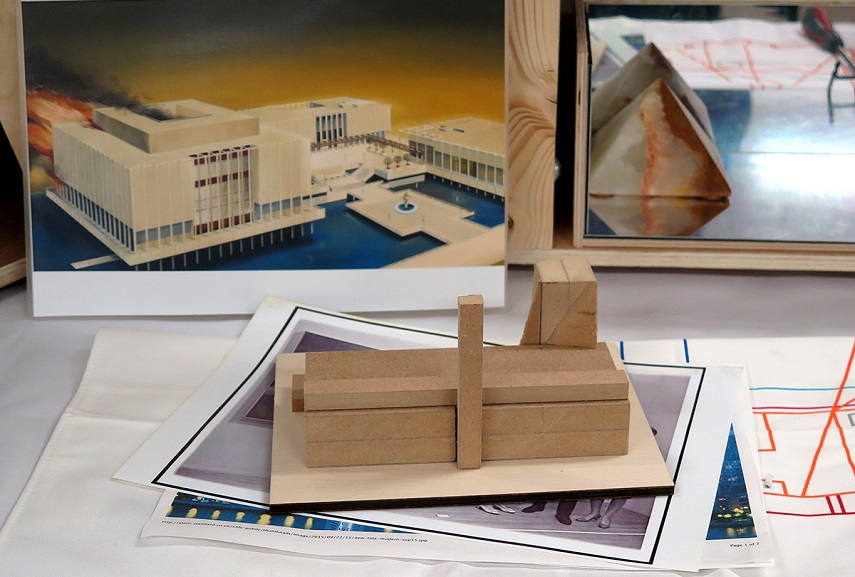 Tate Modern on Fire at Parafin Gallery
Ben Tufnell and Matt Watkins, former Haunch of Venison London directors, launched Parafin in Sptember 2014, together with the founder of London gallery Master Piper, Nicholas Rhodes. Focused on established and emerging artists, and located just off New Bond Street at 18 Woodstock Street, Parafin is a vibrant space for exploration of current trends in art. Tate Modern on Fire, a new exhibition of Nathan Coley art at Parafin Gallery opens on 10 February, with the private view a day before, on Thursday 9 February from 6-8pm. The exhibition will be open until 18 March, 2017.
Featured images: Nathan Coley -Tate Modern on Fire, full view and details, including the installation view; Installation views of Nathan Coley's text and sculptural works. All images courtesy of Parafin.