Nationalist Graffiti in France? Combo Pushes the Right Button Again
With one of the strongest far right wing parties in Europe, France represents a very turbulent political battleground where racism, intolerance, homophobia and hatred are unbelievably still very much alive and well. Interestingly enough, according to the Nationalists, those condemning their opinion are also racist… and sexists. It all started with French street artist Combo and his mural painted on June 13th in the 11th arrondissement in Paris, which shows a modern day-looking Joan of Arc, wearing a motorcycle helmet and a red banner reading "Liberté, Égalité, Humanité" – a slight variation of France's original national motto "liberty, equality, fraternity". Next to this image, another message: "La France aux Français" (translating to France to the French), this time the motto of the far right Front National party, crossed over with red paint, leading us to the final piece of Combo's mural, a statement saying "Les Françaises aux Africains" (French women to Africans). The piece was certainly thought-provoking, but for the Nationalists, it was just provoking. Very much so.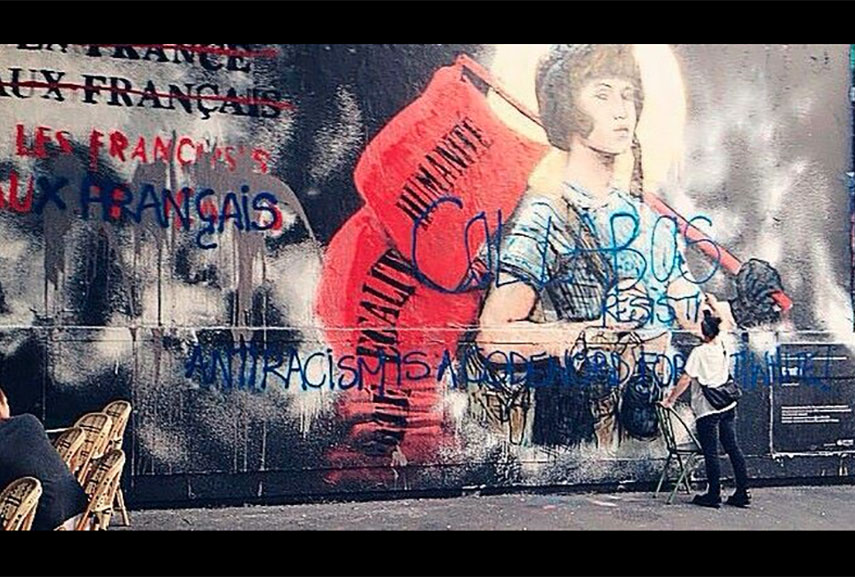 Joan of Arc Vandalized
Two days after Combo's new mural saw the light of day, it was vandalized – the Les Françaises aux Africains quote was covered in grey paint, and on June 17th, nationalist blogger and activist Electre filmed herself tag the piece with her own message: "Antiracism is a codeword for antiwhite." While personally I'm not sure about the meaning of this, Combo and Le MUR organization, through which the ambiguous mural was painted, confirmed that the piece was meant to be provocative, and you could say it worked, as it was branded "racist and sexist" by the Nationalists. Beaten at their own game? In any case, Combo's mural is scheduled to be removed on June 26th, but we're sure that the artist will not cease to express himself on the walls of Paris anytime soon.
Combo – The Street Activist of Paris
Let us remember that in February, shortly after the terrorist attack on the French satirical magazine Charlie Hebdo, Combo was beaten up by a group of young men while painting his Coexist tag. The work wouldn't have been a big deal if it wasn't addressing social issues with its new message yet again: the "C" was painted as an Islamic crescent, the "X" as a Star of David, and the "T" as a crucifix, calling for religious tolerance in a rather obvious way. But the far right wing activists and supporters were "offended" by it, ending it all with an act of violence.
What's your opinion on this? Make sure you share one with us on our Facebook page!
To stay up to date with street art activism worldwide, sign up for My Widewalls free of charge!